Moral Monday: Pressure and Time
The Berger summit: a first crack in the wall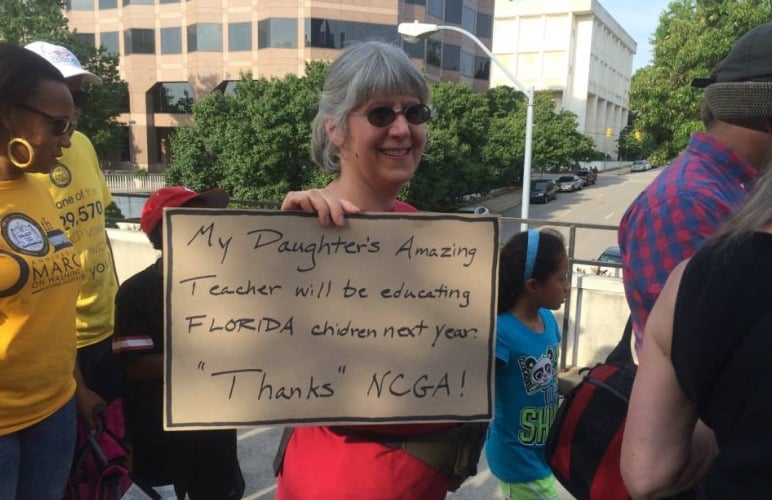 "Geology is the study of pressure and time," as we all learned from Morgan Freeman's character in The Shawshank Redemption, and political change can work the same way.
This week, a group of educators who joined the Moral Monday protests at the Legislative Building in Raleigh punched open a crack in the wall. Phil Berger, the N.C. Senate's president pro tem and perhaps the most powerful man in the legislature, devoted an hour of his time to them (from WRAL):
After Berger and members of his staff pulled couches that normally dot the second-floor hallway outside his office into a circle, Berger engaged in a wide-ranging discussion with the protesters that touched on cuts for teaching assistant positions, the new Read to Achieve requirements for third-graders and why pay raises for teachers were tied to abandoning their tenure rights.
In the end, Berger and the protesters didn't see eye-to-eye on much, but the Senate leader did commit to trying to arrange a follow-up meeting regarding education issues.
"I can't commit to any particular outcome," he told the group. Berger did not agree to back off his call to tie teacher raises to relinquishing tenure.
The sometimes testy exchanges marked the first time a senior legislative leader met in public with members of the Moral Monday movement, a group of protesters who have rallied outside the legislature for the past year.
After the meeting, the protesters canceled their plans for a sit-in at the building. They left after speaking to reporters and were not arrested.
What's important here isn't the outcome—of course Berger conceded nothing—but the symbolism of Berger actually acknowledging the protestors and treating them as actual constituents, citizens, rather than petty criminals or miscreant children. It's a start.
And it's a validation of NAACP President and Moral Mondays founder William Barber's approach, which isn't tied to specific bills or House or Senate seats but the culture inside the Legislative Building. The Moral Monday protests are a tangible reminder to lawmakers who have no reason to check their power that unhappy North Carolinians were here last week, are here this week, and will be here the next. This is how genuine change happens: bit by bit, played out over time, until yesterday's unimaginable becomes tomorrow's inevitable.