MORE Fashion's Night Out Fun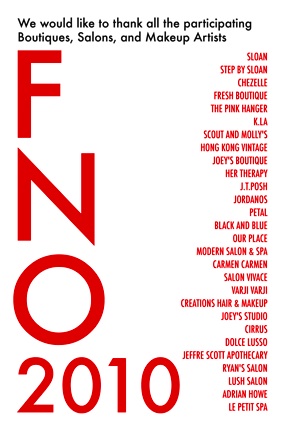 Astute readers of this blog should already have their calendar marked for Friday, September 10 when Neiman Marcus at SouthPark transforms into a haven of fashion frivolity for the second annual Fashion's Night Out (including a runway styling competition sponsored by this very magazine, fabulous drinks, tasty bites, original artwork, and more – all to benefit the Charlotte Mecklenburg Libraries). But, did you know that the sartorial celebration actually gets started on Thursday, September 9? That's right – Charlotte is so stylish, it takes two days to fully fete all of our fabulous local shopping!
Thursday night, 14 boutiques, 14 salons and 14 makeup artists will descend upon Butter NC (at the NC Music Factory) to put on an epic fashion show from 9 p.m. to 10 p.m., followed by a wild after party that goes until 2 a.m. .Here's a look at some of the boutiques that will be participating in Thursday's Fashion's Night Out Event:
K. La ::: Lotus ::: Black & Blue ::: Petal ::: Sloan ::: Step By Sloan ::: Fresh Boutique ::: The Pink Hanger ::: Scout & Molly's ::: Chezelle ::: Hong Kong Vintage ::: Joey's Boutique ::: Her Therapy ::: J.T. Posh ::: Jordano's ::: plus the city's best salons and beauty professionals!
It's no secret that the slow economy has wreaked havoc on the boutique fashion business—Charlotte has lost more than it's fair share of beautiful stores in the last few years—which is why it's more important than ever to support the enterprising fashion emporiums that make living and shopping in Charlotte so desirable. Even better, Thursday night's events will benefit the American Heart Association.
So Charlotte, are you ready for Fashion's NightS Out? Double the fun, double the fashion, the double the opportunities to show your local retail community how much you love them! We sure are!