Moroccan Restaurant Opening in Plaza Midwood
Ajbani starts with dinner service, will expand to lunch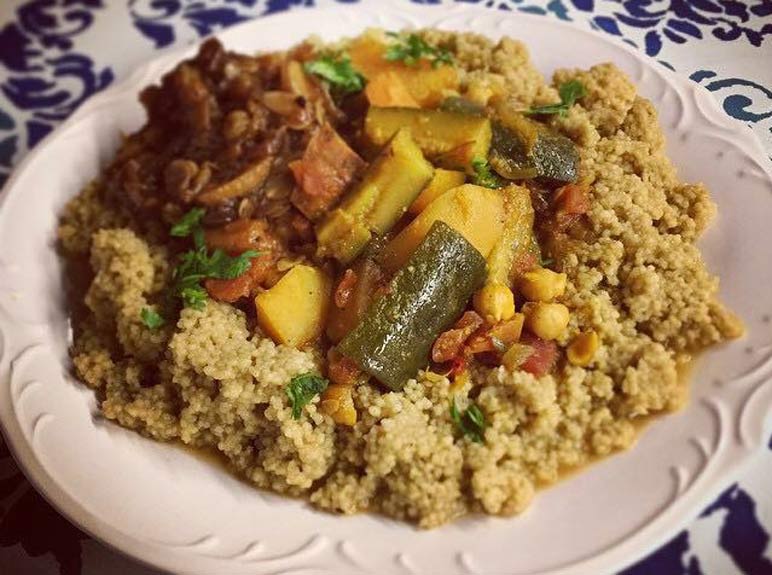 Ajbani Moroccan Cuisine is on schedule to open in the coming days, with several days of a soft opening before the grand opening on July 2. The restaurant is located on Central Avenue in Plaza Midwood, in the same shopping center as Three Amigos. Hamza Seqqat, who moved to Charlotte from Morocco to attend college here, decided to open the restaurant with his brother-in-law, Younes Derouiche, to fill a void he saw in Charlotte.
"I've noticed that Charlotte doesn't have Moroccan cuisine at all, and I'm extremely passionate for Moroccan cuisine," Seqqat says. "I think it's something huge—not just because I'm from Morocco. I think it's amazing, and we saw an opportunity and found a way to start it."
To handle the restaurant's menu, Seqqat brought in Craig Linthicum as executive chef. Linthicum also works with Nourish, a vegan meal provider in Charlotte. He studied culinary history at UNC, focusing on North African cuisine, giving him a wide knowledge of Moroccan cuisine, and graduated from Johnson & Wales. For those who haven't eaten Moroccan food before, Seqqat says it's something of a mix between Mediterranean and Indian food.
"It's stew based, just like Indian—it's very very aromatic, you can smell it when it's being cooked, you can enjoy the smell just as much as you enjoy the taste," he explains. "It's got a lot of Mediterranean spices in it."
On the menu, you'll see familiar items like hummus and falafel, as well as tajine, a classic Moroccan stew dish. Since much of the dishes are vegetable-focused, there will be a large vegan selection, too. They won't serve alcohol, but they'll have Moroccan tea, a black tea with mint. While there will be a few tables inside and outside the restaurant, decorated in bright colors of orange and green, Seqqat says he expects most of the business to be takeout. If the restaurant becomes more popular, he hopes they could maybe expand one day.
The restaurant will be open for dinner only for the next few weeks, and a grand opening event is in the works.