Mountain Escapes Near Charlotte: Beech Mountain
Its summit views and fresh air aren't just for thrill-seekers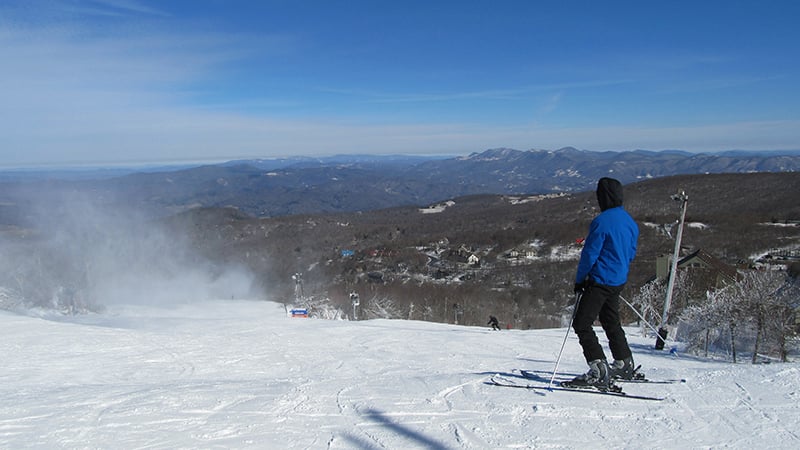 MY FEET DANGLE over patches of grass, dirt trails, and purple wildflowers as I ride a chairlift to the top of Beech Mountain. The temperature slowly drops to 65 degrees, five degrees cooler than at the base. As my fiancé raises the metal bar, signaling the end of our ride, the lift operator instructs, "When you get off, run as fast as you can." As soon as my feet touch the black tarmac, I scurry away from the moving chair and take in the view.
Standing at the summit of Beech Mountain, which overlooks five states, I should see a long lineup of rolling mountains. Instead, Mother Nature offers dense, gray clouds. I walk over to 5506' Skybar, lean over the deck rail, and watch the chairlift deliver mountain bikers like a gumball machine.
Beech Mountain, the highest town east of the Mississippi River, draws tens of thousands of tourists each year. The summit's 5,506-foot elevation is a magnet for thrill-seekers. On this summer weekend, my fiancé and I are joined by hundreds of bikers testing the trails ahead of the 2019 Beech Mountain Enduro race. A few months from now, skiers and snowboarders will take their places.
Morning dissolves into late afternoon, and chatter builds as folks in Patagonia pullovers park themselves in chairs around me. The combination of waking up early and finishing my second mimosa has me sleepy, so I suggest that we return to our vacation rental for a nap.
We stay at the Pinnacle Inn Resort, a condominium that's a seven-minute drive from the slopes. Inside, I'm greeted by quilted, moose-themed bedspreads, a wood-burning fireplace, and a clunky TV with a VCR player—a gentle reminder that the point of my trip is to breathe in the fresh mountain air and spend time talking with my soon-to-be husband instead of streaming Netflix.
With a bottle of red wine and glasses in hand, I step onto a long, narrow porch and call over my shoulder for my fiancé to join me. It's quiet outside. A mist shrouds the pine trees beyond the parking lot. My phone is somewhere indoors, probably deep in a forgotten pocket.
We hold hands in silence for a long while. There's still so much to do and see on our weekend visit to Beech Mountain: hike the Emerald Outback trail, canoe on Buckeye Lake, eat at the famous Brick Oven Pizzeria. But it can wait.
ANNA VAN ERVEN is a freelance writer and transplant from up North who loves living down South. Email her at annavanerven@gmail.com.
---
BEECH MOUNTAIN
TRY A PIE
For more than 25 years, Brick Oven Pizzeria & Pasta has been a Beech Mountain staple. Don't miss its made-to-order pizzas cut into slices so large they require two hands.
RELAX WITH WINE
On your way out of town, stop at Banner Elk Winery to sample regional wines. Sit in deep, brown leather chairs next to a roaring fire and snack on small plates of cheese, hummus, and chocolate.
SKI OR SIP (YOUR CALL)
At Beech Mountain Resort, spend the day traversing the slopes or sampling a flight from the on-site brewery. Another highlight: 5506' Skybar, located at the top of the mountain and accessible only by chairlift.
BRING BACK
Fred and Margie Pfohl have run this local grocery-slash-ski rental-slash-art gallery for more than 40 years. Inside Fred's General Mercantile, the past and present collide. Rent DVDs, buy local produce, or bag your own candy. The store's motto says it all: "If we don't have it, you don't need it."
STAY
Pinnacle Inn Resort, 828-387-2231, $179+/night