Mountain Modern
A halted project is rescued and transformed into a mountain-like retreat along the banks of Briar Creek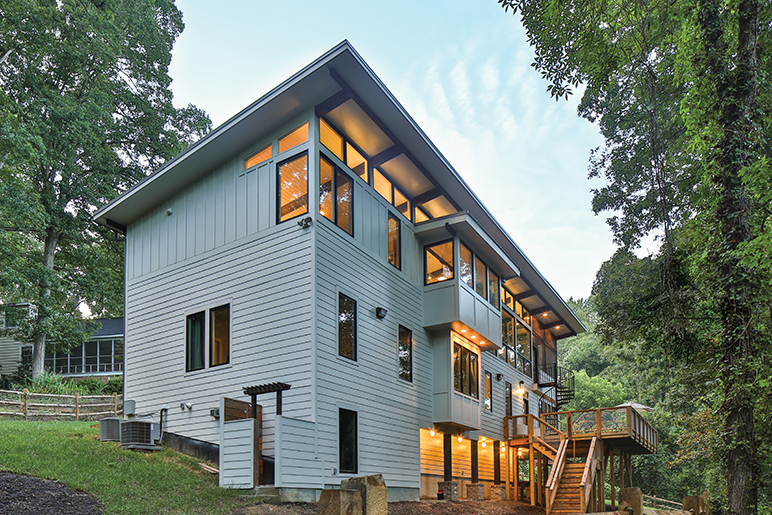 Kyle and Abby Hedges weren't planning to buy a Tyvek-covered shell when they were house-hunting two years ago. And they especially weren't planning to buy a for-sale-by-owner perched on a steep, overgrown lot, a home so close to Briar Creek that it would never get county approval under today's regulations.
"I told [Kyle] to quickly turn around—it looked like a nightmare," Abby says as she leans on the granite counter in their kitchen. "We were just driving around the area looking for possible neighborhoods to consider when the time came." In three years, their older son would be ready for school, and Abby, a former kindergarten teacher, liked the district around Selwyn Avenue.
Even Kyle's business partner, Josh Jones, had his doubts. The two friends own JH Custom Builders and have worked through plenty of challenges together. "It looked really rough," Josh says. "It was completely overgrown. It honestly looked like a framed box on stilts in a jungle. It didn't have a roof; it didn't have any of the exterior finished. You had to walk across a couple of two-by-sixes to get to it."
For a year, Kyle kept going back. He couldn't shake his vision, not just for the house but for his family. Eventually he and Abby put their home on the market, sold it, and moved in with Abby's parents in Eastover to work on their purchase. Kyle promised the rectangular three-story could be rescued and transformed into something special, and Abby trusted him.
In the living room, leather seating is arranged against a backdrop of floor-to-ceiling windows, giving a treehouse view of the forest.
They'd been together since high school, and she had confidence in his talent. The result—finished in a whirlwind six months so they could move in by Christmas 2012—is a
fabulous modern retreat.
One crosses a small footbridge to enter the main floor at the top of the house. The front door opens to a "wow" effect: an enormous room that's both living room and kitchen. A wall of windows, running 75 feet on the creek side, looks out into a forest canopy of trees—oak, black walnut, ash, and sycamore. Briar Creek rushes far below; the banks have been cleared of underbrush and offer an inviting view. The rocky, clean waterway looks more like a mountain stream than a city creek ambling from east Charlotte through Myers Park Country Club to this spot.
The contemporary haven has simple lines and a rustic personality. "Several friends call it 'mountain modern,'" Kyle says. Plank walls and a high, sloped ceiling are soft white, adding a crisp counterpoint to dark floors and overhead beams. A fireplace is near the entry; behind it, a staircase follows the chimney to the floor below. On the lower level are four bedrooms, a family room, the laundry, and an office. A basement is another level down. Click on the arrow to continue reading.
A breakfast nook provides all-day seating for the family of four—they bypassed a formal dining room in favor of a casual built-in.
On the main floor, the kitchen dissolves as a point of focus because cabinetry is camouflaged to look like furniture and appliances are out of the line of sight. A monumental L-shaped granite counter has a leathered finish; the feel is casual yet substantial. With plenty of bar stools at the counter and bench seating in the breakfast nook, Kyle and Abby decided against creating a formal dining area. In return, they gained wide-open spaces that make romping easy for kids.
Kyle majored in industrial design at Ohio State and applied his problem-solving approach to the project. He studied the land, the water drainage (the lot sits at the end of a cul-de-sac, collecting rainwater from a street that has no storm drains), and how to match his family's lifestyle needs with the house's footprint. Then he came up with a plan that blends the science of architectural design with vacationlike amenities.
For example, a substantial retaining wall separates the house from a steep embankment. Instead of building the house into the hill, there's a six-foot gap so that windows bring natural light into lower-level rooms. Outside, a gravel bocce court fills the gap like an outdoor bowling alley, complete with night lighting and speakers for music. It's a family favorite. "We played bocce ball on the beach when we used to vacation in Hilton Head at my family's home," Abby explains. Even though the space is narrow, it's another way to enjoy being outside.
Other outdoor spaces include a screened porch on the top floor—a door opens to a spiral staircase leading down to a spacious deck of pressure-treated lumber. The playground-sized space is twelve feet off the ground, so Kyle opted for industrial-strength wire mesh to keep the kids safe. On the grass below, tricycles wait for a rider within a securely fenced lawn.
Although it looks complete, there are a few outstanding projects. One is the outside shower, which Kyle added for rinsing off creek-muddy boys. "My dad and I collected Petoskey stones; I'm going to use those on the floor," he says. The speckled fossils come from the shore of Lake Michigan; Kyle and his family spent summer vacations there during his childhood.
The shower is otherwise ready for use, offering a practical bridge between outdoors and in. Putting family history underfoot, in the form of coral fossils, will add history to a place that nearly became history itself.