Moveable Feast: The Market Kitchen
A new restaurant concept pops up all over town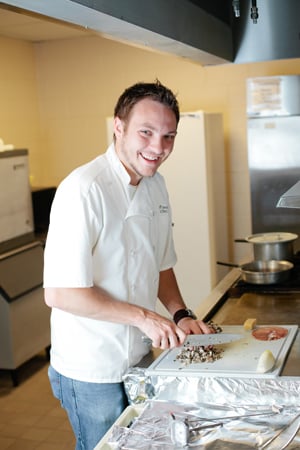 The city's newest restaurant concept is on the move. Based on the pop-up concept, The Market Kitchen hosts one-night dining events in borrowed spaces from restaurants and museums to private homes and farms.
"The pop-up phenomenon is big in New York, L.A., San Francisco, and Chicago, and I wanted to see if it would work here," says Chris Coleman, chef and founder of The Market Kitchen.
Like the venue, the menu changes with each event, but the focus on creative cuisine made with local ingredients—sourced from within 250 miles of Charlotte—remains the same. Coleman called the restaurant's first pop-up event, held at the Dunhill Hotel in February, "For the Love of Local." A seven-course tasting menu included roasted root vegetables and Pamlico Sound oysters fried in a tempura batter made from Blenheim Ginger Ale.
"Charlotte is growing up as a food city," says Coleman, who also works as the executive chef at The McNinch House. "There has been a major change in the way people think about food [and] a contingent of people who want to follow the trend of pop-up restaurants while supporting local farmers and artisanal producers."
Preparations for the next event, a pig pickin' at Concord's Dark Horse Farms in early June, are underway. Coleman plans to roast a whole pig and serve it alongside coleslaw and other traditional fixings at picnic tables in the pasture, while music from a live bluegrass band fills the air.
The Market Kitchen is the first and only pop-up restaurant in Charlotte. While Coleman is excited about bringing a culinary trend to the Queen City, he hopes other chefs will follow suit.
"It would be fantastic to see the pop-up trend explode in Charlotte, much like the food truck scene," he says. "I think there is enough of a demand in Charlotte to support it."
Aside from posting upcoming events on the restaurant's website and Facebook page, Coleman hasn't done much to promote The Market Kitchen, relying on word-of-mouth to generate buzz—and draw people to the restaurant's events.
"Right now, The Market Kitchen is a lot like a local band," says Coleman. "We're trying to gain a following, hoping people will show up wherever we go."