Moveable Feast
Charlotte Food Truck Guide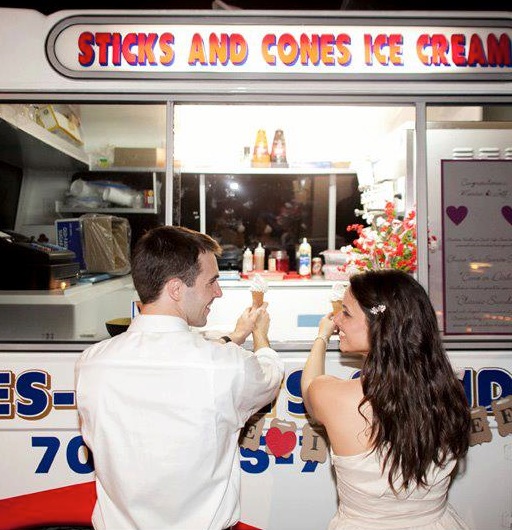 Delectable meals on wheels have far surpassed lunch break fare in popularity. Food trucks are quickly becoming a mainstay for wedding reception catering. These trendy trucks offer all the freshness and made-to-order delight of a food station set-up in an even fresher, inventive fashion. Of course you'll need to keep in mind that you'll need to plan for roughly one truck per 70-75 guests to avoid lengthy lines and grumpy guests. But if you're looking for a perfect way to surprise your invitees, look no further than the food truck. So, for your perusing pleasure, here are all the Queen City choices…
Auto Burger And Fry Guys
The fare: gourmet burgers with toppings like fried egg and pineapple. Plus the condiments are out of this world–think raspberry balsamic aoili or homemade ketchup! (Vegetarian options available too).
Belly Backers
The fare: Belly Backers has most definitely got sweet and savory covered, between decadent waffles with all the toppings and seriously satisfying entrées like deep fried chicken or beef brisket sliders.
Cupcake Delirium
The fare: From classic red velvet to orange dreamcicle, this cupcake truck truly runs the gamut in flavors from which to choose.
Curbside Deli
The fare: Quintessential New York-style sandwiches is what this truck boasts. Add in a selection of savory soups and you've got a winning combination.
The Herban Legend
The fare: Flavor-packed favorites range from American staples like fried green tomato grilled cheese to more exotic picks such as Jamaican jerk chicken. No matter what route you go, you won't be disappointed.
Juan Taco Truck
The fare: Shredded pork, steak, chicken and fish wrapped up with made-to-order fixings in a warm tortilla couldn't be more delectable.
Papi Queso
The fare: The cheese stands alone at this delicious truck that makes the most amazing grilled cheese sandwiches you could possibly imagine.
The Pig and Cow
The fare: This comfort food truck prides itself on using only sterpid, hormone and preservative-free meats and produce.
Roaming Fork
The fare: Using as many local ingredients as possible, this truck delivers a broad range of items like Korean BBQ or truffle fries. Plus the menu changes constantly.
Root Down
The fare: Creole, Southern and Soul flavors influence the distinct flavors of this comfort food truck. Whether it's catfish and grits or creole courtboullion, they've got a handle on authentic Southern eats.
Sal's Roadside Eatery
The fare: Leave it to a Queens, NY native couple to perfect such dishes as Italian chicken cutlet and falafel pitas.
Smoke & Go
The fare: Old fashioned Southern BBQ is what this truck does best. Using a wood pit smoker, the result is unparalleled.
Southern Cake Queen
The fare: These cupcakes are out of the box in flavor concepts. Of course the sweet staples like German chocolate make the menu too, others of note include biscuits and sweet potato–quite fitting for a Southern belle.
Sticks and Cones
The fare: Aside from the cute play-on-words name, Sicks and Cones also boasts every ice cream truck childhood favorite imaginable.
Wingzza
The fare: As you can guess, this truck's specialty is wings. From Carolina Buffalo to the ever-popular Mambo sauce, these wings pack a serious flavor punch.
{above photo: Sticks and Cones at a Queen City wedding (photo by Benjamin Jackson, planned by Hall & Webb)}