Moveable Feasts
Flaunt your foodie cred with a food truck at your reception or rehearsal dinner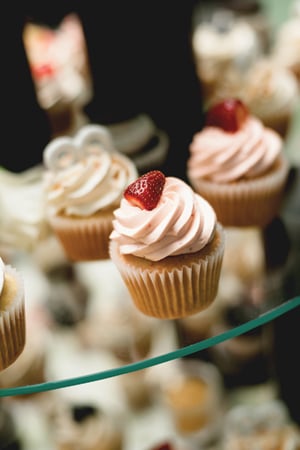 You've seen them all over town—those undeniably delicious roaming restaurants. So why not incorporate your favorite gourmet food truck into your wedding reception or rehearsal dinner?
If you'd prefer a more casual approach (or the perfect option for a late-night snack before your guests head out for the night), opt for one of these memorable meals on wheels. Besides the photo ops (photo booths and food trucks are the perfect match), you can show off your hometown pride and flaunt your foodie cred.
With the bride and groom's style in mind, The Tin Kitchen will tailor its menu to your specifications, whether you prefer hand-held eats served truck-side or a more formal seated dinner. This isn't your typical, run-of-the-mill taco truck, either. Expect gourmet flavors, fresh ingredients, and gluten-free options.
Costs: Starting at $17 per person
Reception favorites: Pig mac (penne pasta layered with cheese, braised pork belly, pork shoulder, and crispy bacon), mini mahi tacos, BBQ beef brisket tacos, drunken chicken tacos (sherry-braised chicken with goat cheese and herb-salad garnish), seafood tacos.
Word on the Street: Stay tuned for two, lip-smackin' brick-and-mortar TK Cafe locations opening in uptown later this year.
FIND IT: Thetintruck.com and on Twitter @tincatering, @thetinkitchen, and @thetintruck
Owner Kelli Crisan rolled into town in 2011. Now, with a devoted foodie following, the street-food slinger makes wedding nuptials a regular part of her route. Expect an eclectic, elegant spin on typical wedding fare with her flavorful, Southern-inspired eats. Brides tend to prefer passed hors d'oeuvres and food served straight from the truck.
Costs: Starting at $12 per person
Reception favorites: Blackened fish tacos, three-cheese grilled cheese (filled with melt-in-your-mouth smoked pork), chicken piccata, build-your-own burgers, Korean barbecue.
FIND IT: Roamingfork.net and @roamingforknc
Cute confections, anyone? Cupcake Delirium lets sweet-toothed sweethearts mix and match from more than 40 different flavors. Shannon Turrell and her crew can serve the cupcakes from the truck (a common rehearsal-dinner request) or set up the sweets on your dessert table. The choice is yours.
Costs: Starting at $2.50 per person
Reception favorites: Red velvet, strawberry, the Elvis (with peanut butter, bacon, and banana).
FIND IT: Cupcakedelirium.vpweb.com and @onthegocupcakes
Farm fresh takes on a whole new meaning with Roots Farm Food: 70 percent of the grub on its catering menu is made with locally sourced ingredients. This means you can show guests your hometown pride by supporting local farmers and score some thoughtfully put-together plates. Available for rehearsal dinners, receptions, and a slew of other wedding-related affairs, Roots meals can be served family-style, passed, set up like a buffet, or served from the cart (or a combination of these options).
Costs: Starting at $15 per person
Reception favorites: Everything from the modern formal appetizer menu (dishes like farm-fresh deviled eggs topped with fried shallots, truffles, and caviar) to barbecue.
Word on the Street: Sign up for one of Roots Farm Food cooking classes ($65 per person) once you've returned from your honeymoon.
FIND IT: Rootsfarmfood.com and @rootsfarmfood
If you and your beloved are cheeseheads, you've found your match with this grilled cheese specialty truck. Perfect for a late-night snack send-off (after your guests have spent hours on the dance floor) or for a casual reception, these upscale sandwiches are dished out hot and toasty, straight from the truck—or served in miniature as passed hors d'oeuvres.
Costs: Starting at $10 per person
Reception favorites: Tomato soup, rosemary kettle chips, seasoned popcorn (served in paper cones), green Muenster melt (horseradish wasabi spread with Muenster cheese and avocado), and the leek and mushroom melt.
Word on the Street: Most brides choose three to five flavor options.
FIND IT: Papiqueso.com and @papiquesotruck
Maki Taco
Maki Taco offers an Asian-inspired street food experience, and will park its colorful truck at your reception or rehearsal dinner. Although the truck's popular soba noodles are always available, most couples opt for tacos (in hard or soft shells). The Hibachi-style rice is also a crowd-pleaser.
Costs: Starting at $7.50 per person
Reception favorites: Thai coconut curry chicken tacos and spicy shrimp tacos.
FIND IT: Makitaco.com and @makitacotruck