Movers and Makers: The Future of C3 Lab
The co-working and gallery space created for Charlotte's creative community takes a stand for arts in South End as the neighborhood grows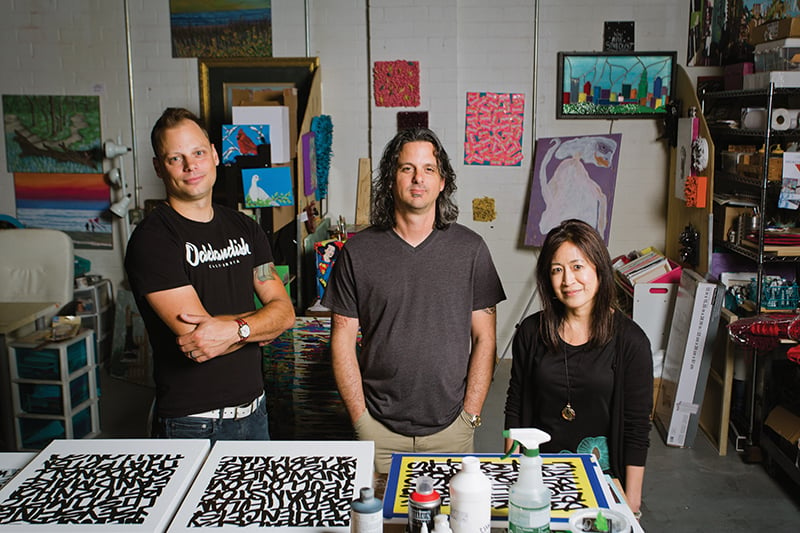 A CROWD FILES into C3 Lab on a Friday night in April, and the scene is surreal inside the cavernous gallery space. Architectonic, the latest show at C3, contains works by Sharon Dowell, Chris Neyen, and Matthew Steele that explore a changing and divided Charlotte with peculiar imagery. Steele's massive sculptures, with pins driven inside by a hammer, a baseball bat, and even a gun, garner the most attention from the visitors, a mixed bag of suited 40-somethings and hipsters. Dowell's vibrant, architectural paintings invite close inspection from passersby, as electronic music swells at the opening. C3 Lab is the right venue for a show such as this, with its front-row seat to the fastest-growing apartment submarket in the United States.
When C3 Lab opened its doors in 2015, South End filled a few niches in Charlotte arts. Tremont Music Hall and Amos' Southend provided live music backdrops for mid-level touring acts, and a modest collection of galleries hosted the city's only crawl at the time. Glen and Maria Nocik saw South End as the prime spot for their arts incubator project, C3, which they envisioned as a hub with an event space, several co-working spots for artists, a gallery, and a workshop. "We both invested a lot of time, emotion, and our own money," Glen Nocik remembers. "For Maria and I, in the beginning, it was either buy a house or start C3 Lab."
Since C3 Lab began hosting artists and shows, the music venues and a few greasy spoons in South End have shuttered for varying reasons, from rising rents to poor management. Crawls have begun to take foot in other neighborhoods again, with areas such as NoDa returning to its arts roots. And South End's flagship food truck rally split into several locations.
Yet, South End just keeps growing. And somehow, despite its peers evaporating, C3 lab keeps growing, too.
***
THE BLUEPRINTS EXTEND across a coffee-table in Glen Nocik's office. C3 Lab is enormous for an arts venue, at 25,000 square feet. But the Nociks' vision is to increase the size of C3 to 45,000 square feet. "As crazy it sounds, it was part of the plan the whole time," Glen Nocik says, "to grow and get to this point. We knew along the way we would come across opportunities and other windows opening."
The first window opened two doors down, at an identical brick building along Distribution Street. There, C3 Lab will increase its stable of 20 co-workers to nearly double that before the end of the year, and Alchemy, a new bar, will debut. With its 3,200-square-foot patio and a spot for Friendship Trays to make food for co-workers and events, the bar punctuates a reality: To be a thriving arts space, you have to consider parallel business ventures. "We would have shut our doors three months after we opened, if we were just depending on artist spaces," Glen Nocik says. "You have to find a way to subsidize your artist space."
The Nociks are already planning the third phase of C3 Lab—expanding to the building that sits between its first and second spaces, which will become vacant by the beginning of 2018. They haven't decided exactly what will become of the final leg, but the Nociks now have help in crafting that vision.
***
EARLY LAST YEAR, Jeffrey Barninger had a big idea, but no place for it. His own arts venue, a collection of studios called Union Shop Studio on Wilkinson Boulevard, didn't have the size and programming capability to pull off what he dubbed No Vacancy. The project was a theatrical experiment that required building a mock motel to serve as an interactive environment for a collaboration with the performance ensemble TAPROOT. When organizers searched for a host, a breakthrough came in September 2016: C3 Lab said yes.
Over months, Barninger and Glen Nocik discovered a kinship in both talent and vision: They both wanted to help the arts community in Charlotte, and they both knew how to make things. During several conversations over beers, the pair went back and forth on the joys, stressors, and realities of running an arts space. This summer, Union Shop folds its Wilkinson Boulevard location, so that Barninger can team up with C3 Lab and help lead its expansion. Barninger will still create under the Union Shop name. "We talked about what we're both trying to do in our separate projects, the struggles we've had, basically living very parallel lives," Barninger says. "That's what led to us thinking about the bigger picture. I don't think either one of us got into the artist spaces to make money. Best-case scenario for artist spaces, from my experience, is that you break even. … Our visions are aligned in how we see this project."
In the meantime, C3 Lab continues to be a spot where the monthly artist meet-up Charlotte Arts Chat convenes. And going forward, yet another arts partnership is ahead with Charlotte Film Society. C3 will host the monthly Back Alley Film Series, in which self-described "poor, lonely, and generally sad individuals celebrate bizarre, strange, and alternative cinema from around the world." The descriptor is tongue-in-cheek, but it speaks to C3's aim to keep its base diverse in both culture and class. The Nociks and Barninger desire to keep that base firmly planted in South End.
"One of things that happens is that artists move into an area of town that's cheap and affordable," Barninger says, recalling a classic urban narrative. "People are drawn to that area, because artists are doing cool things in that area. Developers come in; prices go up. Artists are forced out and go somewhere else and start again. NoDa was one of these areas, and this happens in so many cities. It's important that we create space that's permanent. Artists don't have to move somewhere else and keep reinventing the wheel over and over and over again."
As the hybrid space grows, so do the ways in which one aspect of C3 feeds another. The co-working spots, event space, gallery sales, and bar rely on the success of other components. "When you come here and eat at Friendship Trays, you'll be helping Meals on Wheels in Charlotte," Glen Nocik says, offering one example.
"And that's one of the main tenets of what we're doing," Barninger adds. "Everything here supports something. Food supports Friendship Trays. The bar is supporting the arts. The arts are a part of the community. In a way, you'll be philanthropic just by having a beer at C3 Lab."