Moving Poets Throws Barefoot Studio Crawl (Plus: The Weekday Roundup)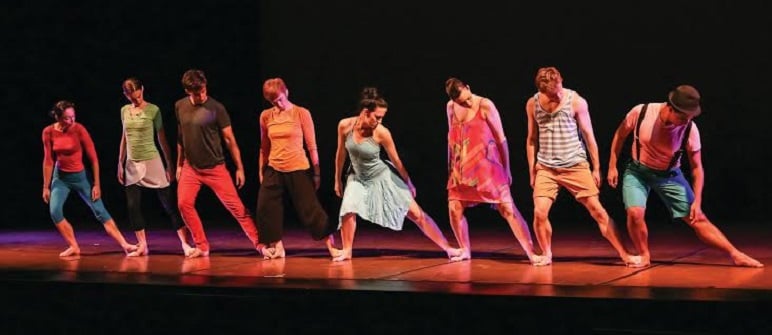 It started as a simple request. Sarah Emery, artistic director for Moving Poets Charlotte, was asked if attendees for a Saturday fundraiser could take off their shoes while touring a set of Plaza Midwood studios. Instead of making it a short disclaimer on the invitation, Emery decided to make it the central theme of the event. "I thought, 'Hey, that could be kind of interesting,'" she says. "Let's go with that."
The Barefoot Studio Crawl, taking place between Yoga One and Open Door Studios, raises funds funds for the regional extension of Moving Poets, a cross-disciplinary dance theater that also has a home in Berlin. The group was started in 1996 as a project between actor Randell Haynes, choreographer Till Schmidt-Rimpler, and poet Chuck Sullivan. This crawl fundraiser, like Moving Poets as an entity, isn't limited to a single medium. "A lot of times, crawls are for visual art and galleries," Emery says. "I've tried to make this event different, with a kinetic sculpture exhibition, music, visual art, and live painting on feet."
Jason Watson offers portraits at the event, using the feet as canvases, though attendees are also encouraged to decorate their feet to win a prize. Other features:
* A dance performance by Moving Poets.
* A kinetic sculpture exhibit from Kit Kube.
* A live painting by Gabriel Devereux.
* A hooping performance by Ravyn King.
* A musical sculpture by Colleen Galeazzi.
* Live music performances from Sinners & Saints, classical guitarist Aris Quiroga, and percussionists Greg LaBarbera and Blake Barnes.
* A silent art auction.
The event runs 7:30 p.m.-10 p.m. Saturday (March 28). Tickets run $25 (available here), and attendees are encouraged to RSVP for the catered event here.
MONDAY
ILLUSION
This exhibit highlights tricks of the eye and tactics used by magicians to inspire confusion and wonder. Warped mirrors, dimension-shattering stops, and technology-driven tricks wow visitors as part of the broader exhibit.
TUESDAY
CHARLOTTE SYMPHONY: SIR JAMES GALWAY
Virtuoso Sir James Galway has been regarded as one of the top flutists in the world for decades. He's joined by his wife and fellow flutist, Jeanne Galway, for this performance with the symphony. Fun fact: Galway was knighted in 2001, surely inspiring the downtrodden flautists of the world.
WEDNESDAY
CHARLOTTE MUSEUM OF HISTORY
For a city that often looks forward, this museum reflects on the rich background of the region. The eight-acre property is also home to the Hezekiah Alexander Homesite, featuring the oldest house in Mecklenburg County. The combination of exhibits, re-creations, and an authentic 1774 building is unique among area museums for both its format and scope. Guided tours available.
THURSDAY
THE NORMAL HEART
The Normal Heart balances the individual stories of one group of friends, battling with politics and fear during the original AIDS crisis.