"Mr. Christmas" Brings Glad Tidings to The Queen City
Our Q&A with Jim Brickman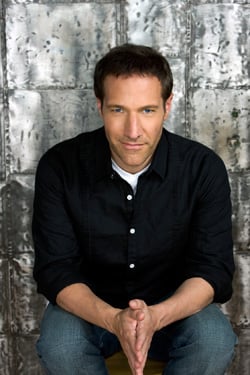 Pianist Jim Brickman blends his knowledge of the classics with his penchant for pop and New Age. He enrolled in the Cleveland Institute of Music in his late teens. The focus was classical, but Brickman was drawn to more mainstream music. At nineteen, he went commercial–literally–when he began writing jingles for such corporate giants as the Gap, Sprint, and Kellogg's. But, he really hit the big time when he started working with Jim Henson and the Muppets.
In 2007, he found what may have been his true calling: Christmas music. He released the holiday-themed Homecoming. Since then, there have been more holiday-themed recordings — The Gift, Joy, and the latest, All Is Calm. When he comes to the Knight Theater on Dec 18, it will be as part of his holiday tour. But rest assured, there will be other songs from the Brickman catalog. Learn more.
Charlotte magazine: I've been following you on Twitter, and I saw you Tweeted recently that your audiences keep getting younger and younger. Are you surprised? I mean, you are "America's Romantic Piano Sensation."
Jim Brickman: No, not really. You want to encourage young people. So, their parents may introduce them to my music. Or, a piano teacher may introduce them.
I try to make this a family show. That's what comes naturally to me. My hope is that people connect to [my music]. There's humor in the show, but it's very light-hearted and clean.
CM: Is it strictly Christmas music?
JB: It's not. It's about half and half. The reasons people come to my shows are varied. Some may be playing my Christmas music at home and want to hear that. Maybe a couple played "Valentine" at their wedding, and that's what they come to hear. I figure there are enough Christmas pageants at churches, schools, and malls. I have to do what's unique to me, and I'm not there to put on a Christmas pageant. That's covered already in a lot of places. So, this show is a nice combination of hits and Christmas music and some of my Christmas music. it's a family, variety type of show — very light-hearted and fun, but with a lot of emotion, too.
CM: Yes, it's sounding like the wonderful Christmas shows I grew up with — Andy Williams and Bing Crosby and those.
JB: Exactly. There's not a lot of that kind of thing around. It's charming, familial, and has a living room kind of feel. Largely, that's because of the cast. I choose people who fit as a complement to each other. The guest stars weave in and out. I ask myself, "What would feel right next? Is it time for Anne [Cochran] to come out in a sparkling gown? Is it time to raise the energy level?" Crafting the song list is something I think through very specifically. The show evolves after the first week. You tend to tighten it, keep in things people like. You can start to gauge that after the first two or three shows. By the time we hit Charlotte, it will be so incredibly refined. The energy and structure has almost a Broadway show quality. It's more theatrical than "Now, here's this song, and here's the next song."
The lighting is very beautiful, but very simple. You know, it's complex to achieve simplicity. I want it to be classy. I don't feel we need to overdo the accoutrements. You're not going to see a bunch of Christmas trees and garlands. You can see that at Walmart. I want the music to be the star of the show. I don't want people to leave saying, "I loved those Christmas trees."
CM: It sounds like you're not just the main attraction. You're also the producer. It's your sensibility that goes into designing the whole production.
JB: Of course. It has to be. I'm the emcee. It's my brand, my point of view, my song list.
CM: My sister and I went to see one of your shows at Ovens a few years back, but it wasn't a Christmas show. We loved it, but it felt very much like a date night for most of the audience. Then again, you have been dubbed "America's Romantic Piano Sensation." It doesn't sound like your Christmas show is at all like that.
JB: It's not. And, the whole "romantic" billing — I'm self-deprecating about it. I think it came about just in an effort to call it something. People always want to know what they're getting. My music was hard to classify. If you didn't know anything about my music, and you asked me to describe it, I might say, "It's pop, solo, and piano, and it's emotional" but that still doesn't get at it. You might ask, "But, is it jazz? Is it classical?" "Romantic" was a way to classify and describe it.
I am tongue-in-cheek about that moniker. While the music is inherently romantic, it's not about just romantic love. That's the misconception about the word "romance." People assume it means flowers and chocolate, but my songs are about all kinds of love — friendships and relationships. It's everything; it's not just romantic love.
CM: Got it. Not only have you been dubbed, "America's Romantic Piano Sensation." You've also been called "Mr. Christmas." Do you love Christmas as much as it seems?
JB: I do, but what I love is the joy shared through music. I love the charm, nostalgia, the emotional connections, the family aspect. I wouldn't be one to decorate the house. it's more about the feeling and the way music brings that out in people.
CM: It's good you don't want to decorate since you don't have time to anyway. You're always on the road.
JB: I love it — when other people do it. [Laughs.]
CM: What's your current favorite song you're playing?
JB: Oh, that's tough. [Pause.] There's a singalong I do with one of my new songs, called "Fa La La." It's a happy song — and very emotional. It's lighthearted and different from a lot of my previous Christmas material.
And, I'm also doing a medley of songs I loved when I was growing up — the songs that influenced me. I started wondering why I wrote in this particular style — why I like positive, hopeful melodies and songs that sort of inspire. So, I'm playing those this time. "The Rainbow Connection," "Somewhere Over the Rainbow," "When You Wish Upon a Star," those songs — the songs about the importance of believing in something. They're the songs I played during piano lessons when I was growing up. So, these songs aren't literally about Christmas, but they're similar.
We do a lot of medleys. People will hear what they expect to hear, but not every song is played in full. We'll do "O, Holy Night," "Let it Snow," "Silent Night," "O, Come All Ye Faithful," "Greensleeves." As a performer and an audience member, I think medleys work.
I don't tend to do a lot of Christmas pop songs because I feel they're all over the radio this time of year. "White Christmas" and "Have Yourself A Merry Little Christmas" are not generally part of the repertoire. We do the songs that lend themselves to instrumentals.
CM: You use the word "we" a lot. I get the feeling this show is really a collaboration. It's not just "The Jim Brickman Show."
JB: It is a group effort. If there's one complaint I ever hear from fans, it's that there's not enough of just me. But, this is a true family celebration. There's a lot of camaraderie, a lot of singing. It's not just piano.
CM: Yes, I know you and Anne have been together for years.
JB: For many years. And, we're excited to be joined for the first time by Ben Utecht, a former NFL player who has a Super Bowl ring [from when he was with the Indianapolis Colts], who is such a great guy. An amazing complement. A complete sweet and wonderful guy. When I'm on stage with these people, I just want it to keep goiing.
CM: Ben is blogging during the tour, right?
JB: Yes, well, he's twenty-something, so he can do that.
CM: How'd you find him?
JB: A friend of mine, the conductor of the New York Pops, introduced us. And, Sandi Patty, the gospel singer, discovered him and also played a part in making the introduction.
CM: You've written some very famous commercial jingles. Do you do any of those?
JB: Not much. That was twenty-five years ago. There just isn't time in my shows now to do them now.
CM: Do you take requests?
JB: We did. We did a request segment for about five years, but we're not this time around. There's just too much material. We're pretty much full up. And, we'll do just about everything anyone would expect to hear.
CM: It's been a pleasure to speak to America's Romantic Piano Sensation and to discover that your music is about more than just romantic love.
JB: Thanks a lot.