Ms. Sarah's Breakfast Club
Where west Charlotte activists meet uptown's power players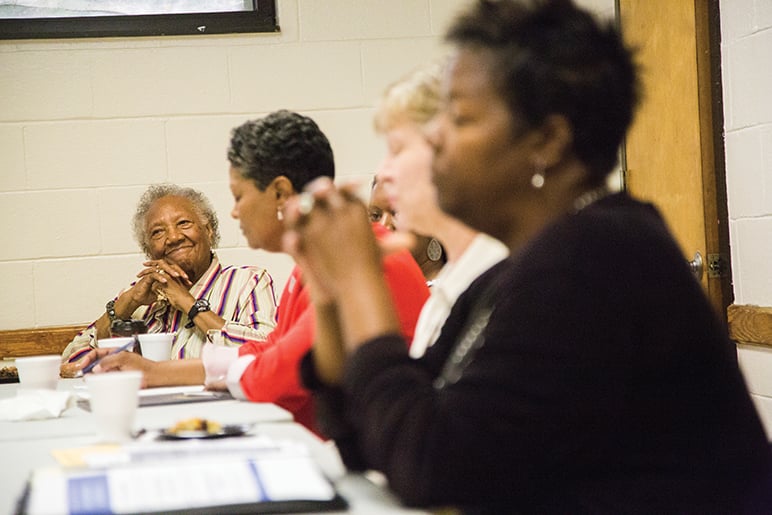 "WE HAVE A SITUATION," Mecklenburg County Commission Chairman Trevor Fuller says as he scans a roomful of faces in the West Charlotte Recreation Center—young and old, black and white, skeptical and friendly. At his side sits 88-year-old Sarah Stevenson, who is also studying the crowd. She puts a finger to her lips and furrows her brow. The people—Stevenson's people—quiet down immediately, and she rewards them with an affectionate smile.
Fuller is a guest at the Tuesday Morning Breakfast Forum, a weekly gathering that Stevenson helped start in the late 1970s to discuss local political and social issues.
On this July morning, Fuller explains that he wants to raise the sales tax to better compensate area teachers.
"Make the state do it," calls a woman in the back of the room. "Amen!" yells a man in a hat. "But this affects our children!" exclaims a second woman, her voice shaky with emotion. "Preach! Preach!" several others answer. Again, Stevenson puts her fingers to her lips.
"Sometimes you have to cut people off when they go on a rampage," Stevenson explains later. "They get a little rude. But it's because they are so passionate about the community. And some of them," she says, reaching for one of the two crosses she's wearing, "have been through the same kinds of things I have."
Stevenson became a social and political activist when her sons enrolled in local public schools in the 1960s. "That's when I first started to really get mad about stuff," she says, recalling how African-American children had to use insufficient hand-me-downs from white students, such as damaged books and ill-fitting uniforms.
Over the years, she fought to end inequality in Charlotte-Mecklenburg Schools and spurred the integration of the Mecklenburg County PTA. "I even beat a white man to become president of the combined organization," she says, grinning. Years after becoming the local PTA chapter president, she became the first African-American woman on the local school board. "It's all been so interesting, exciting … and disappointing," Stevenson says. "I'm still hopeful I'll see more integration. More togetherness. People do so much better when we work together and share ideas."
And that, Stevenson says, is why she started the Tuesday forum decades ago in her west Charlotte neighborhood.
"It's an informational tool," she says. "It enlightens people."
Over time, it also became an influential tradition, drawing audiences from all over Charlotte and beyond. "We've had so many important guests," she says, rattling off names like Franklin McCain of the Greensboro Four, civil rights activist Andy Young, and Zwelabo Mandela, one of Nelson Mandela's grandsons. The forum is a magnet for campaigning politicians, too. Mentioning that, Stevenson's expression grows mischievous. "People do say, if you want to get elected, you have to go to Sarah Stevenson's breakfast forum."
The same principle applies to passing referendums. This month, voters are slated to decide whether to raise the county sales tax, and Fuller has been trying to rally support for the controversial measure.
"All right, we're going to have to wind you down now," Stevenson tells Fuller, drawing the meeting to a close amid bursts of laughter from the audience. "And you," she announces to the room, "I'd like to ask you to leave the building completely." But no one does. Not immediately, because everyone wants to get in line to give "Grandma Stevenson" or "Ms. Sarah" or "Mama" a hug.
"I don't intend to stop any of this anytime soon," Stevenson says as she finally leaves the recreation center herself. "Every morning when I get up, I pray to the Lord to let his light shine through me. And I'll do it as long as he lets me live."