MTV's Real World Hosts Uptown Casting Call (Plus: This Weekend in Charlotte)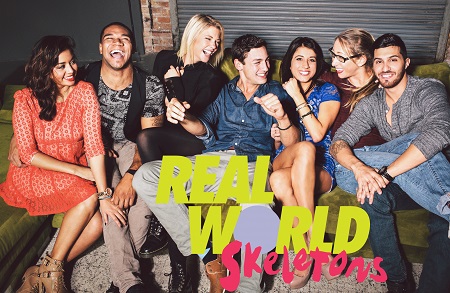 DON'T MIND THE long line at Duckworth's Grill and Taphouse in uptown Saturday. That's just the line of millennials vying for a spot in an upcoming season of MTV's Real World. The show brings its casting call to Charlotte, and residents 21 and older are welcome to audition. The show's target is those who "appear to be between the ages of 20 and 24."
Charlotte's never had its own housemate, but there have been a few North Carolinians. Fayetteville natives Jessica McCain and Jason Hill were on the 28th and 30th seasons, respectively. "As always, Real World welcomes anyone with a great personality and a willingness to share their life with the world," the casting call says. "Most of all, we are looking for surprising and unusual life stories that have yet to be told on television."
The real shame is that Charlotte has yet to be a backdrop for an entire season. In our dream scenario, the seven lucky strangers occupy an uptown condo and man the King of Pops carts or take orders during Food Truck Friday. Until then, let's hope to see at least one Charlottean on the show.
The casting call runs 10 a.m.-5 p.m.
If you're not vying to be the next Puck or Jamie Chung, check out our other weekend options below.
FRIDAY
#ONTHEHOOK
Five performing-arts groups come together to highlight inequality with the latest installment in this new series. On Q Productions, XOXO, A Sign of the Times of the Carolinas, One Voice Charlotte, and The Possibility Project come to Little Rock A.M.E. Zion Church for this free performance.
THE JAZZ ROOM: RYAN HANSELER PLAYS THELONIOUS MONK Thelonious Monk's immeasurable contributions to jazz earned him awards and praise, but one of the best tributes is to perform his famous tunes. Pianist Ryan Hanseler comes to the Stage Door Theater to do just that.

ANNIE
This Broadway favorite packs a big punch with the story of the child protagonist. An impressive cast of children lead the way on this adventure at Belk Theater, with many familiar songs from the 1982 film.
HOSHICON
Japanese culture—specifically animation and video games—takes over the Sheraton Charlotte Airport Hotel for three days. The convention will have standard guest signings, but also expect karaoke, costume contests, and photo shoots.
SATURDAY
SAM SMITH
Fresh off a Grammy win, Smith brings his British croon to Time Warner Cable Arena. His recent vocal cord surgery forced some show cancellations in Australia, but he's ready for us.
FARM DAY
Horses, goats, and chickens invade the Charlotte Nature Museum for a one-day celebration of life on the farm. Puppet shows and storytelling included. Museum admission required ($6).
MINT MUSEUM UPTOWN
The contemporary offshoot of its sister location on Randolph Road, the Mint Museum Uptown brings exhibits from around the world, delving into fine art and fashion. Body Embellishment (through Sept. 6) focuses on tattoos, jewelry, fashion, and nail art with about 100 objects on display.
SUNDAY
DIXIE'S TUPPERWARE PARTY
For 24 performances, the off-Broadway party comes to Charlotte's Booth Playhouse. The titular Dixie is a quick-talking Tupperware lady and storyteller.
FALL OUT BOY AND WIZ KHALIFA
It's not an obvious pairing, but the co-headliners are giants in the worlds of pop-punk and hip-hop, respectively. New York's Hoodie Allen, an emerging rapper, is also part of the lineup at PNC Music Pavilion.
SHANIA TWAIN
Make no mistake: This is a farewell tour. After 11 years, Twain is coming back and giving you a chance to say goodbye along with thousands of other screaming fans. Don't worry; I'm sure she'll be able to hear you inside Time Warner Cable Arena.