Mummies Take Over Discovery Place
This month, we see dead people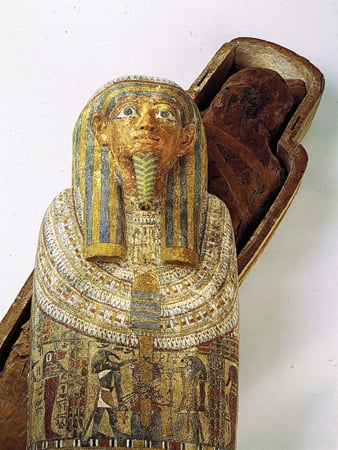 King Tut won't be there, but an even older mummy will. A 6,420-year-old child mummy is one of the 150 artifacts on display at Discovery Place as the museum hosts Mummies of the World—the largest collection of its kind. Twenty museums contributed to the collection, but most of the artifacts are from the German Mummy Project, which began in 2004 after twenty unidentified mummies were found in a European museum's storage area. And be warned, some of these things are creepy. There's a mummified Hungarian family that was discovered in a forgotten church crypt; a seventeenth-century German nobleman; and even some perfectly preserved animals including fish and dogs saved to be with their royal masters for eternity.
Mummies of the World (opening Nov 11) is the largest exhibition of mummies and related artifacts ever assembled. Artifacts include Egyptian and South American burial objects including statues and fragments from the Book of the Dead. A full 12,000 square feet of exhibition space offers state-of-the-art multimedia and interactive stations that inform audiences how mummies are created, where they come from, and who they were.
Ticket Prices, General Admission:
Adults (ages 14+): $24
Child (ages 2-13): $18
Students with ID/Seniors: $20
Ticket Prices, Members:
Adults (ages 14+), Seniors or Students with ID: $18
Child (ages 2-13): $12
Tickets to Mummies of the World are for timed entries. Visitors will need to pick a date and time of visit prior to purchasing. All tickes include admission to the entire museum.
When:
The exhibit runs through April 18, 2012
Hours:
Mon-Fri, 9 a.m.-4 p.m
Sat., 10 a.m.-6 p.m.
Sun, noon-5 p.m.
Where:
301 N. Tryon St.
Charlotte, NC 28202
704-372-6261