Murphy's Kitchen and Tap Opening, Charlotte Jazz Festival, GayCharlotte Film Fest and More, April 21 to April 24
From Charlotte's newest Irish pub opening to a Cajun-themed two-day festival to a German spring festival, Charlotte is oh-so international this weekend.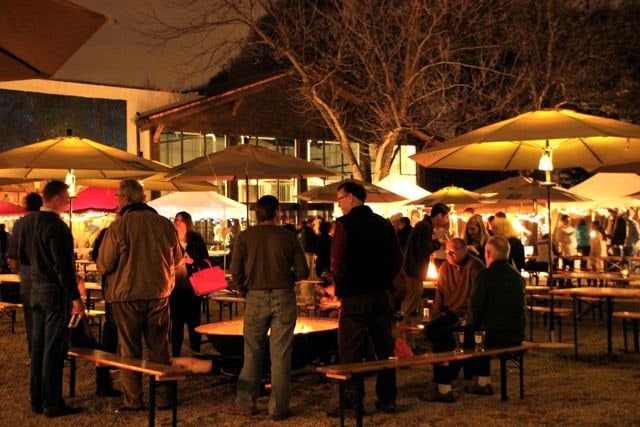 Charlotte magazine stopped by the city's newest Irish pub, Murphy's Kitchen and Tap, Tuesday night, and we're happy to report it's worth a stop. The pub officially opens Wednesday evening. This two-story pub came to be after Mark Murphy, who's from West Cork, Ireland, and is a former bartender at Connolly's on Fifth, and one of Murphy's regular customers, Cole Woodlock, became close friends and decided to open their own pub.
Murphy's, according to, well, Murphy, stands apart from all the other Irish pubs in Charlotte because unlike the others, this place celebrates Irish-American history rather than Ireland itself. Together with former Cellar at Duckworth's bartender, Larry Suggs, the trio will bring a slate of nine draft beers (two Irish: Harp and Guinness) downstairs and 10 upstairs (the additional being a rotating tap to be decided each month) and about eight specialty cocktails that Suggs said will feature the traditional cocktails "the way things used to be 100 years ago."
As we asked Murphy which Irish liquors he plans to have on hand, he smiled and offered a one-word answer with a hearty Irish brogue.
"Lots."
He's not kidding. To name a few, Murphy's offers Jameson Black Barrel, Bushmills, Red Breast 12 Year Old, Tullamore Dew and more.
Murphy's is at 445 W. Trade St., just down the street from Bank of America Stadium and around the corner from BB&T Ballpark.
Of course, there's a lot else going on this weekend, including our Hornets, who are in the playoffs. Also, the Charlotte Jazz Festival is running from this past Monday until Saturday. Click here to read the festival guide and plan your weekend. See y'all out there!
Thursday, April 21
GayCharlotte Film Fest
In the wake of House Bill 2, this might be the annual film fest's most important showing. Starting today and continuing until Sunday, this year's fest screens two Oscar-nominated and Oscar-winning films, "The Danish Girl" and "Carol." Showings and prices vary, but the festival will be at Theatre Charlotte, 501 Queens Road. Buy tickets here.
Sustain Charlotte Awards
The who's-who of sustainable Charlotteans will surely be in attendance tonight at these annual awards honoring the greenest of the city's green. Friday is Earth Day, so this event has special significance. Roots Catering will provide the food along with Heirloom, Lenny Boy Brewing Co. and more. The awards are at LaCa Projects, 1429 Bryant St., from 5:30 p.m. until 8:30 p.m. Tickets cost about $59, and you can buy them here.
A Craft Beer Dinner
The chefs at Leroy Fox are crafting a three-course meal tonight paired with three craft beers plus a bonus beer and bacon flight. The dinner is from 7 p.m. until 9 p.m. at 705 S. Sharon Amity Road. Tickets cost about $59. Buy them here.
Friday, April 22
German Spring Fest
Join the Bechtler Museum of Modern Art at this fundraiser, featuring Southern appetizers, wines and craft beer from Olde Mecklenburg Brewery and live jazz music. The event is from 7 p.m. until 10 p.m. at 420 S. Tryon St. Tickets cost about $95. Buy them here.
Eight-Year Anniversary Party
Whisky River turns 8 today, and it's inviting you to help celebrate. The party features a free buffet with RSVP from 8 p.m. until 9 p.m., $5 Jack Daniels specials and celebratory $8 cocktails in a souvenir boot mug. The birthday party is at 210 E. Trade St., and there's no admission fee.
Rooftop210 Anniversary and Season Opener
Come up to the rooftop tonight to celebrate the return of warm weather and all things hot. Rooftop210's party tonight also features free beer and wine from 9 p.m. until 10 p.m. at 210 E. Trade St. VIP tickets cost about $28, and you can buy them here.
Saturday, April 23
"Schoolhouse Rock Live" Adult Night
Everyone's favorite Saturday morning cartoon gets a rock 'n' roll remix. Sing along to "Conjunction Junction" and "I'm Just a Bill" as the Children's Theatre of Charlotte proves it's not just for kids at its Adult Night. This one-time evening features a full production of the show plus a pre-show reception with barbecue, beer and wine from Mac's Speedshop. The boozy reception begins at 6:30 p.m., and the show begins at 7:30 p.m. at 300 E. Seventh St. Ticket prices vary. Buy them here.
The Betty BINGO Show
The ever-popular Betty BINGO Show returns to Ballantyne tonight with comedy, singing, dancing and, of course, BINGO. The show, which frequently sells out, is at 7 p.m. at the Ballantyne Arts Center, 11318 N. Community House Road. Tickets cost $28 for two. Buy them here.
Louisiana Spring Fest
Enjoy feasting on the Big Easy's staples all day today and tomorrow. The Olde Mecklenburg Brewery's sixth-annual event features crawfish flown in overnight from the Louisiana bayous, jambalaya, red beans and rice, shrimp and more plus live Cajun and bluegrass music. The party starts at 11 a.m. today and lasts until 10 p.m. Sunday at 4150 Yancey Road. There is no admission fee.
Sunday, April 24
Mutts and Mimosas
Bring your four-legged friend to Atherton Market today from 1 p.m. until 4 p.m. for this fundraiser for the Humane Society of Charlotte. The event features adoptable pets, and it promises "puppy kisses at no charge." There will also be vendors, food and more. Atherton Market is at 2104 South Blvd., and there is no admission fee.
Verify dates, times, prices, and other info at the web addresses listed for each event.
Be sure to bookmark www.charlottemagazine.com/Blogs/Dusk-Till-Dawn to stay plugged into Charlotte's nightlife and social scene. Click here to sign up to receive the weekly Dusk Till Dawn e-newsletter.
Want your event featured in Dusk Till Dawn? Follow me on Twitter @Jared_misner and let me know about your event, or send me an email at dusktilldawnblog@gmail.com.
Send Jared an email at DuskTillDawnblog@gmail.com, or send him a tweet @Jared_Misner.

Also by Jared Misner:

→This Weekend's Social Events
→Bowling For Books, First Friday Fort Mill, Electric Luau Party, Soulmatic Carolina Music Fest and More, Aug. 6 to Aug. 9
→The Moon Walk, Candy Fest, Silly String Party, Booze Cruise and More, July 30 to Aug. 2
→Christmas in July, More Christmas in July, National Dance Day, National Tequila Day and More, July 23 to July 26