Mushroom Risotto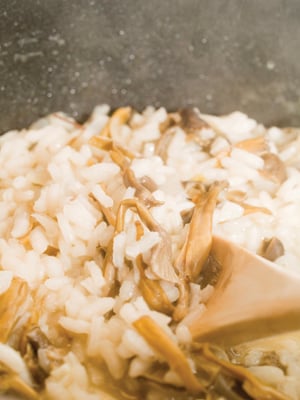 Yes, it takes a lot of stirring to make a proper risotto, but that's a small sacrifice for adding this delicious dinner to your repertoire. Serve the risotto with a green salad for a vegetarian dinner for four, or as a side with thinly sliced flank steak for eight. And this recipe keeps on serving long after the plates have been cleaned and the appetites satiated. With extra mushroom stock and a day-after appetizer as spinoffs, this is a dish you'll consider making at least once a month.
Shopping for dinner:
3 14.5-ounce cans low-sodium vegetable broth (about 5 1/2 cups)
1/3 cup olive oil 2 shallots 1 cup aborio rice 2 packages (1 pound) baby portobello or crimini mushrooms 1/2 teaspoon kosher salt 1/2 cup sparkling wine 1/3 pound Parmesan cheese Kosher salt
Getting ready for dinner:
In a medium saucepan over low heat, bring the vegetable broth to a simmer. Warm broth will be incorporated into the risotto more quickly.
Peel and mince the shallots.
With a damp paper towel, wipe the mushrooms clean. Remove and save the stems. Slice the mushroom caps.
Grate the Parmesan cheese. Keep the cheese rind.
Cooking dinner:
In a large, heavy saucepan (the better to distribute the heat) warm the olive oil over medium-high heat. When the oil begins to thin, add the shallots and sauté, stir- ring frequently, until soft and fragrant, about 2 minutes. Add the rice and sauté, stirring frequently, until the rice looks pearly, about 3 minutes. Add the sliced mushrooms and the salt and stir to coat with oil. (A flat wooden spoon is the best utensil for all this stirring.) Cook until the mushrooms are tender, about 5 minutes. Add the sparkling wine and cook, stirring frequently, until the wine is absorbed. Now add the warmed vegetable broth, a 1/2 cup or so at a time, stirring each addition until it is absorbed. When all the vegetable broth is absorbed, turn off the heat and stir in grated cheese. Serve immediately.
After dinner:
Mushroom stock. Make your own stock with the mushroom stems, cheese rind, a few black peppercorns, and a few sprigs of thyme and parsley. Add enough water to cover and bring to a simmer for about 45 minutes. Strain out the solids, and you have stock for your next risotto dinner. Refrigerate stock up to a week or freeze indefinitely.
Risotto, part II. If there's risotto left over after dinner, turn it into tomorrow's appetizer. Risotto doesn't reheat well, but rolled into golf-ball-size orbs, dipped in beaten egg and bread crumbs, and fried in 2 inches of hot oil, risotto becomes addictive arancini. All that wine. There will definitely be leftover sparking wine, too. Only one thing to do: drink it!
April White is the author of the cookbook Latin Evolution. The former food editor for Philadelphia magazine, her food and travel writing has appeared in Food & Wine, US Airways Magazine, and The Philadelphia Inquirer.