Music Festivals, Rock 'N Run, Celebrity Parties, and More this Weekend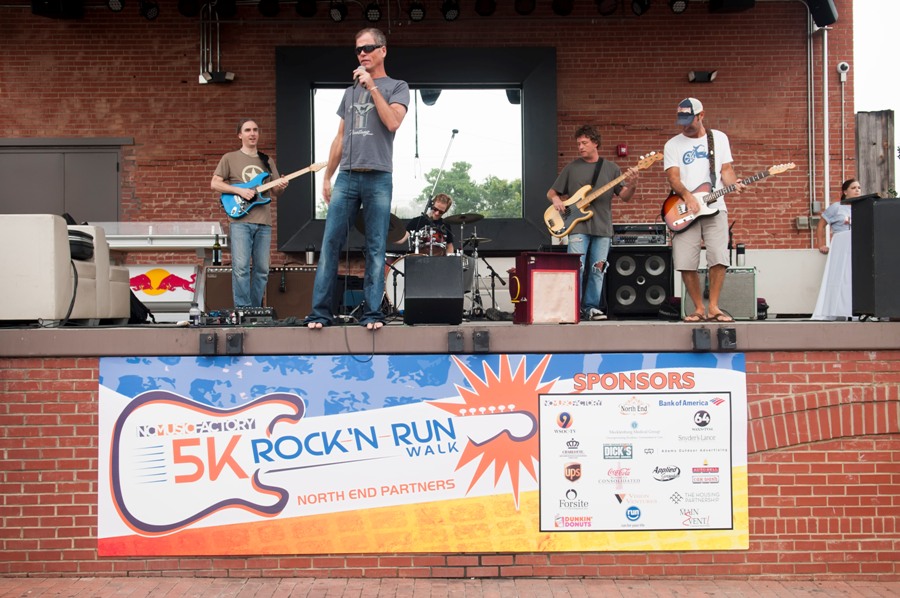 Here are more than a dozen events for you to choose from this weekend. Party responsibly.
Friday, August 10
Summer Bar Tour Vol. 1
Enjoy cold beer on the party bus as it transports you to stops at five Charlotte bars. Participating: VBGB Beer Hall & Garden, World of Beer, Stadium Sports Tavern, Tilted Kilt, and Prohibition. Drink specials featured at each location. 6:30 p.m. $15, or $20 for two people. Bus departs from Alpha Mill Apartments, 220 Alpha Mill Ln., alphamillcrawl.eventbrite.com.
I Am Music Fest 2012
Treat yourself to an evening of great soul music. Headlined by Grammy Award-winning singer-songwriter India Arie, and others acts include Mint Condition and Laura Reed. Presented by The Sol Kitchen. 7 p.m. $39.50-$79.50. Belk Theater, 130 N. Tryon St., carolinatix.org.
Bubbles, Babes and BBQ
It's an all-day event at this gentleman's club. From 12-7 p.m. there's a car and bike wash, where one of the beautiful babes will wash your vehicle. Then at 7 p.m., the luau begins. All the while you can enjoy barbecue and drink specials such as $2 jello shots, $3 Miller Lite and Bud Light, and $4 Sex on the Beach. 12 p.m.-2 a.m. The Gold Club Charlotte, 5624 Old Pineville Rd., thegoldclubcharlotte.com.
NFL Warm Up Party
Get geared up for football season by playing games of your own—cornhole, flip cup, and beer pong—and win prizes including Carolina Panthers tickets. Drink specials include $3 Miller Lite and $5 Jager, along with a complimentary wing buffet. 5 p.m.-10 p.m.; bar open till 2 a.m. Free. Whisky River, at EpiCentre, 210 E. Trade St., whiskyrivercharlotte.com.
Charlotte Web Awards 2012
The people have spoken; now see which websites, blogs, and social media impresarios are taking home Web Awards. Presented by Elevate Lifestyle. 8-11 p.m. Free. BlackFinn, at EpiCentre, 210 E. Trade St., blackfinncharlotte.com, elevatelifestyle.com.
Saturday, August 11
NC Music Factory 5K Rock 'N Run
This annual event promotes a positive social and economic impact for the North End corridor, while you run (or walk) for a good cause. Proceeds will benefit Second Harvest Food Bank of Metrolina. Schedule: 6:30-7:30 a.m. registration; 8 a.m. 5K run/walk begins; 10 a.m. post-event concert, health and wellness pavilion, massages, vendors, kids activities, and more. $35 for adults; $5 for kids. NC Music Factory, 1000 NC Music Factory Blvd., ncmusicfactory.com, ncrockandrun.com.
Steve Fest 2012
It's one of Charlotte's longest running local-music festivals. This year's lineup includes This Weakness Being Mine, Fever Hymns, Actions Louder Than Words, Rekless Youth, Old Soles, Birds With Teeth, Tyler Brown Band, Lo Ultimo, and Lucky Five. Good food and drinks will be for sale. 1 p.m.-2 a.m. $13. The Saloon at NC Music Factory, 900 NC Music Factory Blvd., thesalooncharlotte.com, stevefest.ticketleap.com.
Brief: A Fete for Fashion
It's a fashion show the ladies can enjoy—male models will grace the runway in underwear and swimwear. Proceeds will benefit the Cystic Fibrosis Foundation and Regional AIDS Interfaith Network. 7-11 p.m. $25 and up. Extravaganza Depot, 1610 N. Tryon St., extravaganzaevents.com, briefafeteforfashion.org.
Biz Markie
The legendary hip-hop performer and DJ returns to Charlotte. 9 p.m.-2 a.m. Free before 11 p.m. Privilege, 223 S. Brevard St., privilegecharlotte.com.
Panache III: Miguel's Official Concert After-Party
R&B star Miguel hosts this party after his concert at Power 98's SummerFest. Music by DJ Skillz. Presented by M. Simmons, Roundtable Ent., and The Sol Kitchen. 10 p.m.-2 a.m. $10 in advance. Re:Public, 314 N. College St., facebook.com/republic.charlotte, pananche.eventbrite.com.
ID Saturdays Presents Adult Swim
It's a tropical beach-themed party featuring the sounds of summer by DJ Frenzy. Beach chic attire is encouraged. 10 p.m.-2 a.m. $10 in advance. Phoenix, 300 N. College St., phoenixcharlotte.com, wantickets.com/adultswim.
Sunday, August 12
Moxie Sundays
Moxie Society continues its popular day-party series. Enjoy $5 Moxie martinis and food specials. Music by DJ Danny Dee. 3-9 p.m. RSVP to info@moxiesociety.com for complimentary admission before 5 p.m.; cover charge after; bottle service available. Kalu, 505 E. Sixth St., kalunc.com, facebook.com/moxiesociety.
Name Your Poison: Sin Edition
Pros of the service industry will show off their mixology skills and special cocktail concoctions, in a competition for cash prizes. 10 p.m.; judging begins at 11 p.m. Free. Prohibition, 200 N. Tryon St., prohibitionclt.com.
Verify dates, times, prices, and other info at the web addresses listed for each event.
Be sure to bookmark www.charlottemagazine.com/Blogs/Dusk-Till-Dawn to stay plugged into Charlotte nightlife.