Music Matters
When choosing who (and what) will play at your wedding reception, heed these bits of wisdom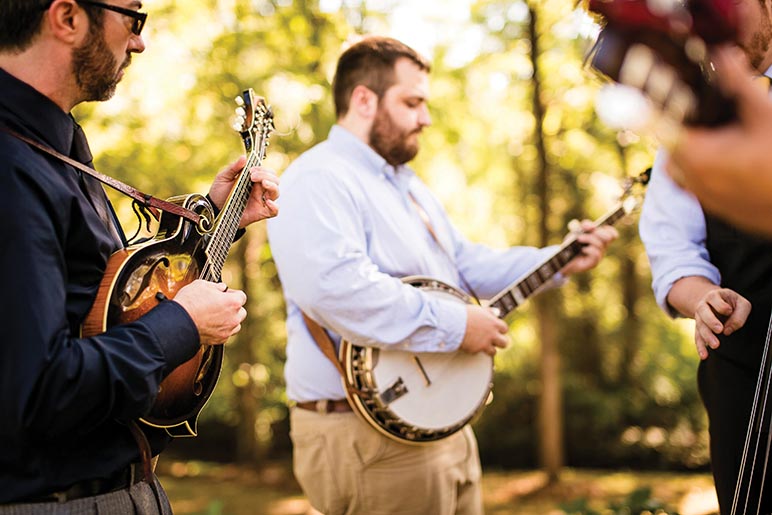 Event planner Ivy Robinson had warned her bride about choosing a band for her wedding reception based strictly on cost. The bride, though, overruled and enlisted the band anyway. "It was awful," says Robinson, who has planned nuptials for the likes of The Bachelorette alum Emily Maynard. "The band was so terrible, the interim musician, who played when the band took scheduled breaks, ended up playing the remainder of the evening instead."
Though it may seem obvious how to choose the music played at your wedding reception—and who will play it—there are several things to keep in mind before signing a contract.
---
Do Your Research
Choosing a DJ or band should involve an interview process and ideally some research. Most bands will have video trailers of wedding performances so you can get a better feel for what they'll be like at your wedding, says Robinson.
While seeing the band or DJ perform at a wedding would be the best option, most of the time it's not possible. "There is no guarantee that you will be able to see them perform live in a similar setting to your wedding, because most of those events are private," says wedding planner Carla Eustache of Style Perfect Weddings and Events. "If you are able to see them perform live, it will be at a public event, which will provide you with a good feel for their stage presence and professionalism, but the music selections will be different."
---
Choosing a DJ or Band
Often, it's simply a matter of preference, says Robinson. "Some couples prefer hearing Top 40 hits by the actual artists," she says, "while others love the live aspect of a band."
Frequently, choosing between a DJ or band comes down to one thing: the budget. Some well-known, in-demand bands can fetch up to $25,000 per event, says Robinson. In general, plan to spend $2,500 and up. A DJ is much more cost-effective, starting around $800 for four to five hours.
---
Establish a Vibe
Finding a DJ or band that complements your wedding style is crucial, says Robinson. Similar to choosing a menu, flowers, or even a wedding gown, the music played—and the style of performance—can make or break your wedding reception.
A wedding that's centered around Lowcountry fare and Southern aesthetics may want to steer clear of a DJ who specializes in rap and hip-hop; a band that blends a little Zac Brown Band with some Top 40 hits is probably a better option. "I always ask the couple what is the feel of the music they want," says Robinson. "Know what kind of vibe you want. Who are the guests that are attending? Are there more older people attending? Then you probably don't want a band playing hip-hop. You want a band that plays oldies and Motown. It's super important to cater to your guests, as well."
It's not just about the type of music and style the DJ or band can provide. Keep in mind the group's personality. If you choose a really mellow DJ or laid-back band, don't expect a wild and crazy night of music and dancing. East Coast Entertainment and Split Second Sound, for example, match couples with the right band or DJ, respectively, based on the style of the wedding, the type of music requested, and more. "When selecting a DJ [or band], you want to make sure that you like their personality, they are knowledgeable about music, and they've DJ-ed a wedding," advises Eustache.
---
Hidden Costs
As with all wedding vendors, reading over a contract—and its finer details—is of the utmost importance when booking. "Always read the band's rider," warns Eustache. "A rider is a set of requests or demands that a band sets as criteria for performance." Adds Robinson: "It will detail things such as the stage size you have to rent, how many meals you need to provide, and how early the band or DJ needs access to the venue. So oftentimes you're spending several extra hundred dollars to fulfill these rider requirements on top of the contract price you agreed upon."
---
Plan on Breaks
Most contracts for both bands and DJs will detail how many breaks they will take over the course of the event (and how long those breaks will be), although Robinson explains most high-end bands won't break at all. "Some bands come with a band/DJ combo so you have someone keeping the party going even during breaks," says Robinson. "But generally most DJs or bands will put on their own iPods and play background music. Some of the music they play, though, can really be a buzzkill to the party." For those moments, a playlist you've created can help keep the good times rolling.
---
Skip the Mandatory Playlists
Nothing irritates a band or DJ more than a bride and groom who dictate what songs are to be played and in what order. "A lot of brides assume that it's their responsibility to create a playlist, and it's not," says Robinson. Wedding bands and DJs are professionals and know what music to play and when to keep a party pumping and the dance floor full.
That said, be clear about what songs you definitely want—and don't want—to be played at your wedding.