Music Tuesday March 23 edition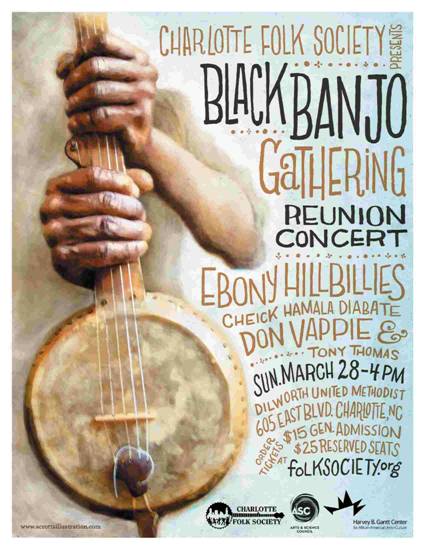 Really interesting week of music coming up. No big (or even medium-size) national names on my radar, but two very cool local shows and one black banjo reunion. I'm guessing it'll be the only black banjo reunion I write about all year.
Friday March 26
Alan and Chad Edwards (of the band Lou Ford) at Evening Muse
A dozen or so years ago, I met Alan and Chad Edwards and bandmates Mark Lynch and Shawn Lynch (no relation) in an Irish pub to talk about their band Lou Ford for a story. To this day, it may be the best Charlotte band I've heard since moving here fifteen years ago. Their sound evolved from hard country to alt country to twangy indie (all on the same spectrum, but gradually more complex) over the years and through a few different lineups. But always, the brothers Edwards' songwriting, guitar playing, and occasional perfect harmonies held the group together. Lou Ford rarely plays anymore, but I still listen semiregularly to their three excellent CDs. This show at the intimate Evening Muse, featuring just Alan and Chad, should be a treat. It's the early show (8 p.m.), so don't be late. Tickets, info
…and then stick around for…
Jocelyn Ellis & the Alpha Theory
We profiled Ellis in the August 2009 Charlotte mag, and she and her band have been steadily gaining a following. Their sound is hard to pin down, but it has some indie rock stylings, with some Dionne Farris (the good parts) and maybe some Sade. Give them a listen at their site. I haven't seen a show, but I hear they put on a strong performance. This is the late show, starting at 10 p.m., and there's an opener.
Saturday March 27
Over Mountain Men with Ken Will Morton at the Thirsty Beaver
This is a free show, which amazes me. It will be absolutely jampacked, so pray weather allows for patio time. But it will be worth it. Over Mountain Men is David Childers and more. Avett Brothers bassist Bob Crawford is a co-founder, but I don't think he's playing this show. Expect hearty roots rock with strong storytelling. Opener Ken Will Morton sounds extremely promising. Reminds me of a twangy Paul Westerberg.
Sunday, March 28
Charlotte Folk Society presents: Black Banjo Reunion Concert at Dilworth United Methodist Church
First of all, this show has an extremely cool poster, which is the art at the top of this entry. And the concert itself sounds very interesting. There's lots more info here, but I can tell you that four acts will play, representing banjo stylings from Miami to West Africa to New Orleans. The concert starts at 4 p.m., tickets are $15 ($25 for reserved seating in the front), and the hall seats 500.