Musical Milestone
The historic west Charlotte venue that brought us R.E.M., Nirvana, and Melissa Etheridge celebrates its fortieth anniversary this month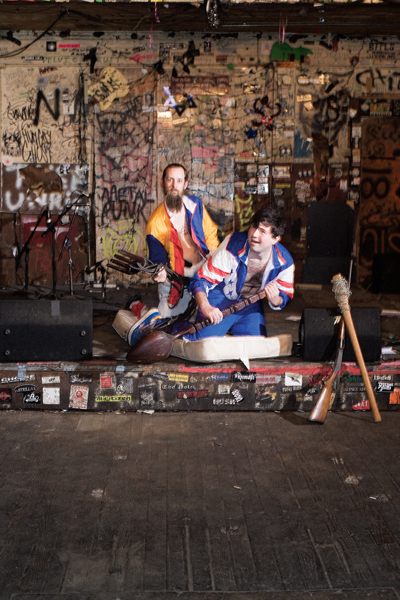 Insulation peeks from the ceiling on the porch as you grab the stickered door of the Tuckaseegee Road venue. Inside, crudely scrawled graffiti covers the walls and ceiling of the performance room — a room that's held its share of rock stars who only dreamed of gracing the cover of Rolling Stone as they stood practically eye level with their audience on the club's six-inch-high stage. This is The Milestone Club, where R.E.M., Nirvana, the Go-Go's, Melissa Etheridge, and the Bangles played long before moving on to arenas, theaters, coliseums, and international fame. More so than the future stars it was lucky enough to book, The Milestone was a hub for underground national and regional acts that enjoyed varied levels of notoriety during the new wave, punk, and alternative booms. Ask around and those who were there remember the dB's, Don Dixon and Marti Jones, Ethyl Meatplow, and the Dead Boys as much as the ones that became household names.
Built at the turn of the century, The Milestone once consisted of a separate house and general store owned by producer/musician Jamie Hoover's family (pictured below). The Spongetones' singer would later play there with his new wave band the Happy Eggs.
"The store started out as Hoover's Grocery," recalls Harry Hoover, whose father, Harry W., and uncle Ed (Jamie's dad) owned the place. "The A&P moved in down the street and put the grocery out of business. The brothers changed it to Hoover Brothers Hardware [around] the end of World War II and ran [it] until Ace Hardware moved in."
Big businesses may have killed the grocery and hardware businesses, but The Milestone Club has outlived bigger, cleaner, centrally located, still-talked-about venues like 1313, the Pterodactyl, and 4808. The Hoovers sold it 1962. Bill Flowers bought it in 1969.
"I modeled the 'Stone after a little place in San Francisco," says Flowers. "To get to it you had to pass boarded-up storefronts and step over derelicts. … The artist would go there and do original material."
According to current owner Neal Harper, hippies started bringing acoustic guitars to the 'Stone.
"By the mid-'70s it was a full-on music club," says Harper, twenty-nine, who took over in 2004 after playing shows there as a fifteen-year-old. He'll celebrate the Milestone's fortieth anniversary with back-to-back shows on October 23 and 24.
Details may be fuzzy, but practically anyone connected with Charlotte music since the late 1970s has some wild recollection of the rickety west Charlotte haunt.
"I drank a beer with Kurt Cobain in the parking lot," recalls Flowers, who also put on R.E.M.'s first Charlotte show. "I offered [R.E.M.] $50 or one hundred percent of the door minus [expenses]. They ended up with $7 a piece and slept on the stage. The last time [they were there] they played on Monday night, and the closest you could park was four blocks in any direction."
Those years were unpredictable at best. "It was real informal," says Antiseen guitarist Joe Young, who met band mate Jeff Clayton at The Milestone. "If [Bill] ran out of beer, he had me run to the party store one block away for a case of Miller and a case of Bud. He only carried two brands then."
The club passed through different hands and survived various states of disrepair, with practically everyone who ever ran the place updating the rundown bathrooms. Each found that although it looked like it might fall apart at any minute, the dive always had life left in her.
"When we took it over it had run its course," says Tim Blong, who co-managed it with Jeff Lowery for three years beginning in 1986 before opening the Pterodactyl and 1313 clubs. Shows by surprise breakouts Melissa Etheridge and Edie Brickell helped ignite its former spark. "It was a different time, back when alternative was alternative and you had college radio. Charlotte was a dinky town that had no pro sports and only a couple of clubs. We use to make the front page of [the entertainment section of] the Observer. It was a magical spot."
"It had this great vibe. It was hip and unusual," adds Kathy Haight, The Charlotte Observer's pop music writer from 1983 to 1990. She recalls a mannequin wearing a motorcycle helmet that sat on the bar. "It always felt homey."
With capacity around 150, intimacy was part of its charm.
"The room was small, so you could really stand up by the stage," adds Haight. That setup worked for both the audience and the bands.
"Rick Miller [of Southern Culture on the Skids] loved to play there and be surrounded by the audience on three sides. Those were some of the wildest shows I've seen him play," adds sound and mastering engineer Mark Williams.
Penny Craver, who now co-owns Dish, witnessed the venue's magic from nearly every seat in the house. She performed as drummer for the Blind Dates before co-managing, booking, and running sound during her tenure, from 1991 to 1994.
"The coolest thing is the people are almost standing on top of you. The exchange of energy was amazing because of the proximity," recalls Craver, who went on to open Tremont Music Hall. "I don't remember one time when somebody did not come over from a traveling band and said, 'Thank you. We had a great time.' They would walk in [earlier that day] and say, 'God, this place is a dump.' By the end of the night [it was], 'This was awesome. What an attentive audience!' The Milestone was always something special, and everybody knew it."
The out-of-the-way location meant the patrons who filed in were actually there to see the band. "They don't come to be seen or drink," says Craver. "They come because they love music." It certainly wasn't the environment, which Williams calls "shockingly dirty" during the late 1970s and 1980s. "It was the place where the music was the most important thing," adds Haight fondly.
That hasn't changed. Both Harper and booker Philip Shive maintain full-time jobs in addition to running the club. When he first worked there, Shive filled the club's calendar from his laptop and cellphone while pursuing his degree at UNC-Asheville. Since graduating, the twenty-seven-year-old splits time between booking and working early mornings as a meat cutter at Bloom Grocery.
"We talked about how far-fetched it was to open up again," Shive says. "When we came to look at the place I was blown away—in a bad way. I didn't know how it would work."
Shive is upfront with booking agents, and anyone who's familiar with the club's history expects a bare-bones operation.
"We don't have a green room, a shower, bands don't get [much of] a rider. It's how it is. We rarely do food. I tell them when I get food, you'll get food," adds Harper. "We've only had one band pull in and refuse to play. We're fair and upfront about what it is and what it's not, but the band is the number-one customer, and our goal is to make them happy."
The focus on music is a plus for bands and the audience, but the lack of a regular clientele and its west Charlotte location is a hurdle for its owners. "We don't have a built-in crowd," says Harper, who works days as a photography assistant. "There's a core of 500 people that keep us open."
Since taking over the club in 2004 after a lean decade when Flowers opened sporadically, Harper and Shive have helped restore the venue to its former glory. They've built a bigger bar, a merch booth, redone once-horrendous bathrooms yet again, removed old bleachers to make room for a sound booth, and now sell liquor. Shive's ear for future buzz bands and relationships with big booking agencies has allowed The Milestone to welcome indies-on-the-rise again like dance duo MGMT, which recently opened for Paul McCartney at FedEx Field, and Sub Pop Records' the Helio Sequence. He's also lured back the Melvins and Bad Brains' H.R., whose graffiti remains intact more than two decades since he left his mark.
In a way, The Milestone has come full circle. Flowers recalls kids driving down from Davidson College in the early 1980s. Today the club appeals to both old punks and college kids hip to the next Internet buzz. Not every show is a success, of course, but Harper hasn't noticed much of a hit from the economic downturn.
"Our people were poor to start with," he laughs. Just as each generation discovers the classic bands that once played there, new generations discover The Milestone.
"Each group thinks they invented it. Then [they] find out their uncle or father was there ten years ago or twenty years ago," says Flowers. "There's just something special about coming to a 100-year-old building to hear new music."