Musical Trees: New topiary display at DSBG's Holidays at the Garden dances to music
Daniel Stowe Botanical Garden unveils glimmering new light displays for 2018, including one that dances to the music.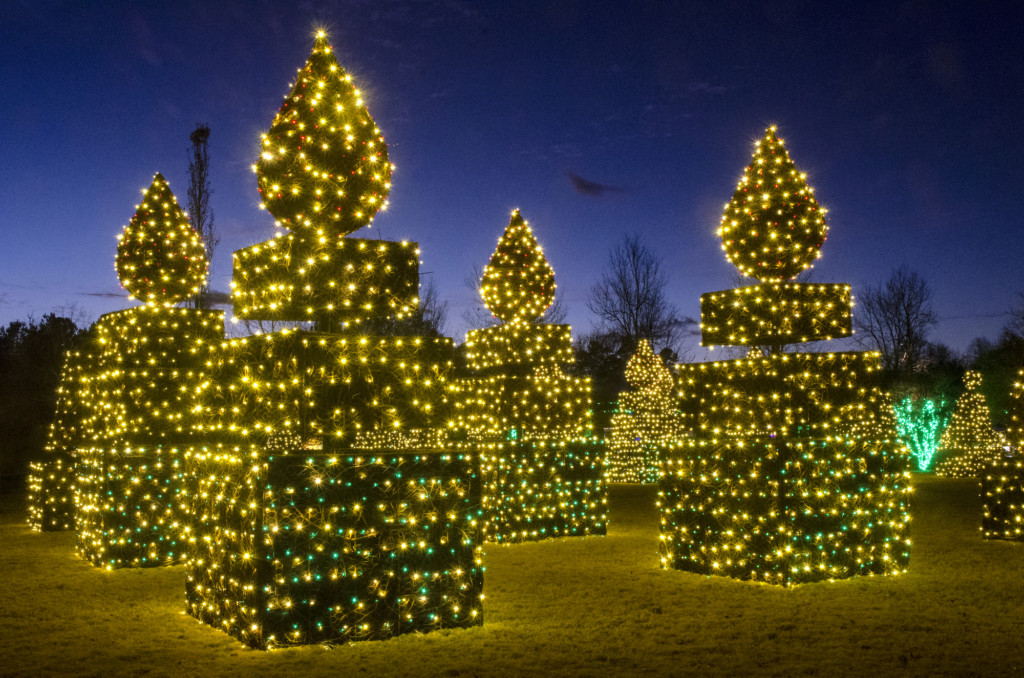 Daniel Stowe Botanical Garden in Belmont, N.C., has stepped up its holiday display game.
For 14 years, the Garden has hosted Holidays at the Garden, an event that turns the botanical displays into festive spectacles with lights, lanterns, and other special installments. And this year, there are a few new displays to ogle at, with the most enchanting being the musically-orchestrated topiary displays.
Outfitted with lights that "dance" to the music, the topiaries will bring fresh fun to Holidays at the Garden, which runs through January 6, 2019, this season. In addition to the topiary display, the new points of interest for this year include the illuminated Piedmont Prairie Garden, extended lights of fire and ice, and all new lanterns in the perennial gardens. See the dancing topiaries in action below.
These new displays join annual favorites such as the towering 15-foot orchid tree, live music (daily from 6 to 8 p.m.), holiday shopping in The Garden Store, crackling fires for marshmallow roasting, and the Children's Discovery Trail of activities. Additionally, food service will be available every night, and visitors can enjoy beverages such as coffee, hot chocolate, cider, beer, wine, and other spirits as they stroll the charming gardens.
Holidays at the Garden will be open through Jan. 6, 2019 from 5 to 9 p.m. each evening. The Garden will be closed Christmas Day. Holidays at the Garden admission is discounted for tickets purchased in advance online, and prices increase at the door. Tickets purchased online for Monday through Thursday are $12.95 per adult, $11.95 per senior citizen aged 60 and up, $7.95 per child aged two to 12, and free for children under age two. Tickets purchased online in advance for Friday through Sunday are $14.95 per adult, $13.95 per senior, $8.95 per child, and free for children under age two. Garden members receive a 30 percent discount and 30 percent off the purchase of up to four guest passes. Purchase tickets in advance online at DSBG.org.