Mustang Green: A Season of Hope in a Segregated City (Part 2)
The weather turns colder, the games become more important, and the lessons hit home harder. The Myers Park football team, which is split nearly evenly along racial and socioeconomic lines, hits the heart of the 2015 season.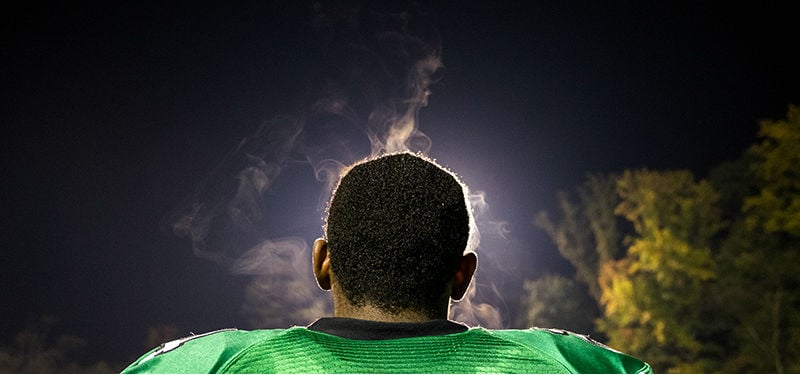 ---
This is the second in a three-part series. This second part is comprised of two chapters.
Click here for the MUSTANG GREEN: CAST OF CHARACTERS page.
Click here for PART ONE of the series. Click here for PART THREE.
---
"GO, GET OFF!" Coach Scott Chadwick tells starting defensive lineman Colby Williams. "Go shower and get off the field."
Four days after the Sun Valley win, Williams, a senior, has been complaining all practice. When he decides he simply won't run a play like the coaches want, Chadwick sends him home.
After practice, the coaches meet to discuss what to do with him. Chadwick wonders if Williams has become such a problem that he needs to be dismissed for good. The 10-man Myers Park coaching staff, which is split fairly evenly along racial lines, has a wide range of coaching styles, and no two people are more different than Chadwick and Dre Bly.
In most other areas of life, Chadwick's a mild-mannered man. He's quiet and thoughtful, and constantly considers questions about equality and politics and other issues, especially as they relate to teenage boys. Something happens to him, though, when sports are involved. He's a huge Washington Redskins fan, and during close games his daughter, Madison, sometimes will Snapchat videos of her dad nervously shaking, then rejoicing or crumbling. Same with University of Maryland basketball. And especially with the teams he coaches. "I don't have an anger problem," he tells me one night over a rotisserie chicken dinner at The Roasting Company. "I have a competition problem."
He has friends all over the country, and those relationships run deep. He still keeps in contact with the coaches he worked with and players he taught in Maryland. He has weekly conversations with Josh McCown, the Cleveland Browns quarterback who coached with Chadwick briefly at Marvin Ridge. They bounce their troubles off each other—McCown unloading the woes of the Browns' franchise, Chadwick sharing the frustrations of a high school coach.
Bly, meanwhile, was raised by schoolteacher parents in Chesapeake, Virginia. He's among a large contingent of former professional athletes who've moved to Charlotte to raise their families in recent years. His oldest son, Trey, is a freshman cornerback on the Mustangs' junior varsity team and led the team in interceptions this season. He hangs around the varsity games, tossing a football on the sideline and dreaming of the day that he'll be playing on Friday nights, too. In most situations, Bly is the most empathetic coach on staff. He's the first to want to give a kid another chance after he's screwed up. Bly winces when he hears yelling. "Just not used to all that," he tells Chadwick at various points during the season. (Sometimes Chadwick responds by sarcastically asking Bly, an assistant, if it's OK for him, the head coach, to discipline a player.)
In the meeting about Williams, Bly raises his voice above the other assistants: "We're yelling at him. Maybe he just doesn't respond to that. And that's all we're doing, yelling at him. It's our job to help him." To which Chadwick responds, "Dre, he's been doing this all year. I've had it. And more than that, some of his teammates have had it."
They resolve to let two younger assistants talk to Williams to try to steer him straight. One more problem, though, and he's off the team.
Williams is in uniform that Friday as Myers Park dominates its first conference opponent, Rocky River, 24-10, on a rainy final weekend in September.
The win pushes the Mustangs' record to 4-2, their best start in four years. Their next game is scheduled for two weeks later at Butler, a perennial state power and winner of three state championships in the past seven years.
After the Rocky River win, Chadwick heads to Taco Mac, the "official home of the Myers Park football postgame celebration." The place is packed. Everybody's laughing and sipping soda when word gets to Chadwick that some of Butler's best players hadn't played in their game that night.
More messages come in the next day, and soon the Charlotte-Mecklenburg Police Department sends out a sparsely worded press release: Detectives are investigating the "alleged exploitation of a 15-year-old girl involving current and former students from CMS." NBC Charlotte reports that the incident involves Butler football players. The police and the Butler administration never will confirm that, though. The police won't have an update on the case even three months later. But it's true that several players are suspended for several games.
Football coaches, football fans, and football players are opportunists. But before Chadwick can even consider how the Butler suspensions might benefit his team, his thoughts turn to Madison, his 15-year-old daughter.
The following Monday, Chadwick calls a team meeting after school.
"Guys," he says, "if what they're saying is true, and that was one of you, you couldn't play for me anymore. I couldn't coach you. I'd have a hard time giving you a high-five."
He keeps going.
"Someone's dating your future wife right now," he tells them. "You should think about how you'd want him to be treating her right now. And you should treat every woman you're with that way."
***
EVERY ISSUE is here, somewhere, on this team: problems with poverty and privilege, conversations about rape and dating, relationships between fathers and sons or mothers and sons. One player was born in Sudan. His parents moved him here when he was an infant to escape the civil war there, but soon they split up, and now his father lives in Canada and his mother lives in Elizabeth.
It all lives under those green helmets.
On October 7, the Wednesday before the Butler game and 10 days after the Rocky River victory, the defensive backfield sits on stone benches outside of Zack's Hamburgers on South Boulevard, waiting for their position coach to come pay for their lunch. Every week, Dre Bly takes the boys out to eat, usually after Tuesday practices. But today is a half-day on the school calendar, and classes let out just after noon, so lunch it is.
Bly's late. They were supposed to meet at 1. It's 1:15, and he's still not here. Neither is Watson.
"They're on CPT," says Kevin Alford, a junior cornerback and African American. "Colored-people time." The mixed-race group of teenagers laughs hysterically at the joke.
At 1:25, a black Cadillac Escalade pulls into the parking lot with Bly driving and Watson in the passenger seat. Bly opens the door and the speakers blare with the sound of another man's voice saying goodbye. "Alright, man. I'll holler at you later," Bly responds.
Watson walks over to his teammates and whispers, "He was on the phone with Torry Holt the whole way over here." Holt is a record-setting former NFL receiver who starred at N.C. State while Bly starred at UNC in the mid-to-late 1990s. They were both drafted by the Rams in 1999 and played in two Super Bowls together.
They all cram into the tiny burger joint, eight high school defensive backs and one former NFL all-pro defensive back. Bly tells the woman in the window that he's paying for the next nine meals. "I have all my DBs to order for," he says.
Each boy orders some version of a hamburger and fries, then they all crowd into three booths along a window. While they wait for their food, the phones come out. This is a snapshot of high school life in 2015: eight boys, sitting shoulder to shoulder with perfectly good voices, sending messages to people who aren't here. "Who you texting?" Watson leans back and asks safety Davis Ray. Ray blushes and shakes his head. "Yeah, I know who you're texting," Watson says, before whispering a girl's name into Ray's ear. Nearby, Ray's twin brother, Owen, laughs.
The twins are seniors, and they say that next year they'll probably go to different colleges. But that doesn't stop their teammates and coaches from razzing them about their similarities. "Y'all still sleep together?" Bly jumps in. All the boys crack up.
With the 38-year-old Bly asking most of the questions in the group, the conversation floats back and forth between boyish banter and honest inquiry. He asks the Ray boys what their father does for a living, and they tell him that he has his own business selling medical equipment. He asks them about their grades and where they want to go to college. He asks them if they're happy the Butler players are suspended.
Then he asks the group whether the school gives out a "Most Popular" award at the end of the year. Everyone looks at Watson, who's leaning his head against the window, drawing circles in ketchup with wrinkled French fries.
"Oh, would Jamal win Most Popular?" Bly asks.
"I could. But it usually goes to …" Wat­son says, trailing off. "No, I'll let Kev-bo answer that," he continues, looking over at Alford. Alford shakes his head no. He doesn't want to finish Watson's sentence.
"A white person," Watson blurts. "They got more people."
***
A SIGN HANGS on the press box and looms over the field as the Mustangs go through stretches and warmups: "Butler Bulldog State Champions—2009, 2010, 2012." Myers Park's last victory against Butler was in 2006. But tonight, with several Bulldogs suspended, the Mustangs clearly believe they will win.
They don't. Mostly because Myers Park's receivers stop catching the football. Time and again Chadwick calls a play, and time and again quarterback Jack Davidson delivers a pass that should be caught, and time and again the receivers drop it. The main culprits are Saiq Patrick, a junior with dreadlocks who's so fast he's open on almost every play, and Brandon Adams, a senior wideout who usually has reliable hands. Adams—widely recognized as one of the smartest kids in school ("His G.P.A. is like 10-something," a teammate tells me.)—starts the trouble by fumbling in the second quarter, and it spreads from there.
Butler takes a 14-7 lead into the final minute. Myers Park drives to within 16 yards of a game-tying score. But after another dropped pass and a sack, Davidson is intercepted by a Butler defender, who takes the ball back 90 yards to clinch the win. Myers Park loses 21-7, making it nine years in a row without a win over the Bulldogs.
"I don't know if I've ever been more frustrated in 17 years as a coach," Chadwick tells his players after the game.
At 2:30 p.m. on Monday, Chadwick sits the players in a room again to talk about where their season stands. If they'd have beaten Butler, they almost certainly would've been in a position to win a conference championship. Now, they'll need to win and get help.
"As you go through life," he tells them, "when you miss opportunities, it eats at you for a long time."
Messages are only worth something if they're received. Toward the end of the film session that followed the conversation about missed opportunities, someone in the back farts. And then again. And again. That makes other players giggle, which makes other players giggle.
"OK, who's the funny guy?" Chadwick asks. "Who's doing that? Nobody wants to tell me? We can run right now."
He waits. Nobody owns up to it. "OK, let's go."
They lace up their tennis shoes to run several laps around the track. Jamal Watson, who's been quiet throughout the afternoon, is the first to finish. He's barely breathing hard as he turns around and waits for his teammates. He shouts at them to stop messing around.
He's wearing a T-shirt that across the front reads, "COLLEGE."
---
AT 8 A.M. on Friday, October 23, Chad­wick kicks off homecoming weekend by talking to a group of senior citizens at a retirement community, telling them about the next generation he's trying to help raise. Building support beyond the 62-acre campus is part of Chadwick's job. It's not easy in a county with nearly 30 public high schools. One of the schools he coached in Maryland, Lackey, is a poor, rural school about 30 minutes south of Washington. The closest high school was eight miles away; there are at least 10 high schools within eight miles of Myers Park. One year, Chadwick led Lackey to a victory over its rival in the final game of the regular season, and 5,000 fans stormed the field. Working his way through the crowd, Chadwick spotted his principal, who was staring at him with tears in her eyes. "Look what you've done for these people," she told him.
Not everybody embraces his style, though. He went 42-20 over five years at Marvin Ridge and was named the Carolina Panthers High School Coach of the Year in 2010, but was fired after a 6-6 season in 2012. He learned he would lose his job in the spring of 2013. "The day before Easter break," he says, rolling his eyes.
He took the 2013 season off from football, but worked as a school administrator back in Maryland while his family stayed here. Then he applied for the Myers Park job. The previous coach, Scott Stein, had the job for one year. He hurt his back early in the season and missed several games, and the Mustangs went 4-7. "There were some weeks we didn't know who the coach was going to be," says Norris, the booster club president.
Mark Bosco had been hired as the new Myers Park principal in May 2013, bringing with him an attitude of embracing the school's diversity. On one hand, Bosco talks regularly about the number of kids Myers Park has on free and reduced lunch, and on the other, he can tell you how many students come from families that are top earners. Chadwick still carries a sharp Mid-Atlantic accent and speaks his mind in a way that can be unsettling for people in this old South neighborhood. He connected with Bosco immediately, and loved the principal's approach to tough conversations. The day after Bosco offered Chadwick the job, the coach asked the principal to meet him for breakfast, just to be sure the fit was right. It was.
Chadwick quickly went to work building other connections in the community. He met with Roger Purgason, who runs the elite youth football program called Hammer Down Football. Within a year, some of the best middle school athletes in the city were deciding to stay in the Myers Park school district—in years past, many of the best would find ways to attend school elsewhere.
Chadwick also began to pump up fundraising efforts with Norris and the booster club. The fall after he arrived, the booster club raised enough to build a sparkling new weight room, which opened in January 2015. The club started selling memberships—the lowest level is $40 a year. An "ultimate membership," which comes with season tickets and a sweet parking spot for football games, costs $350 a year. Chadwick started knocking on the doors of businesses, too. Taco Mac, which hosts the official after-party, signed a three-year deal to be a title sponsor. The sponsorship costs about $6,000 per year, and Chadwick believes the restaurant makes at least that in return, thanks to tables full of people in green shirts after games.
In all, since Norris took over as the president in 2011, the Myers Park boosters have raised and spent more than $700,000 on athletics.
Norris, whose two older sons also played for Myers Park, says Chadwick has done more than raise money. "He made football fun again for a bunch of guys who loved football, but hated Myers Park football," Norris says.
***
THERE'S NO school on the Friday of the homecoming game, but Chadwick doesn't want his players sitting around waiting all day. The Mustangs rebounded from the October 9 Butler loss with a solid win over an overmatched Porter Ridge team on October 16, pushing them to 5-3. And tonight, the 23rd, they're set to play Independence—the school that in the 2000s went seven years and 109 games without a loss. If they win, the Mustangs could find themselves back in the mix for the conference championship.
After his breakfast at the retirement community, Chadwick has the team come in at 11 a.m.—eight hours before kickoff—for a pancake brunch. Then he and his staff set up video games and televisions in various rooms, and they keep a loose watch over the players for the next four or so hours.
Finally, at 6:45, they gather again in uniform on the hill overlooking the baseball field. This is Chadwick's most prepared and rehearsed pregame speech of the year.
"You know, I've told you about how I've gone to different programs and taken them from nothing to championships," Chadwick says. "One thing that was true with every one of those teams, there was always that one signature moment."
Some players start nodding.
"There was a signature moment when you can say, 'Hey, we've arrived. We're not good anymore; we're great.' "
More affirmatives in the audience. Some players start to stand. Others clap. Chadwick raises his voice.
"Tonight, men, is your moment."
The coach walks away, and the players roar.
***
FIVE MINUTES later, opening kickoff, Amari Jordan, number 3. He fields the ball at the 26-yard line and runs left. Then forward. Then he sees a tunnel to the right, protected by green jerseys, his teammates. He shoots through it. Nobody there. Touchdown.
The Mustangs are up 7-0 after one play.
Jordan comes to the sideline to receive his friendly beating—teammates pounding his helmet to say congratulations. "This is our moment," defensive coordinator Andy Markatine shouts. "Hell yeah!"
Independence responds with a field goal.
Myers Park takes the field. Chadwick calls a play. A young assistant coach sprints down the sideline, giggling and telling anyone who'll listen, "Flea-flicker! Flea-flicker! He called the flea-flicker!"
It is, indeed, a flea-flicker. Davidson hands the ball to a running back. Every player on the Independence defense takes two steps forward, believing it's a running play. The runner then flips the ball back to Davidson. The quarterback stands tall and looks out into the open field, where he has two receivers running uncovered. He tosses the deep ball. The players on the Myers Park sideline raise their hands. This is a sure thing. This is their moment.
Only, the Davidson's pass lands about seven yards past his target, bouncing off the ground and skipping into the end zone.
Two plays later, Patrick, the speedy receiver with dreads, is wide open down the visitors' sideline. This time, Davidson's pass is on target. The players on the Myers Park sideline raise their hands. This is a sure thing. This is their moment.
Only, Patrick drops the ball. He keeps jogging toward the end zone empty-handed, then turns toward his sideline, head hanging.
Myers Park leads 14-10 at halftime. Markatine, the defensive coordinator, is unhappy with the defense. He shouts so loudly on that hill overlooking the baseball field that one player jokes that he might have a heart attack. "Until you start beating the man in front of you, they're going to ruin your homecoming," he yells at his players before pounding his right fist into his open palm. "We're a bunch of nails out there, and I want 11 hammers."
While Markatine momentarily loses his mind, other stories are transpiring. For instance, Bly is standing in the corner on his cell phone, calling in a pizza to be delivered to his home off Carmel Road, where his younger son is waiting and hungry. And Watson, where is he?
As Chadwick gathers the team—offense and defense—for another speech, Watson comes down the hill, his cleats clicking against the pavement. He's been at the halftime ceremony with the homecoming court.
"Call me King 'Mal," he whispers to his teammates.
"What? You won?" they ask, leaning in closer.
Yes, at halftime of this all-important game, the defensive coordinator is telling his teammates what tool they should be if they were in fact tools, the defensive backs coach is calling in a pepperoni pizza, and the star cornerback is being crowned homecoming king.
The score remains 14-10 with 3:07 remaining as Independence quarterback Christian McPhail drops back. He looks left and sees a one-on-one matchup between Watson and receiver Cederick Stone. Watson and Stone grew up together. They played peewee football together. All night, Watson has shut down his old friend. In fact, Watson hasn't had a player score on him in two seasons, back to when he was a sophomore. So when the ball sails toward the end zone, few people on the Myers Park sideline are worried. Surely, Watson has this. Surely, this is the homecoming king's night. Surely, this is his mome…
King 'Mal stretches as far as he can as he dives for the ball. But he's been beaten and burned by his old friend. Stone cradles the ball. Touchdown. Independence wins 17-14.
Watson goes through the handshake line with a Gatorade towel draped over his head, a style he picked up from his favorite NFL player, Cam Newton.
"Man, I don't give a damn about homecoming king right now," the 17-year-old Watson says afterward. "I guess it was exciting, but I'd rather walk off the field with a 'W.'"
Chadwick walks toward the stands. Not only is it homecoming for the school, but he has family in town—including his parents and brother. He reaches out to shake hands with his father, who tells him, "Boys looked good." Chadwick's wife, Beth, ponders the weekend ahead. "He won't talk a lot," she says. "This is his life. He's very passionate. He just lives it and breathes it."
The coach retreats to his office, where most of his assistants are waiting outside. He unlocks the door and walks in. The television is still on from earlier in the day when everybody was here for pancakes and video games. Dateline: NBC is on now. He grabs the remote and hits mute.
A box of cold Caribou Coffee sits on his desk as he starts rehashing the game with assistants Markatine and Mark Harman.
Chadwick: "Saiq and Brandon didn't catch a pass? Saiq's dropped five touchdown passes this year," he says.
Markatine: "We'd be conference champions if he just caught those balls."
Chadwick: "And what about Jack on that flea-flicker?"
Harman: "There was nobody within 20 yards of Brandon on that play!"
Silence.
Harman changes the subject: "You going to T Mac's?"
Chadwick: "Hell no."
The sad verbal replay of the game is interrupted only when 15-year-old Madison walks in, her blond hair tied up with a green ribbon, to pick up her bag of clothes. She looks at the box of coffee and asks if it's warm. Her father tells her it isn't.
"Are you riding with me?" Chadwick asks.
Madison chuckles at the prospect of spending 30 minutes in the car with her father after a loss like this.
"Umm, no."
***
AN HOUR BEFORE the buses take off for the next game, at Garinger on October 30, close friends Jamal Watson and Noah Smith walk down the long hallway to Chadwick's office to tell him they can't find their jerseys.
They are captains of the team, and they have nothing to wear tonight. They claim the jerseys were stolen, and they try to reason with their coach that it's the only explanation because, after all, it's weird that both players would just lose them, right?
Chadwick tells them they're irresponsible, then says they need to ask injured teammates for jerseys themselves; he's not going to do it for them. The players wear 33 and 34 for the night.
Garinger, located off of Eastway Drive, is a far different school than Myers Park. About 55 percent of the student body is black and another 30 percent is Hispanic. It's homecoming tonight, and the school's percussion-heavy band plays songs you'd hear at historically black colleges and universities. The black players on the Myers Park team dance when they hear the tunes; the white players don't.
Garinger, which has about 85 percent of its students on free and reduced lunch, has had a weak football program for years. The Wildcats are 0-9 this season, and they haven't won a game since 2011. Most of the players play both offense and defense.
Indeed, Myers Park rolls to a 40-0 lead late in the third quarter. Chadwick pulls the starters.
Then something out of the ordinary occurs. Garinger's quarterback throws a crossing route pass to Jorden Freeman, who makes the reception, sprints to the right, sees three Myers Park defenders in front of him, then stops, pivots, and runs the other way to the left. Then he looks up the field and realizes he can keep going. So he does. Quickly. As Freeman sprints down the sideline, one Garinger fan stands up. Then another. Then another. As Freeman crosses the goal line for an 80-yard touchdown, everyone in the Garinger bleachers is jumping up and down and celebrating a small victory on homecoming.
It doesn't stop there. On the next possession, Freeman scores again on a 1-yard run. Then the teams trade quick touchdowns. And with 1:12 left, Freeman runs a crossing pattern, takes the pass, and sprints 67 yards for another score to make it 47-28.
Chadwick continues to call real plays, wanting to give his backups work. On the sideline, Bly screams at the head coach and tells him to stop, to have the quarterback take a knee and run out the clock. On the next play, the backup Myers Park quarterback throws a pass. It's intercepted.
"Let's go home, man!" Bly yells, his eyes welling up with tears. "Let's go home!"
As Garinger attempts a few final pass plays, Bly walks off the field, onto the track, and out of the stadium. He looks back twice to make sure the game ends, then keeps walking to his truck.
After the two teams shake hands, Garinger's players sprint toward a meeting on their side of the field. "I don't care what the score says, we won that game," one shouts. Then they run to the locker room and turn on music.
The Wildcats dance and smile and celebrate while the engines crank on the Myers Park buses. The Mustangs, meanwhile, are silent and solemn, despite the fact that they won by 19 points and clinched a berth in the playoffs.
***
AT ABOUT 2 a.m. on November 7, Chadwick can't sleep. It's been four hours since East Mecklenburg crushed his team on Senior Night (Chapter I, in the February edition of Charlotte magazine). He's been staring at the ceiling, wondering if he's really making progress. After all, he'd told his team going into the night that "7-4's a good season; 6-5's a mediocre season."
Is he mediocre? Is he really bringing boys together? Is he a good play-caller? Should he give that job to someone else? Will he have the opportunity to? After devoting 17 years of his life to football, were his best years really more than a decade ago? And in another state?
Finally, another question comes to his mind, one he's able answer: Who will Myers Park play in the first round of the playoffs?
The N.C. High School Athletic Association won't release the pairings until later that afternoon. Chadwick can't wait. He jumps out of bed and grabs a piece of scratch paper. In his quiet house out in the country, he starts scribbling like a madman.
This team won and finished with this record; that team lost and finished with that record. These guys will be seeded here; those guys will be seeded there. North Carolina's high school football playoffs are nearly impossible to understand. There are eight divisions, from 1-A (smallest schools) to 4-AA (largest schools), and the brackets are divided into two regions with 16 teams in each. It requires a team of people to work several hours on the Saturday after the regular season to compile the seedings and pairings.
Chadwick figures it out before sunrise.
The loss to East Mecklenburg means that Myers Park will drop all the way to the 13th seed in the region. In theory, that's a bad thing. But the 13th seed plays the fourth seed, and in this case, the fourth seed is Mooresville, a team with an impressive 8-3 record but a less-than-impressive schedule.
Chadwick looks at the teams Mooresville played this year, and sometime in that early morning darkness, he's filled with optimism again.
"We can beat them," he says to himself.
Then he looks down at the rest of his bracket. East Mecklenburg—which less than eight hours earlier had whipped the Mustangs so badly that his seniors were standing on the top steps crying—jumped up to the 11th seed with the victory. That landed East Meck a game with sixth-seeded Mallard Creek, the defending state champion and a team seeded that low only because of a couple of early-season upset losses. Over the past few weeks, Mallard Creek has been playing like its old self, and despite its seed, it enters the playoffs as a favorite to win the title.
Sometime that weekend, East Mecklenburg's fans sneak onto the Myers Park campus and spray-paint three big rocks in East Meck colors. It's the last celebration they'll have this year. In the first round of the playoffs the following week, Mallard Creek beats East Meck, 51-3.
Meanwhile, Myers Park takes a trip up Interstate 77 to Mooresville.
Click here for PART ONE of the series. Click here for PART THREE.