Mustang Green: A Season of Hope in a Segregated City (Part 3)
After a disappointing loss to close the regular season, the Myers Park football team hits the road for the playoffs, and some players prepare for life beyond football.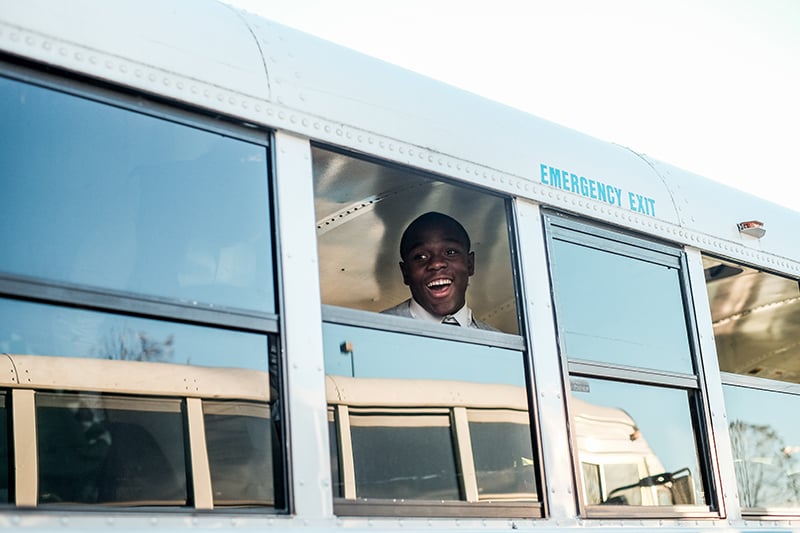 ---
This is the third in a three-part series. This third part is comprised of two chapters.
Click here for the MUSTANG GREEN: CAST OF CHARACTERS page.
Read PART ONE of the series here and PART TWO here.
---
---
CHAPTER VI
"I GOT A LITTLE DANCE PLANNED FOR US"
---
AT 3:15 in the afternoon on November 13, three white and blue Charlotte-Mecklenburg school buses pull across the county line and into a strip mall parking lot in Iredell County, about 30 miles north of Charlotte. The 13th-seeded Myers Park football team is four hours away from a matchup with 4th-seeded Mooresville in the state playoffs. It's time to eat.
This is the first time in Scott Chadwick's two years as coach that the Mustangs won't eat a pregame dinner at the school. It's only the second time in his tenure that they'll play a road game against a team that doesn't have a Charlotte address. This is a reality of high school football in the big city; there are so many schools within a few miles of yours, you never leave town.
The Mustangs think Mooresville is the moon.
They've dressed up for the trip. Most are in bow ties. Backup quarterback Tim Willis is dressed in slacks with a red sweater over his button-down shirt. He's cornerback Jamal Watson's closest friend at school; the two of them live in the same Gladedale apartment complex. He plays fairly often for a backup, subbing in for a dozen or so plays each game, mostly to run. He's one of the fastest Mustangs. He's also an entertainer. Today he's wearing big, decorative glasses and white tap-dancing shoes. One of his coaches tells him he looks like Urkel, a character from a television show that went off the air around the same year Willis was born. "Welcome to Mooresville, North Carolina," Willis says, overplaying a thick, Southern accent. "Y'all, we are out here."
They pile into McAlister's Deli and head to a baked potato bar that's been set up just for them. One by one, they load potatoes with sour cream, ham, bacon, and cheese. When the seats inside the restaurant fill up, some players head to the patio outside. Willis puts his tray on a table and starts tap-dancing on the patio. Just then, a girl who looks to be about their age walks past the patio on the sidewalk. Eight football players drop their forks and stand up, craning their necks out of their bow ties, to watch her drive away. Willis stops tapping. "Hey," Willis says, practicing a bad pickup line. "I'm from Myers Park. You from Mooresveeeille?"
Colby Williams, the defensive lineman who sometimes talks too much for his coaches' liking, is wearing sky blue pants and flashy white shoes. He forgot a belt, though. He looks at another teammate who's decked out in a button-down shirt and tie and says, "You look like a president," before moonwalking across the strip mall parking lot.
Dre Bly, the assistant coach, shows up as the players finish their meals. He takes a selfie in the parking lot with a group of them. Then everybody walks back to the buses.
They arrive at Mooresville High's Joe Popp Stadium at about 5 p.m., two and a half hours before kickoff. A few fans of the home team are already tailgating. A man who's toting an oxygen tank to help him breathe is blowing on a plastic noise-making horn in the parking lot. There's a guy in a period Civil War costume standing by the front gate for no apparent reason.
Otherwise, the place is quiet, especially compared to Myers Park's stadium in the middle of Charlotte. The temperature, in the 60s during the day, is sliding down to the low 40s. At 5:30 p.m., the sun casts an orange glow across the empty field as the Mustangs walk out of the locker room, still in dress clothes.
Ben Norris, the linebacker who tore his labrum in last week's Senior Night game, wears a white button-down, khakis, and a pink bow tie as he starts hopping at the 50-yard line. He'll play in the game, despite the injury. "This is my field tonight," he says.
Williams, in those blue pants and white shoes, joins in. "That M," he says, pointing to the Mooresville emblem painted on the field, "it stands for Myers Park tonight. They can have it back. But it's ours tonight." Saiq Patrick, the receiver who's been hit or miss, wears headphones over his dreadlocks as he starts boxing the goalpost.
Watson walks out by himself wearing slacks, a black sweater over a collared shirt, a Gatorade towel around his neck, and dress shoes he borrowed from his uncle. He heads clear across the field to the end zone opposite the field house, and he holds a quiet conversation with the goalpost.
The growl of motorcycle engines in the distance breaks the silence. Watson begins his 120-yard walk from the far goalpost to the near one. A man in a Mooresville sweatshirt walks into the quiet stadium with a cowbell and air horn. "Aw," the man says, his voice echoing, "you gettin' a little preview of what's to come [in the game]?" A few minutes later, that same man comes down to the sideline and pretends to be a referee. He has a real penalty flag. "15 yards, unsportsmanlike on Myers Park," the man acts out, as if the field is a performance theater. "First dowwwwwwn, Mooresville!"
"Some weird people up here," one Myers Park player says to another.
As the Mustangs suit up, Chadwick, dressed in a blue button-down and sweater vest, walks to the fence by himself. A crescent moon shines in the sky as his mind drifts toward other big moments in his career. The three state championship appearances. The night when a team he coached in Maryland rode the bus to a rivalry game only to find that their fans had already filled the stands, waiting to greet them. Or the night four years ago, when he had both of his sons on the same team at Marvin Ridge.
They lost in the playoffs that night, and a team photographer snapped a picture of him with his arms around both boys' necks. His oldest son, Tyler, was a senior that night. He didn't take his helmet off for the entire bus ride home.
Chadwick starts to think about his own seniors. He thinks about how receiver Brandon Adams' father came to him and said, "Brandon's having a hard time with the idea of this being his last game. How do you deal with that?" Chadwick told the father, "There's nothing you can do to deal with that. When it happens, it's going to hurt forever."
He thinks about the conversation he had with those same seniors six days ago, less than 24 hours after that disappointing night against East Meck, when he told them how they'd let down more people than themselves. And he thinks about how they responded. Three seniors skipped a recruiting visit to the University of Tennessee to attend the meeting. Then all week, they delivered the best practices he's seen from them in two years. He seems almost certain that they'll win tonight.
Chadwick's daughter, Madison, walks over to him. The coach breaks into a smile and hugs her. She pulls out her phone and says, "Let's FaceTime Tyler." Tyler, the older son, is a senior at Coastal Carolina, where he's been on the dean's list every semester. He has a decent chance of being selected in this year's Major League Baseball draft, but he tells his father he'd rather jump right into football coaching. Madison lifts her phone in front of her face, and her father leans in. The three Chadwicks talk for about five minutes.
"That was a cool moment," Chadwick says afterward.
Soon the Mooresville players walk into the stadium in two lines, holding their shoulder pads and helmets. They file down the stairs of the already-filled bleachers, and their fans give them a standing ovation. A few Myers Park players hear the commotion and walk out to see what's happening. Chadwick yells at them to get back in the locker room. At some point during the waiting process, one player takes a sharp object and scratches "M.P.H.S." into the blue paint on the frame of the locker room door.
At 7 p.m., the bell atop the nearby Presbyterian church rings. Meanwhile, cell phones throughout the stadium light up with news alerts: There's been a shooting in France. Thirty people are dead. No, 60 people. Everyone from workers in the concession stand to parents in the bleachers asks who and what and when and where and the unanswerable—why? But the players' and coaches' cell phones are tucked into bags, and nobody's about to worry them with troubling world news at a time like this.
They walk onto the field and stand behind the cheerleaders' big sign. They have an idea for how to handle the home team's noise advantage during the introductions. Assistant coach Rod Chisholm, who played running back for Appalachian State in the 2000s, stands in the middle of the team and tells them the plan. It's pretty simple.
"We go when they go," he says repeatedly.
The players respond, "We go when they go."
There's something to this from a psychological standpoint, about needing to hear cheers instead of boos. And there's something to this from a metaphorical standpoint, about a team made up of players from many different backgrounds knowing a trick or two when it comes to finding equal footing.
Mostly, though, it's just funny to watch. As the public address announcer revs up the home fans with, "And nowwwww, your Mooresville Blue Devilllsss!" Myers Park's players keep their eyes on the Mooresville players. The cowbells and horns reach full blast, as Mooresville fans hope to not only shower the home team with cheers but also to intimidate the visitors. As soon as the Blue Devils burst through their sign, the Mustangs burst through theirs, stealing the cheers.
Myers Park kicks off. A freshman kicker bombs the ball into the end zone. Touchback. The Mustangs' sideline goes nuts. It's like this throughout the game—every positive play brings a celebration. At no point in this season have the Myers Park players been so … hopeful.
They force Mooresville to punt after three plays.
Then quarterback Jack Davidson tosses a screen pass to receiver Elijah Bowick, a 6-foot-2 freshman who will almost certainly be a star one day. Bowick takes the ball and shoots toward the end zone. Three defenders jump at his ankles, only to grab air. The 33-yard touchdown makes it 7-0 Mustangs.
Myers Park is a different team tonight. Chadwick isn't screaming. Nobody's moping along the sideline. And on the field, they're speaking a language that only they can understand.
"Baltimore!" Kevin Alford yells at Watson before one play, and the two cornerbacks swap sides of the field. "Zebra! Zebra!" Alex Alvarez, the great baseball player turned football player, shouts to Watson before another play, and the cornerback nods.
Norris is playing despite the torn labrum, and on a play in the second quarter, his arm is ripped back again. He runs to the sideline, where the trainers again press on the spot where the shoulder meets his chest. "Ah, God!" Norris shouts, before using a few four-letter words. He's about to take off his pads when the Myers Park offense lands in a third-and-short situation. He immediately tells the trainers to stop, then runs out onto the field. The play is a quarterback sneak, and it's Norris's job to help Davidson push the pile. Davidson calls hike, and he drives forward. Norris slams into him from behind and pushes everybody five yards down the field, then runs off for another round of "Ah, God," and four-letter words.
Mooresville answers with a 23-yard touchdown. During a timeout, the Mooresville band plays "Sweet Caroline," just before Willis—tap-dancing Tim from the potato bar—takes a snap and plants his cleat in the turf and takes off. He runs up the middle 34 yards for a touchdown with 2:31 remaining in the first quarter.
Late in the half, Mooresville scores on a long touchdown run to tie it. Then, with about a minute to play, Davidson throws a bad interception, giving Mooresville the chance to kick a short field goal at the end of the half, making it 17-14.
It's easy to wonder if this is where they fall apart again. Chadwick and the staff offer encouragement under the fluorescent lights of the locker room at halftime. The coach's final words: "I know our defense is going to throw a shutout in the second half, aren't they? Gentlemen, I'll meet you back here after about an hour and half, and I got a little dance planned for us."
The number of people dead in Paris keeps rising. One hundred now, one parent whispers to another.
Mooresville tries an onside kick to open the second half, but Myers Park recovers it. A few plays later, tap-dancing Tim Willis takes a 35-yard run to the 2-yard line. A few plays after that, Davidson sneaks the ball into the end zone, again with Norris providing the final push.
Myers Park, the 13th seed, is beating fourth-seeded Mooresville 21-17.
On the next series, Mooresville's starting quarterback goes down with an injury. Myers Park's defense decides to rush the backup with everything it has. On a fourth-and-13, Colby Williams, once on the verge of being kicked off the team, bursts through the line and records a sack to pull the Mustangs closer to the upset. On the next Mooresville possession, he does it again on third down. The Blue Devils punt with about four minutes left.
The Mustangs can almost run out the clock if they can record a first down. On their first two plays, they're pushed backward. They face a third-and-15. Chadwick has a decision. He can call a running play, which would certainly keep the clock moving but would be less likely to produce a first down, meaning they'd have to punt the ball back to Mooresville and play defense one more time. Or he can have Davidson pass it deep.
He calls a pass.
Not just any pass. He calls a pass to Patrick, the talented and speedy player who dropped one key reception after another this year. For the past few weeks, Patrick has been in his backyard until 10 or 11 at night, catching passes fired at him by his dad, hoping to overcome the yips. After Davidson takes the snap on the most important play of the year, Patrick runs straight up the field. Then, he plants his foot and cuts right, toward the home bench. Davidson chucks the ball into a tight area near the sideline. Patrick is wide open. He watches it come down. And with less than two minutes to play, he puts two hands under the ball and it sticks. He tiptoes to get his feet in bounds. The Mustangs gain 35 yards on the play.
Patrick runs off the field, and his teammates line up to smack him on the helmet.
A few plays later, Chadwick sends Watson into the game on offense for the victory formation. Davidson will snap the ball and take a knee, and it's Watson's job to stand 30 yards behind him and protect their end zone, just in case something strange happens.
Davidson takes the knee. Chadwick peels off his headset and puts his face in his hands and bends over. Davidson takes the second and final knee, and the last seconds tick off. The game's over.
One week after being embarrassed on their home field on Senior Night, the Mustangs have pulled off the biggest upset in the North Carolina playoffs in 2015. Just as Chadwick opens his eyes, someone dumps a bucket of ice water on him. When he turns around, he sees that the man holding the bucket is Dre Bly. He points at him and smiles. Bly points at the head coach and smiles back.
The teams line up to shake hands. Myers Park's fans climb over the fence and onto the field. Chadwick sees his daughter running toward him. He grabs her and lifts her high in the air.
The players run to the locker room to change, and on a very tough evening in a world that keeps showing that it can be very mean, 60-some teenagers dance and sing the night away in a small town in North Carolina.
Their coach runs into the room, his hat turned backward. He promised them a dance. After a few seconds of bad moves from a man who fumbled through an Eminem quote to start the year, the players pick him up over their heads like a crowd-surfer at a rock show. They all raise their arms and pass him from one set of hands to the next.
---
CHAPTER VII
EPILOGUE: ONE LAST WALK
---
TWO DAYS after Christmas, Kameela Watson is preparing to make chicken and rice and beans for Sunday dinner. Her son, Jamal, is getting ready to head to the gym for an offseason workout.
It's been a little more than a month since the Myers Park football season ended in the second round of the playoffs at West Forsyth, a school near Winston-Salem where NBA star Chris Paul spent his high school days.
The Mustangs were overmatched that night, not necessarily by a team, but one player. West Forsyth's Darion Slade is one of the top athletes in the South, and he ran for one touchdown and threw for another in a 20-3 win. Within a few plays, it was clear that no matter what speech Chadwick gave his team about coming together and team unity, at the high school level, sometimes there's no match for one superior athlete.
Slade is technically listed as a wide receiver and is the fourth-best wideout in the state, according to one ranking. On his first reception in the game, he caught the ball and turned toward Watson, Myers Park's senior cornerback, with space to try to make a move. Slade juked right and left, but Watson stuck him and slammed him to the turf for nearly no gain. For most of the rest of the game, Slade played quarterback.
It was a small show of respect for Watson, who became quite a prospect himself this year. Two seasons ago, some college coaches wouldn't look at him because of his grades. But when he started making B's and C's, his phone rang more. So did Chadwick's.
Over the holidays, James Madison University's coaches called. The Dukes are one of the top teams in the Football Championship Subdivision—the smaller classification of Division I. The JMU recruiters asked Chadwick about Watson's grades and maturity. Chadwick explained that Watson grew up in a house without a father and said it took time for him to realize the importance of school. "He's grown a ton since I got here," Chadwick told them. "He just needs discipline sometimes."
Kameela and Jamal take regular walks around their neighborhood to talk about the future. She chokes up when she thinks about what life will be like when her son goes off to school. More than that, though, she worries that Jamal's grades from his freshman and sophomore years hurt him during the recruiting process. She never doubts his intelligence. "He's bright. He's inquisitive," she says. "He always wants to know what happened before his time, how people were raised and what the laws were and how everyone's different."
From the front door of their three-bedroom apartment in their subsidized, low-income housing complex, they can walk less than half a mile and stand in front of homes that are selling for anywhere between $750,000 and $900,000. The difference between his home and theirs—and the chasm between his childhood and those of some of his teammates—isn't lost on the 17-year-old.
"It all goes back to Jim Crow," he says. "I think it'll change, but it'll take a long time. Maybe even a couple of centuries."
"Centuries, Jamal?" his mother asks. "I think it'll be sooner than that."
"We'll see," her son says.
Throughout January, Jamal agonizes over the uncertain future. He and his mom call Chadwick and Bly just about every day, asking for updates from colleges. The team holds its annual awards banquet in the school cafeteria on January 21, the night before a big snowstorm in Charlotte. Players and parents use plastic forks to woof down plates of bowtie pasta and marinara sauce. Chadwick stands next to a long table and announces the awards. The best junior varsity player is Bowick, the young receiver who was called up to varsity late in the year and caught the first touchdown in the upset victory over Mooresville. Every year, the team gives out a scholarship in honor of David Shannon, a Myers Park graduate who died from a fall during his freshman year at the University of North Carolina in 2012. This year, the scholarship goes to Anton O'Brien, the offensive lineman with the short hair who was standing on the top step of the stadium crying after the loss to East Meck on Senior Night. JaMykal Neal, the young lineman from Grier Heights who will be one of the most highly recruited seniors on the team next season, wins the offensive player of the year. And the outstanding career achievement award is split between the two players who lost their jerseys before the Garinger game: Noah Smith and Jamal Watson.
Less than two weeks later, on February 2, Watson—the senior captain who could drive his coach crazy and make his coach hug him, the homecoming king, the young man who grew up in the subsidized housing complex in the middle of one of Charlotte's wealthiest neighbors—signs a full scholarship to Towson University in Maryland. It's Chadwick's alma mater. He'll be a Towson Tiger. Watson makes the announcement public on his Twitter page by posting six tiger emojis.
***
AFTER THE LAST GAME at West Forsyth, Chadwick huddled the Myers Park players and told them he was proud of them. He chewed hard on a piece of gum as he looked at the underclassmen, knowing that many of his best players were juniors, and that the freshman class is the best he's ever had. He believes everything is in place to contend for a state championship in a few years. Then he looked at the seniors, who were crying over the end of their high school careers. "When we look back and get this program to where it needs to be," he told them, "you guys will be the ones whose shoulders we did it on."
Willis, the fun-loving character with the tap-dancing shoes, seemed to take it hardest, sniffling with his helmet on. After the meeting broke up, the team jogged to the three buses, parked on a hill just outside the stadium. But Watson and Willis went the other way. They trotted halfway across the field and to the sideline. They've been playing football together since seventh grade. And growing up in the Gladedale apartments, they'd spent years going at it in one-on-one basketball games and footraces. This was their last walk together as teammates.
"We were just telling each other how this hurts more than we thought it would," Watson said later. "We were crying like crazy. My whole body was shaking. Then we just remembered walking onto the field as ninth-graders. And then we were laughing. We were just trying to turn that sad moment into something else."
When they were done laughing, Willis ran up to the buses. A man in a green and yellow West Forsyth jacket stopped Watson on his way out. He was an assistant coach with the Titans, and he had something he wanted to tell the opposing cornerback before he left a high school stadium for the last time.
"You have a bright future ahead of you, son."
Watson thanked him and walked off the field. At the fence by the stadium's exit, he was stopped by a girl who looked to be about his age, maybe a year or two younger. She wore West Forsyth colors. She'd never met him, but she watched him come across the field and had been waiting for him.
"Can I just get a picture with you?" she asked.
He blushed. Then the tough guy put his arm around her and looked into the camera.
Chin out. No big deal.
Smile.
Michael Graff is the executive editor of this magazine. Reach him at michael.graff@charlottemagazine.com, or on Twitter: @michaelngraff.