Mustang Green: A Season of Hope in a Segregated City
Thirty-five white players. Thirty-two black players. Some rich. Some poor. All Myers Park Mustangs. We spent the entire fall with them to see what happens when you put kids from different backgrounds together for a season. The result is this three-part story of hard lessons, lifetime friendships, stupid mistakes, and endless optimism about uncertain futures.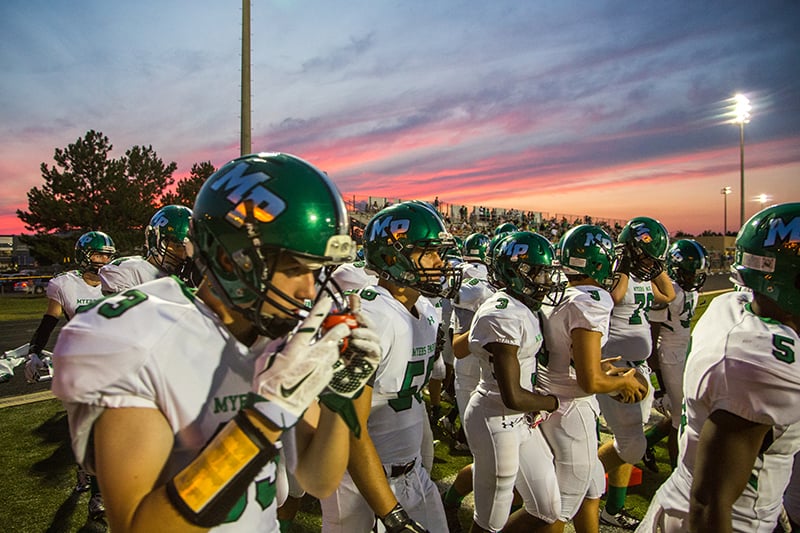 ---
This is the first in a three-part series. This first part is comprised of three chapters.
Click here for the MUSTANG GREEN: CAST OF CHARACTERS page.
Click here for PART TWO of the series. Click here for PART THREE.
---
HE WANTS EVERYONE around him to believe it's OK. Really, it is. It's fine that it's Senior Night and she's not here yet. He'll play it tough, because that's what football players do, and because that's what she taught him to do. He raises his chin and sticks it out and gives a quick it's-no-big-deal nod when an assistant coach volunteers to walk with him. He dances and makes a nervous joke to his best friend, who's standing behind him in line. And he knows that when his name is called, he'll strut like he always does. He's Jamal Watson, after all, number 7, the star cornerback of the football team, a tall and quick and handsome young man who just a few weeks ago won homecoming king. "Y'all can just call me King 'Mal," he said that night.
King 'Mal always puts on a strong face for the people, even right now, on a damp night in early November, when he's just a 17-year-old kid wishing his Mama would hurry up and get here.
"Where is she?" he asks under his breath, sneaking a peek at his phone.
He's standing alone near the front of a line of Myers Park High School football seniors and their moms and dads, uncles and aunts, grandmas and grandpas.
Watson is the best player on the team, and at times he's also the most frustrating. His coaches say he's matured a mile in the past year. Yet during practice, when those coaches look the other way, he might run a couple of plays with the back of his pants down around his thighs to moon his teammates. He has the attention of several Division I colleges, but two weeks ago he had a momentary lapse and got burned for a game-deciding touchdown against rival Independence. He's the player opposing coaches seek out after games, showering him with words about what a fine future he has, and yet last week, just two hours before game time, Watson couldn't even find his jersey.
There are moments during a long football season when you see into the soul of a young man, and, despite what you might see in movies, those moments rarely have anything to do with football. Like now. His eyes wide, his head darting back and forth between his phone and the parking lot.
"She said she was almost here," he says quietly.
Kameela Watson works as donor recruiter at the American Red Cross, and tonight she's running late. She raises Jay, as she calls her only son, and his 12-year-old sister, Tyana Ford, by herself in a three-bedroom apartment off Old Providence Road. Their complex, Gladedale, is a subsidized-housing community, but it sits in one of Charlotte's richest neighborhoods. Jamal is the "man of the house," his mother says. He handles everything from dishes to trash to laundry. He's a pretty good brother, too: "He can be aggravating at times," his sister says. "But he's always there for me."
Watson is one of the most popular kids at one of the most diverse high schools in the region. In a school district where half of the schools are segregated by race, Myers Park's student body is about 58 percent white, 25 percent black, and 10 percent Latino. It is a place that mixes kids from the richest zip codes in Charlotte—those around Myers Park—and the poorest, including Grier Heights, or Grier Town, as the locals call it. Each year about one-third of the nearly 2,900 students who attend school here are on free or reduced lunch. The diversity plays out in different ways. During lunch, black kids crowd at some tables and white kids cluster at others.
The football players—black and white, rich and poor—eat together.
The public address announcer starts the ceremony by calling names, cheerleaders first, then the football team, in order of jersey number. The band plays a few notes for each person called. An assistant coach walks up and puts his hand on Watson's neck. "It's OK," the coach says, "I got you."
Nod. Chin out. No big deal.
Strut. The announcer introduces him. He says that Watson is a cornerback, that he's been on varsity for three years, and that he plans to play football for a Division I school next year. And finally, "Jamal would like to thank his mom and sister for being there with him every step of the way."
Watson reaches the end of his walk and stands in the line again. Minutes later, her black cardigan waving in the wind, Kameela rushes onto the field. The heels of her leather boots dig into the turf as fast as she can wheel them. She's clutching her purse with one hand and wiping away tears with the other. "I'm sorry, Jay," she tells her son. After the last name is called, she asks a photographer to walk back across the field and recreate the moment she missed. At the very least, she says, she wants a photo.
Behind them a noise builds. Tonight's opponents from East Mecklenburg walk up the steps behind the makeshift mother-son moment, chanting a call and response: "What time is it?" "Game time." "What time is it?" "Game time."
It is the last regular-season Friday night of an up and down year for Myers Park. In a city where faces change color completely from one neighborhood to the next, few groups offer a better glimpse into integration than this team. Myers Park has 35 white players and 32 black players on the roster (along with one player who is mixed-race and one who is Asian). If you measure success simply by wins and losses, the results are inconclusive. Myers Park has a 6-4 record going into tonight's game, not so bad and not so good. But if you listen to them in the locker room and at practice and at the lunch table, you'll hear a team of teenagers who aren't afraid of conversations that many adults fear. They talk about race and class with the same matter-of-factness they use to discuss fast cars and farts, as if it's all part of life.
***
FOOTBALL BRINGS people together; there are more than enough books and movies about that. But Charlotte is far too big and diverse to rally around one team or one game. This isn't a story about a small town way out in the country where every store closes on game night. This is a story about a football team in the heart of the second-fastest growing big city in America, a city that's increasingly diverse and trying to figure out how we'll all live next to each other after generations of segregation in our neighborhoods and schools. It's a story about what it's like to take kids who in many ways are born opposites and put them together under helmets that are the same cost and color.
On Fridays, though, if you don't mind, they'd rather talk about football. A win tonight would boost the Mustangs' standing for the North Carolina High School Athletic Association 4-AA playoffs—the biggest and best high school football tournament in the state. A loss would push them down among the lowest seeds in the region.
Since beating out 109 applicants for the head-coaching job two years ago, Scott Chadwick has tried to establish consistency in a program and group of kids that sorely need it. Despite being one of the largest two or three high schools in the state each year, Myers Park has had just one winning season and two playoff victories in the past 10 years. Each week, Chadwick, who started his career 18 years ago in Maryland and has coached in three state championship games, talks about progress. In 2014, Chadwick's first year here, the Mustangs won five games. This year they've won six. Progress.
Tonight marks the end of a regular season that started on a hot August evening in Charlotte's Memorial Stadium against neighboring private school Charlotte Country Day. Chadwick had no idea what kind of team he had then, and wasn't sure what he'd need to do to bring together players who come from such diverse backgrounds. One boy has a heart surgeon for a father and another is the son of a former NFL player; others don't claim a father at all. Eleven weeks after that opening night, the coach still doesn't know. They're 6-4, and in a way, that seems to fit. Life's usually not black or white. Life's usually not 10-0. Life's usually not 0-10. We're lucky if life's 6-4.
***
THE MUSTANGS fumble the opening kickoff and East Meck scores a quick touchdown. On the extra point, Myers Park senior Colby Williams is called for a 15-yard unsportsmanlike conduct penalty for vaulting off a teammate's back to try to block the kick. When he runs to the bench, he's met by Chadwick, a short and fiery man with three children of his own.
"You cannot DO THAT!" he yells at Williams, and Williams looks down. "Look me in the eyes. Look me in the eyes right now. You cannot DO THAT!"
"Yessir," Williams says, and walks to the bench.
A possession later, before the red flushes out of Chadwick's face, his running back fumbles, and East Meck returns the ball for a touchdown. The coach tosses his arms in the air as the scoreboard flashes the new deficit, 14-0. In the second quarter, standout linebacker Ben Norris, whose dad is the president of the booster club, tries to make a tackle with his right arm but has it ripped backward. He stays on the field for five plays before coming off to have it checked. A trainer puts pressure on his shoulder, just where it meets his chest. "Ahhhhh, shit!" the 16-year-old shrieks. There's a piece of cartilage that reinforces the ball and socket joint in our shoulders. It's called the labrum. Norris will soon learn that he's torn his.
At halftime, the Mustangs run behind the school to meet on a small hill that overlooks the baseball field. They've come together here for pregame and halftime pep talks for every home game this year, back to when the sun still shined deep into the evening. Before they jog back out onto the field for the second half, Chadwick gives one last speech on the hill for this season.
"You came out flat," he says. "You've got 24 minutes left to fix it. Seniors, you've got 24 minutes left on this field."
With 18 minutes left on this field, East Mecklenburg kicks a field goal. It's 17-0.
With seven minutes left on this field, East Meck scores again to make it 24-0. After the touchdown, three Myers Park seniors—including Watson and Williams—get flagged for unsportsmanlike conduct penalties. For pushing. For shoving. For tossing helmets. For acting, quite frankly, like sore losers.
Noah Smith, a starting senior linebacker and the third player penalized for unsportsmanlike conduct, walks to the far end of the Myers Park bench and tosses his helmet toward the track. Athletics director Rick Lewis says, "Who is that team out there?" Assistant coach Dre Bly, a former NFL cornerback, spits sunflower seed shells on the ground and says, "This is awful."
Meanwhile, JaMykal Neal, a big and friendly offensive lineman who fought through a sprained ankle the entire game, sits on the bench with his helmet on. Neal, a junior, will be one of the Mustangs' top prospects next year. Big college programs, including a few from the ACC and SEC, are already looking at him. He hopes that one day he'll reach the NFL so that he can buy his mother a house and move her out of their rental in Grier Heights. For now, though, all Neal can see through his facemask is the scoreboard, which reads 24-0. In the last regular-season game in this season of progress, Myers Park suffers its first shutout loss in seven years.
It's the lowest moment in Chadwick's two-year tenure, and the first shutout he's suffered as a coach since 2000. He watches East Mecklenburg players dump a bucket of water on their coach. He hears their fans singing, "Nah, nah, nah, nah / hey, hey, hey / goodbye," right here, in the very stadium he helps maintain by raising money throughout the community. The teams shake hands. Chadwick directs the Mustangs into the east end zone. They kneel in a big circle, the seniors spilling tears onto the field on a cloudy night. Watson stands in the back, hands cupped on the collar of his shoulder pads, before taking a knee and staring at the ground.
"That was a pathetically prepared, pathetically coached football team out there tonight," Chadwick tells his players. "I bit my tongue all year. But I'm gonna hurt some feelings now. Our lack of senior leadership finally caught up with us tonight."
After dismissing the players, Chadwick stands with his assistant coaches for 15 minutes, trying to figure out what went wrong. They eventually decide that everything did. As they walk out of the stadium one last time, the coaches pass offensive lineman Anton O'Brien, a kid with a haircut that looks like he picked a guard-setting on the clippers and did the whole thing himself. O'Brien, a senior, is standing at the top of the concrete steps that lead out of the stadium, staring back at the empty, brightly lit football field. Each tear carries a stream of wet eye black down his cheeks, and his hand trembles as he clutches his helmet.
"You OK?" an assistant coach asks.
O'Brien can't catch the breath to say yes or no.
"It's alright, man," the assistant says. "We still have the playoffs."
BEFORE THAT, before 6-4 became 6-5, before the seniors could even consider the end of their high school football careers, before daylight savings ended, before October, before September, it's three hours before the opening-night kickoff on a late-August Saturday, and a middle-aged, white football coach is standing in front of a room of football players that's nearly half white and half black, and he's trying to quote Eminem.
"And in this one he says, um," Chadwick says, "it says here, uh, look: If you only had one shot …"
The players burst into laughter.
"… or one opportunity, to seize everything you ever wanted …"
The coaches laugh, too.
"Would you capture it, or let it slip?"
Seriously, he's still going. Some players are in tears.
"That's what you've got. One opportunity tonight. Are you going to capture it, or let it slip?"
Chadwick loves to talk about moments. Tonight, he tells his team, is one of the biggest moments in Myers Park football history. They're playing at Memorial Stadium, just outside of uptown, against nearby private school Charlotte Country Day. It's the first-ever meeting of the two teams, despite the fact that Country Day was founded in 1941 and Myers Park opened about four miles away 10 years later. All summer, Myers Park parents reminded Chadwick: "If you win only one game, it better be this one."
Adding to the pressure is the fact that Country Day's head coach, Drew Witman, was one of Chadwick's assistant coaches last year.
Meanwhile, protesters are swirling around Charlotte. The trial of Randall Kerrick, the white police officer who shot and killed an unarmed black man named Jonathan Ferrell in 2013, resulted in a hung jury the evening before the game. Civil rights groups and other activists have been giving speeches all around the city, promising to keep fighting against what they believe to be another instance of racial injustice.
Two hours and a bus ride following the Eminem talk, the Myers Park players walk out onto the Memorial Stadium field for warmups in a line of twos, each pair with arms interlocked. After they stretch, the players return to the locker room for another Chadwick speech, a shorter one this time: "You're representing decades of people today that would love to be where you are right now. It's a big, big responsibility, but I wouldn't give it to any other group."
They sprint out of the locker room and into a blow-up tunnel, rip through a paper sign to take the field for kickoff, and then stumble their way through most of the first half. Country Day, made up of nearly all white players, takes a 14-12 lead into halftime.
"I think what you're seeing here," a man in a Country Day hat on the sidelines says to me at the beginning of the second quarter, "is this is the case of the itty-bitty guys being better prepared."
Myers Park, in fact, held non-mandatory practices throughout the summer. Then, in early August, camp hit, and the Mustangs went at it twice a day. They ate lunch in between. On one of the hottest days, Chadwick's assistant coaches asked him if they could keep the kids through lunch to work on football. "No," the head coach said. "For some of them, that's their only meal today."
In the locker room at halftime, Chadwick gives up on big speeches. Just details now. He yells, "Receivers!" and the passing team gathers around him. He draws up a series of routes that he knows will work based on what he's seen from the Country Day defense. He asks the group if everybody understands, and the only one who shakes his head no is Jack Davidson, a junior with sandy-red hair and a slight issue with daydreaming. "Damn it, Jack," Chadwick says, trying to hold back a smile, "you're the quarterback."
The coach explains the play again. On the first series of the second half, he calls it. Davidson floats a high-arching pass that, if you're standing in the right spot, crests beautifully atop the Charlotte skyline. As the ball comes down, senior Brandon Adams runs under it, catches it, tiptoes along the sideline, then settles in for a dead sprint toward the end zone on the uptown side of the field. The 57-yard touchdown puts Myers Park up 19-14.
In the final minute of the fourth quarter, as the sun sets and the field glows orange, Charlotte Country Day moves the ball to within six yards of a game-winning touchdown. Chadwick calls a timeout and his defensive coaches talk details—this player will go here and that player will go there. None of that "if you only had one shot" stuff.
On second down, Norris, the booster president's son, drops Country Day's running back five yards behind the line of scrimmage. On third down, Norris again bolts into the backfield, this time sacking Country Day's quarterback for a nine-yard loss. In two plays, the public school has pushed the private school 14 yards in the opposite direction, and now it is fourth down, and now there are only 30.4 seconds left, and now there are 20 yards between Country Day and the winning score. The Myers Park band leader announces into his microphone, "Let's do 'Final Countdown,'" and soon the horns begin to blare and the drums begin to snap, and a man in a white hat on the field blows his whistle to start the play clock for the final play, and a young quarterback in a Country Day helmet yells hike, and two young girls in the bleachers rise from their seats and stand side-by-side in a "CD" shirt and an "MP" shirt, and the quarterback slings a low-lining pass toward the goal line. Waiting there is a young man named Jason Monastra. He's a starting wide receiver for Myers Park who scored a touchdown earlier in the game and is playing defensive back now because of injuries to other players. He's the son of two former Division I athletes, one white and one black. And in the glow of that sunset, he snatches an interception that ends the game. He gives the ball back to the officials and sprints to the sideline, where his teammates are dumping a bucket of water on their coach.
They're 1-0. They're perfect.
***
BEN NORRIS is every All-American boy stereotype in a 16-year-old body. He's a 6-foot-2 wrecking ball of a linebacker who will finish the year with more tackles behind the line of scrimmage than any player on the team. A white boy with a full head of hair that he parts to the right, a strong jaw, and rosy, round cheeks. A newly licensed driver who often squeals out of the parking lot after football practice without his shirt on. He's the youngest in a family of three boys, all football players, and when he's on the field, four-letter words fly from his mouth with the confidence of someone who's heard them for a few years.
"Ben's not like his brothers," his father, Rob, tells me, smiling at the differences between his sons. "Ben's a wild man."
In the second game of the season, on August 28, Myers Park loses to Ardrey Kell, 21-9. That weekend, Ben goes to a party. He's 16; things happen. The night ends with him making a phone call to his father to come pick him up. That leads to him losing his cell phone privileges for a few weeks at home. It also leads to him and his father having a conversation with the principal, and that leads to a three-game suspension from the team.
Few jobs in the world are like being a high school coach. Chadwick's performance is completely dependent on teenagers who make mistakes. His career began in 1998, the year before Ben Norris was born. He's dealt with more situations like this than he cares to remember. In 2001, when he was at Bowie High School in Maryland, Chadwick suspended five players for the last game of the regular season because they skipped school on "Senior Skip Day." That team wound up winning the Maryland state championship and being recognized on the floor of the U.S. House of Representatives.
With Norris out for three games, Chadwick and his Myers Park staff scramble for a solution. They move Alex Alvarez, one of the state's best baseball players, from a safety position to linebacker. Alvarez, who didn't even play football last year, is exceptional in the first game without Norris. He leads the defense with eight tackles, a fumble recovery, and an interception in a 38-8 win over Providence, helping to push the Mustangs' record to 2-1 heading into a Week 4 game with undefeated South Mecklenburg.
***
A PLANE TAKING off from Charlotte Douglas International Airport curls over the South Mecklenburg football stadium during a moment of silence before the game. It's September 11, and state flags from all 50 states line the field for the "Patriotism Bowl." Most players were just infants or toddlers when the 9/11 attacks occurred, but both teams are wearing uniforms designed in camouflage patterns to mark the day. NFL legend Randy Moss, who lives in Charlotte, is here to flip the coin.
On the first defensive series, Alvarez, the baseball player turned safety turned linebacker, pops his shoulder out of place. He comes to the huddle and tells his teammates he thinks he's hurt. "You better not quit on me," Watson tells him. "You have to keep playing. We ain't got nobody else." Alvarez stays in the game.
South Mecklenburg has at least four can't-miss Division I college prospects on its roster. With 2:47 left in the first, South Meck's quarterback lofts a pass into the end zone for John Brannon, one of those prospects. Brannon, at 6-foot-2, easily outleaps 5-foot-7 cornerback Kevin Alford to make it 7-0.
Rain begins to fall in the second quarter. By the time the teams break for the locker rooms at halftime, it's a full-on downpour. At times, it's raining so hard that it's impossible to see from one side of the field to the other. Fans run to take cover, except for the Myers Park student section, made up mostly of white kids. They seem to enjoy the whole thing. A few even run back from the concessions stand and into the rain, screaming with joy. Another group of five students, all black young men, stands under the awning next to the field house. "Look at those people getting hype," one says. "It's all white people. They're stupid," and the group erupts in a laugh.
Chadwick and his coaches huddle around a cell phone to check the radar. The storm appears to be just one pocket of rain, perched perfectly atop Park Road, taking the power out of Myers Park's pass-first offense. "That will pass, right?" Chadwick asks an assistant coach whose day job is real estate and not meteorology. "Man, we can't deal with this," says quarterbacks coach Jamarr Robinson, who starred at Myers Park in the mid-2000s and went on to play quarterback at the University of Maryland. "This weather ain't us."
As the Mustangs trot back onto the field for the second half, the century-old John Philip Sousa magnum opus "Stars and Stripes Forever" blares over the sound system. The cymbals smash and woodwinds whistle, the beats matching the rhythm of the players' cleats splashing mud with each step.
Davidson scores on a quarterback sneak in the third quarter to make it 7-7. It stays that way through the fourth quarter. Rain stops. Rain starts again. Rain stops again. With about two minutes left, the public address announcer says multiple wallets and cell phones have been turned in, things left behind in the rain.
The showers return at the start of overtime as the stadium's sound system howls with Kenny Loggins' "Danger Zone." High school overtime rules state that each team gets a possession from the 10-yard line. They'll go back and forth until one team doesn't match the other. South Meck scores a touchdown on its first possession to go up 14-7.
Davidson leads Myers Park onto the field for its overtime possession. On the third play, he floats a pass to the corner of the end zone. For a moment, it appears that receiver Cooper Hearn is wide open.
Then a hand goes up in front of Hearn. It's South Mecklenburg cornerback Moryah Johnson. At the top of Johnson's jump, the point of Davidson's spiraling pass plants itself squarely in the defender's palm, and as Johnson falls backward to the soaking-wet field, he pulls in the one-handed interception to end the game. Video of the incredible play goes viral, with everyone from USA Today to the well-known high school athletics site maxpreps.com sharing it as one of the plays of the week. It gathers more than 7,500 loops on Vine—a few of which will come from the quarterback who threw the pass.
"It stings. It's embarrassing," Davidson says later. "Especially with how popular it got."
JAMAL WATSON is jabbering again. It's 80 degrees on the Tuesday after the South Mecklenburg loss, and Tuesday practices are drags. Mondays, they watch film and learn from mistakes. Wednesdays and Thursdays, they're heavy into planning for the next game. Tuesdays, though, are work.
The coaches are frustrated today. Two running backs have taken the day off because of "injuries," Chadwick says, using air-quotes. Alvarez, meanwhile, tried to practice but the coaches told him to sit with the separated shoulder. "We had to forcibly hold him out," Chadwick says, "and then we have these other players who just don't want to practice."
Watson falls somewhere in the middle. He's here, but sometimes drifts. He's not comfortable with silence or downtime, and he often breaks the monotony by joking with people on the sideline. "Hey, my water better be cold Friday," he tells the team managers. "If it ain't, I'm coming after you." Or, later, "I'm not on Instagram this week. When we win, I'll get back on Instagram."
Still, this is growth. Last year, Chadwick says, Watson was part of a core group of players who "thought they were better than they actually are. They thought they didn't have anything to learn." But all of them except Watson were seniors, and when they graduated, he quickly noticed something that scared him.
"Last year, all my friends, all my black friends, I guess you could say, they were seniors," he says. "And none of them went to college. I want to play college ball."
Not only did Watson grow up in a single-parent home, he's young for his grade. He'll graduate at 17. He was called up to the varsity squad his freshman year, and by the time he was starting every game as a sophomore, he'd decided that being good at football would be enough to carry him. His grades bottomed out.
Reaching kids like Watson was one of Chadwick's priorities when he started here in the fall of 2014. He'd already put two sons through high school, and he spends a great deal of his coaching time teaching his players the same lessons he taught his own kids. He took last year's seniors out to Chick-Fil-A the week after he was hired to listen to them talk about what went wrong under the previous coaching staffs. Then he started changing things, little things. He developed homework checklists for some of the most at-risk students that his staff monitors. He checks their grades twice a season. He constantly reminds them that they are part of something bigger than just this team—if they fail, he tells them, they let down more people than themselves. And the blunt-talking coach changed one more thing: He talked to them about their differences. He started sending groups of players to Selwyn Elementary and Billingsville Elementary to help young kids in the feeder schools with things like reading. They also talk to the kids about character traits and life as a high schooler and a football player. It's not a new program, but the older players notice one big difference under Chadwick.
"It used to be only the white kids that would go," Watson says. "Now with Chadwick, it's always half white and half black."
This isn't Chadwick's first run at a diverse school. Both teams he coached in Maryland were split fairly evenly among white and black. The difference, he says, is that at those schools all the kids were from middle- or lower-class families. "We didn't have the super-wealthy kids there like we have here," he says. "Honestly, here, we have some kids whose parents fly them to the islands for spring break, and other kids who don't have a dollar to take the bus home after practice."
Chadwick lives in Marvin, near Marvin Ridge High School, where he coached from 2008 to 2012. Located about 25 miles south of uptown Charlotte, Marvin is one of the wealthiest small towns in America. Marvin Ridge, with a population that's 85 percent white, is consistently ranked among the best high schools in the state. But a year after Chadwick took the job at Myers Park, his daughter, Madison, decided to transfer from Marvin Ridge to the school in the city. She's a sophomore on the varsity cheerleading squad now, and she and her dad ride home after practice together almost every day.
"I wanted her to come here," Chadwick says. "It's more like the real world."
Chadwick brings the Tuesday practice to a close at about 5:30. The players take a knee around him so he can tell them some news about this weekend's game against Sun Valley: The school is honoring the 50th anniversary of the 1965 Myers Park team that went undefeated.
"Hey, let's do something this year that they're going to have to bring us back in 50 years for," the 45-year-old Chadwick says, before pausing and thinking about what he said. "Well, I probably won't be here."
The teenage players laugh at their coach's mortality. Watson pretends to grab a microphone and act out what he'd say if they were invited back 50 years from now.
"Hey, this one's for you, Chadwick!" he says, laughing and pointing to the sky.
***
AT 4:30 P.M. that Friday, the 1965 Myers Park team gathers in a room that smells like the grease and hot sauce of takeout chicken wings. Meanwhile, in the bottom floor of the athletic building, Jamal Watson stands by himself in a long hallway with white cinderblock walls on either side. He's holding his uniform pants. He'd forgotten them when he came to school today, he says, so he ran home to grab them, making him late for the meeting.
To hear Chadwick tell it, though, Watson left without telling anyone, and players aren't allowed to miss meetings without having it cleared. So when the team captain tried to enter the meeting room late, Chadwick shut the door on him.
When the meeting's finished, the players inside the room clap, then fling open the door and shuffle out wearing flip-flops and shorts as they head to the locker room to get dressed. After the last player leaves, Watson drops his head and walks into the room, hoping to explain why he was late. His mother calls him a "great debater," but he broke a clear rule. He has no room for debate. Not even a second. Watson opens his mouth to explain. Before he can say a word, Chadwick interrupts him with a scream that echoes down the hallway.
"LEAVE!"
And Watson turns around.
For the next 10 minutes, Chadwick and his staff sit in the white-walled meeting room, trying to figure out what to do with their best player. Some coaches suggest benching him completely. Others suggest holding him out for a quarter. Others want him to play. "We have to set a precedent," says Bly, the former NFL cornerback and Watson's position coach. Chadwick responds, "But at what point are we hurting the rest of the team by not playing him?"
Here is a moment that coaches of young people face regularly: How do you teach a lesson to a player who needs it without having it hurt the other 60 or so players who've done what they were supposed to do? After a long discussion, Chadwick looks at his watch and tells his assistants, "You know what, I'll let you decide. I gotta go talk to the old guys."
He walks across the parking lot and into the room that smells like takeout chicken wings. Nearly all the living players from the 1965 team are here. Among them is Jimmie Lee Kirkpatrick, who lives in Oregon. Kirkpatrick is a Charlotte legend for several reasons. In 1964, as a junior at all-black Second Ward High School, he was the first black player to make The Charlotte Observer's all-county team. He was born and raised in Grier Town. But before his senior year, he decided to transfer to Myers Park. He scored 19 touchdowns that year and led the Mustangs to a perfect season, but he wasn't selected for the Shrine Bowl, the annual game pitting the best players from North Carolina against the best from South Carolina. The snub set off a series of events in Charlotte, with churches and communities rallying around Kirkpatrick because of what they believed was a decision based upon his race.
With that as his school background, Kirkpatrick went on to a nearly 30-year career as a school administrator. He now teaches at a juvenile detention center in Oregon.
He's the most popular person at the reunion, until Chadwick walks in. The current coach spends about five minutes here, shaking every hand. Then he addresses the room, thanking them for coming back and promising to dedicate a victory tonight to them. "Now, if you'll excuse me," he says, "I have to go get these boys ready."
The sun is setting and shining horizontally across the hill as the Mustangs gather for their pregame ritual and last-minute words from Chadwick. "I talked to the 1965 team tonight," Chadwick tells his players. "It's good to remember where you came from. But it's time you start writing your own history."
The players jump up and start their parade across the campus driveway that runs between the locker room and the stadium. Chadwick yells, "Captains!" and sends four players up to the field for the coin toss. Watson is not among them; he's been stripped of the title for the game. He'll play tonight, though.
They walk up the concrete steps and into the stadium and head toward a big, inflated Myers Park football helmet. On the way, they pass a rock with a horseshoe on it, and one by one, they place their palms firmly on the shoe for luck. The cheerleaders line up outside the helmet, holding a sign that's ready to be ripped in half. The Mustangs burst through it, sprinting toward the home sideline for the first time all year.
Myers Park jumps out to a 10-0 lead. Early in the second quarter, Sun Valley lines up for a 30-yard field goal. The kick is blocked at the line of scrimmage, and the ball bounces toward the visitors' sideline. The player who happens to be standing there is the same player who forgot his pants earlier in the day, the same player who caused his coaches an afternoon migraine. Watson picks up the bouncing ball and takes off the other way.
His legs wind faster and faster with each stride. There's something magnificent about true speed. In the stands, one person sees it and points. Another person sees it and slaps the leg of the person beside him. Teenage fans stop mid-text message or Facebook post. Kirkpatrick, the legendary running back, rises to his feet to watch. Watson pulls away from everyone else on the field. As he crosses the goal line to make it 16-0, the Myers Park crowd becomes a high-fiving, hugging lovefest, thanks to the legs of a 17-year-old boy who just an hour ago was his coach's least-favorite player.
At halftime, the 1965 team is introduced as "the finest team in Mecklenburg County history." Even 50 years later, the story of Kirkpatrick and that team's place in local civil rights history remains prominent. "We are not black or white," the announcer says. "Our blood flows Mustang Green."
In the second half, Sun Valley mounts a comeback, and with less than two minutes left, the Spartans are within five yards of a game-tying score. On a fourth-and-goal to decide the game, the crowds for both teams stand and holler. Sun Valley's quarterback receives the snap and jogs to his left, looking for a receiver. With nobody open, he sprints to the corner. It's a race between the quarterback and Watson to see who can get there first. Watson unwinds his legs again, faster and faster, then pop!
They're as far away from the home sideline as they can be when the play ends. Myers Park fans go quiet and crane their necks to try to see what happened. The officials point to a spot that appears to be short of the goal line, but from way over here, who can tell?
Suddenly, a player in a green uniform and, yes, pants, thrusts his arm into the air holding the ball. It's Jamal Watson. He runs across the field with the football above his head, having saved a victory. Chadwick's there waiting and ready with a hug.
Before every home game, the players touch a horseshoe for luck, then run into an inflated helmet to prepare to take the field in front
of their fans.
Click here for PART TWO of the series. Click here for PART THREE.