MuTue May 18 edition: Lou Ford and Leadville!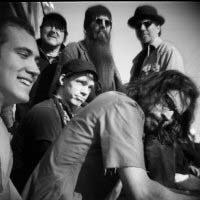 Man, is it Thursday already? Then it's mos def time for a Music Tuesday. Charlotte has had a great run of shows lately, and that run continues. Here we go…
Friday, May 21
Lou Ford with Leadville Social Club
Local band Lou Ford (it is a band, not a person. Lou Ford is a character from a Jim Thompson novel) has already made an appearance in Music Tuesday, in a stripped down version. Now, the full band reunites for one of its occasional shows, this time at the legendary Double Door Inn (which is not an inn but an old house converted into a great blues club. Confused yet?) Lou Ford is led by harmonizing, guitar-slinging, songwriting brothers Alan and Chad Edwards. They play a slightly twangy but definitely electric version of rock and roll. Several years after they were released, three of the bands CDs still occupy playlist slots on my iPod. That's an honor, my friends.
Lou Ford will be supported by up-and-coming local band Leadville Social Club. Love that name. LSC (are we at the acronym stage yet?) is fronted by longtime music scenester Bob Young and a guy named Chris Edwards. That guy also happens to be the longtime staff photographer of this magazine. I'm telling you, the dude is multitalented. He plays several stringed instruments, sings a little, and puffs on the harmonica. Bob writes most of the songs. The talented Randy Saxon leads on guitar. LSC is influenced (to my ears) by Townes Van Zandt, Uncle Tupelo, Son Volt, and the like. Good stuff. This should be an excellent show, with lots of Charlotte music scene glitterati in attendance. $10 at the door.
Friday, May 21
Shawn Mullins with Blue Dogs
I recommend the first show. But if your friends are all about "Lullabye," this one would be pretty good too. Mullins is an Atlanta singer-songwriter who hit it big with the single "Lullabye," though I prefer his other big hit, "Beautiful Wreck." The Blue Dogs are a South Carolina band who play an infectious brand of beach-flavored rock and roll (note: NOT beach music. There is a difference. Even if only I know what that difference is.). And let's put it this way: If my wife was going to be in town, we would be going to this show. But she's not. So look for me at the DD. Here's Mullins and his band performing "Beautiful Wreck":