My Favorite Things: Charlotte's Collectors of Kitsch
Lava lamps, Frankenstein figurines, velvet paintings, Simpsons memorabilia—the collections are fun, weird, and not even especially valuable. But every single action figure and poster is a piece of the collector's childhood—gone, but not forgotten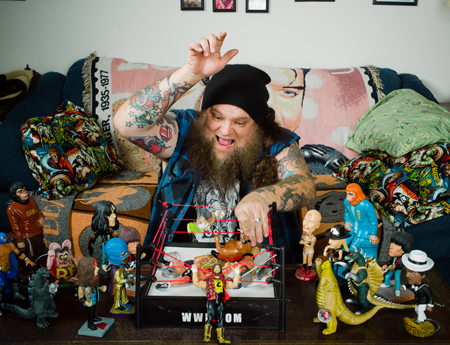 Jeff Clayton: Wrestling Memorabilia
Jeff Clayton claims that he's not really a collector anymore. Then he tells you about his most recent acquisitions. And his apartment? It looks like a pop culture museum, and professional wrestling memorabilia is the main exhibit.
The walls are covered with 30-year-old posters of wrestling stars. Action figures and bobbleheads top bookshelves lined with wrestling books. Shelves on the walls of the office where he fills online orders for Antiseen (the punk rock band he's fronted for nearly 30 years) are covered with wrestling action figures that span the 1980s to today (he's also partial to Planet of the Apes).
He's acquired them on eBay, through trades, and from Antiseen fans. Many items are ones he wore out playing with as a kid, then bought again as an adult. Some of them he's had since he was a kid. "I think the start of it is wanting to hold on to a certain time period or mind-set in your life that you had," he says. "Even though everyone knows you can never go back, it's the closest thing to it. It keeps you young at heart, young at mind."
The one thing he says he wouldn't sell is a wrestling book written in Japanese that flips from back to front. It's autographed by numerous professional wrestlers, some of whom have since died.
Linda Hutchinson: Lava Lamps
Linda Hutchinson, 59, feels like she missed out on the 1960s. Not only was she a little too young to be able to gallivant about San Francisco with flowers in her hair, she was, in her own words, "still a timid, geeky violin player."
So she is drawn to the décor the decade produced, and in particular, that queen of kitsch, the lava lamp. Her husband, who plays in the Beatles-inspired band The Spongetones, gave her the first one in 1991. When the Big Lots in the strip mall where she worked at the time got a shipment of lamps, her collection blossomed.
"Most of them I paid $10 for," she says as she tours her home, showing off a vintage rocket-shaped one she bought on eBay, two contemporary glitter lamps bedside, a retro pale green one in the craft room, and a pint-size blue one in the guest bedroom.
She likes the tranquility of the undulating "lava." But she also likes to know how they work. "I've popped the tops on them. I like to monkey around with the colors."
Phillip Shive: Velvet Paintings
In 2009, after Philip Shive, 30, a butcher and a booking agent, bought his Belmont bungalow, he frequented thrift stores and vintage shopping sites. He was surfing the latter when he saw a velvet painting of Michael Jackson. He had to have it. Four years later it's the centerpiece of his collection of 20 velvets. He likes their kitschy quality, and he even likes the way they feel. He is particularly fond of the heavenly glow around Jackson's Jheri curl. "On some of them, the art is just horrible, which is funny."
He also commissioned a velvet portrait of Jackson's Thriller album cover for $150. It sits atop a chest in his jungle-themed bedroom—Jackson's tiger print pocket square matches the drapes. Velvet renderings of unicorns, ships, animals, and Jesus share the walls of his Belmont home. Velvet coasters, a velvet lamp, and a velvet dream catcher round out his collection.
Twiggy Cerniglia: The Simpsons Memorabilia
As a child, Twiggy Cerniglia, 37, always boxed her toys back up when she was finished playing. At 11 she came home from school to find her mother had donated her entire doll collection to the Salvation Army. Ever since, she's found it difficult to part with her toys.
By 2011, she had accumulated hundreds of action figures. But when VisArt, the indie video store where she worked, needed a buyer to stay in business, she sold most of her collection to buy it. The one thing she wouldn't part with? Her Simpsons figures.
Boxed figures of Homer, Groundskeeper Willie, Otto the bus driver, and the rest of the cast of Fox's 24-year-old animated series line Cerniglia's bedroom walls. Play sets, a phone, and a Duff beer rest on bedside tables. When she worked at Media Play, the now-shuttered music and book store, she'd snatch them off the delivery truck before they hit the floor.
"I just never grew up," says Cerniglia.
"I used to take such good care of [my toys]. I was so hurt when I lost them. It was like losing a part of my childhood." She estimates she has 50 to 60 still in the original boxes and another 100 loose figures. Stephen Hawking (as a character on The Simpsons) is the most valuable, and could bring up to $75 on eBay.
"The Simpsons is such a parody of American life," she says, displaying tattoos of Homer and other characters from the show on her arm. "It's still funny."
Justin Faircloth: Custom Bicycles
Justin Faircloth, 38, began cycling in high school and worked at a bike shop in college. After graduation, he let the hobby slide. But when he hit his mid-30s, he started riding again.
Then in 2005, he got to talking with a man named Douglas Brooks. Justin's wife, Sarah, is a yoga instructor, and Brooks is her mentor. Brooks also happens to be a serious collector of custom-made bicycles. Justin compares the custom bike world to that of indie rock, with its own lingo and cult favorites. Justin, a musician and real estate investor, became hooked. Today a rainbow of bicycles hangs from the ceiling of the sunroom in the Faircloths' Myers Park home.
"I love the simplicity of how they work," says Faircloth, who compares his interest to his 9-year-old son Oliver's obsession with Legos. "It's the mechanical fascination, an appreciation for the art, and a love of riding."
He's had as many as 25 bikes at one time. He usually buys just the frame and builds the rest himself. His most prized are a gold-colored classic road bike made by retired Japanese builder Yoshiaki Nagasawa and a red road bike from Sacha White's Vanilla Bicycles, a hip maker out of Portland, Oregon. Currently, there is a five-year waiting list for one of White's bikes, which can go for as much as $12,000.
"I hate to call myself a collector," says Faircloth, who considers a 15- to 20-mile ride short. "Collectors are usually anal about keeping them clean and on display. I'm from the school of thinking that a bike needs to be ridden and ridden hard.
J.C. Spurlin: Frankenstein Memorabilia
What most people would call a dining room, James "J. C." Spurlin refers to as "Frankenstein's Bar and Brothel." Towering over the bar is a motion-activated Frankenstein's monster that stands more than six feet, growls, and moves its head and arms. A Frankenstein's monster nutcracker, a set of monster Old Maid cards from 1964, a voodoo doll, and a green piggybank with bolts sticking out of its little piggy neck are on display elsewhere.
It all started five years ago with a Frankenstein-themed pinball machine. Spurlin originally wanted the iconic Kiss pinball game. A friend told him that the Kiss game didn't compare to more contemporary models. He suggested a game like the Frankenstein instead. Spurlin, 38, liked the idea of reconnecting with the monster he watched in Friday-night black-and-white horror classics as a kid. Two years ago he had the image of Boris Karloff as Frankenstein's monster, from the 1931 film, tattooed on his leg.
Once friends caught on, they began to add to the collection. Spurlin, a wine sales rep, created a policy for visitors. "If they brought over something Frankenstein-related, drinks were on the house."
To view as a slideshow, click the images below: