My Favorite Things with John Bossard
Designer John Bossard's 10 favorite things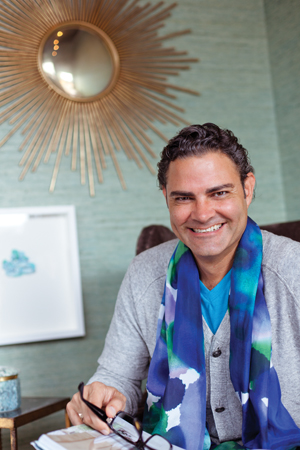 Formal training in floral design and a series of opportunities in Atlanta, London, and Aspen honed John Bossard's eye for detail and gave him a love of homes. In the mid 1990s, he found that his dedication to making objects of beauty the center of attention easily translated to interior design. After years of work in New York with big names including Charlotte Moss and David Easton, Bossard reclaimed his Southern roots. In 2004, he launched Charlotte-based Bossard Design. Here, he lets us in on ten things that add joy and flair to his everyday life.
The talent of Elizabeth House Flowers is world class. Flowers are the perfect gift for all occasions, even when you need a little "To me, Love, me."
2. Bawdy Song by Selena Beaudry, $8,200, Hidell Brooks Gallery, 704- 334-7302
Selena Beaudry's Bawdy Song is an explosion of color, texture, and movement; it's a feast for the eyes.
3. Vintage nautical chain coffee table, $1,695, LaDonna Interiors and Antiques, 704-375-0082
The chain coffee table is the most creative thing I have seen in a long time; recycled maritime chain is used to create original furniture, lighting, and accessories.
4. Silk Jacquard Dopp Kit, $68, J. McLaughlin, 704-335-3194
Preppy rep silk is not just for ties anymore; it's a perfect addition to your well-styled travel luggage.
5. Lego Architecture set, $99.95, Paper Skyscraper, 704-333-7130
Legos aren't just for kids anymore.
6. Christopher Spitzmiller Medium Louisa Lamp in Opalescent Blue with Water Gilt Base and Paper Shade, $1,990, Decade, 704-332-5862
The saturated turquoise color is the perfect pop.
7. Lowcountry Linens Hand-printed Cocktail Napkins, $20, set of four, Isabella, 704-377-4919
Southern style never fails as a hostess gift, or in your own home; I love the chevron stripe.
8. Gourmet Chocolate Chip Cookies, $9.99 (10 oz.), Reid's Fine Foods, 704-377-1312
Grab them by the handful! They're the best-tasting cookies, and they have genius packaging!
9. Golden Dandelion Small Starburst, $300, Traditions, 704-525-8727
Add a little Hollywood glamour to your living room with a 1960s-inspired sunburst.
10. Hermès Birkin Concentré d'Orange Verte, $107 (3.3 oz), Nordstrom, 704-442-6000
Everyone needs a signature fragrance; this is mine.