My Night in Ballantyne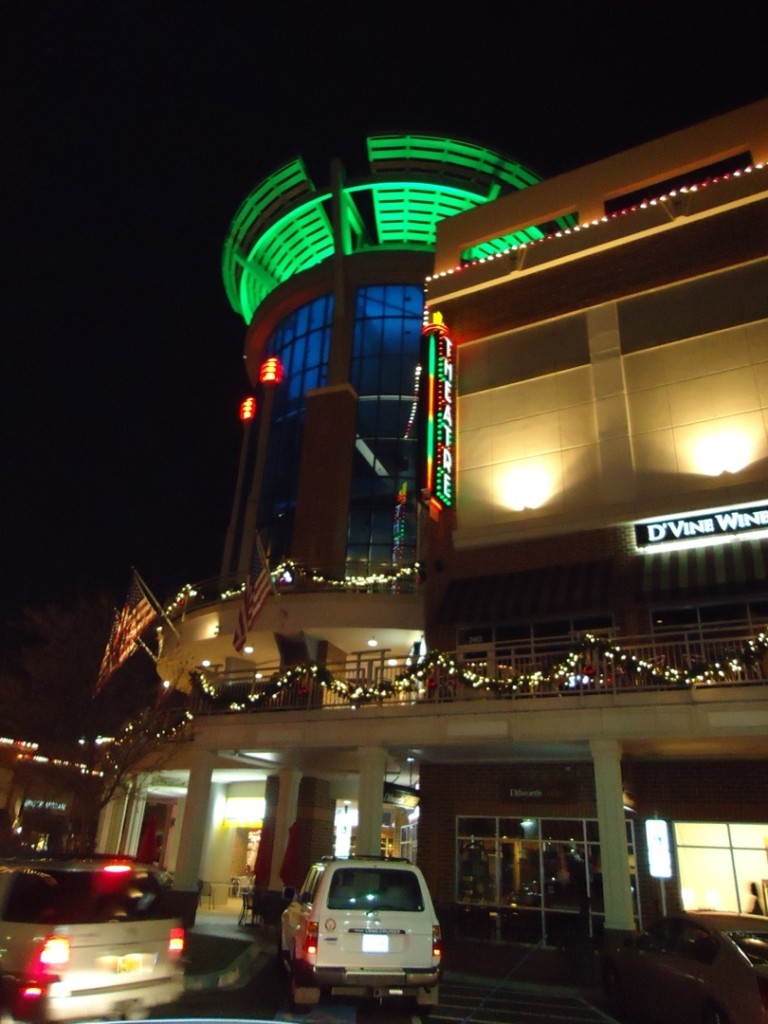 I don't travel to Ballantyne too often. Living in north Charlotte, driving to that part of town can be a bit of a hike (though I-485 is a straight shot). So when my girlfriend Andrea and I decided we would celebrate New Year's Eve in Ballantyne, it was sort of like going out of town. Especially once you factor in that we got a room at The Ballantyne Hotel.
The luxurious hotel offered a New Year's package that included a 4 p.m. late checkout, which was perfect for partying late into the night and sleeping in the next day. We checked into the hotel a little after 6:30 p.m. Friday. The room was spacious and comfortable, and we opened a bottle of wine and kicked back as I got ready to watch my South Carolina Gamecocks play in their bowl game (I won't go into details about the game's outcome). Since I wasn't going to force Andrea to watch football on this occasion, I compromised by turning the volume down on the TV and turning the music up (I could still "watch" the game).
Before we knew it, it was time to get ready for the party. At about 10:30 p.m., we headed downstairs to the Gallery Bar inside the hotel. As I passed the restaurant, I was surprised that there were so many people having a late dinner. And I was even more surprised at how rocking the party was in the bar. I didn't know folks in Ballantyne partied this hard. There were people of all ages, but it looked mostly like a couples affair.
The DJ played a variety of songs as diverse as his audience—from Top 40 pop to old-school Michael Jackson to "Cupid Shuffle," which had women young and old partying like it's 2099. We only stayed there about thirty minutes because we'd planned to head over to the night's main event around 11 p.m.
We took the short drive across the street to Ballantyne Village Theatre, where Six Figure Entertainment was hosting its New Year's Eve party, billed as Majestueux II. There were a few parties going on in Ballantyne Village, including one that seemed lively at Villa Antonio. It seemed like most people were arriving when we were, as crowds of people headed up the escalator to the theater. The line to the entrance was long, but it moved fairly quickly.
Even though there was plenty of competition this night with so many venues around Charlotte having parties, I assumed Six Figure would draw a good crowd because they were only charging $30 general admission and that included an open bar and heavy hors d'oeuvres. I'd bought our tickets several days earlier online, and I was thinking the price was too good to be true. My thought was either they wouldn't have much of a drink selection in the open bar or they would have very few bar stations. Well, when we went to the second floor inside the theater and saw how long the lines were to the open bar, I realized the latter of my suspicions were true. It was, however, less crowded on the other side for people who'd shelled out the extra bucks for VIP.
Though I felt the organizers could've been better prepared for the crowd, I didn't care much because it's not like we paid a huge price and needed the free booze to get our money's worth. I didn't mind buying drinks from the downstairs cash bar, which had less of a line, of course. And I'm sure the single guys in the building didn't mind either. If you don't know, many women don't like to pay a lot to go out (now they'll spend a lot on their appearance to go out), so the low admission price for a New Year's Eve event brought them out in droves. They seemed to show up in groups of fours and sixes, in their assortment of party dresses. It was a nice looking crowd too.
The deejays were pretty good, and I always enjoy when they have the projection screen set up that shows the videos for the songs being played. Despite the party being live, I pooped out, and we left a little after 1 a.m. It was great to not have to drive all the way home, but instead to our comfy room at the hotel across the street.
I can't overemphasize the beauty of a late checkout. Not only did we sleep in, but we even managed to work out for an hour at the hotel's fitness center on Saturday afternoon. Keeping with New Year's resolutions and all.
The Ballantyne Hotel offers a variety of overnight packages, including a "Luxury Romance" package you might be interested in, with Valentine's Day not far away. Click here for more info.
Click on a photo below to view it in the slideshow.