N.C. Gets New Poet Laureate (Plus: The Weekday Roundup)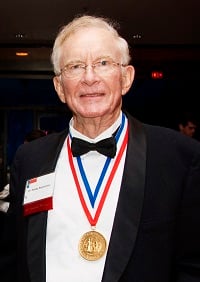 Gov. Pat McCrory named Shelby Stephenson as the state's newest poet laureate on Monday. The Benson writer/performing artist is a retired professor at UNC-Pembroke and a former editor of Pembroke Magazine. Stephenson received the North Carolina Award for literature in 2001 and was inducted into the North Carolina Literary Hall of Fame this year. Stephenson's collections include The Hunger of Freedom, Plankhouse, Family Matters: Homage to July, the Slave Girl, and Fiddledeedee.
Stephenson's appointment comes months after a controversy with the post, occupied for only a few days in July by Valerie Macon. McCrory skipped the usual process of appointing the poet laureate, including consultation of North Carolina Arts Council. Past poet laureates expressed disapproval over Macon's appointment. A literary selection panel was used for Stephenson's nomination.
A February ceremony at the State Capitol is slated for Stephenson. The poet laureate typically holds the post for two years. Past laureates include Arthur Talmage Abernethy, James Larkin Pearson, Sam Ragan, Fred Chappell, Kathryn Stripling Byer, Cathy Smith Bowers, and Joseph Bathanti. Durations have ranged over the years, but there has been a poet laureate in place since 1948, starting with Abernethy.
You can read more about Stephenson's work at his website, here.
MONDAY
SCROOGE!
Ebenezer makes another appearance with this show, but expect a kid-friendly vibe with this version. The Children's Theatre of Charlotte is the group behind this production.
TUESDAY
NUTCRACKER
This is the first Christmas for the Charlotte Ballet since its rebranding. More than 100 performers make their rendition a must-see, along with the signature snowfall for each performance.
WEDNESDAY
SPEEDWAY CHRISTMAS
Drive on the track and check out the Speedway's Christmas village, located in the middle. More than 3 million lights are used in the 800 displays.
THURSDAY
HOLIDAY ON ICE
Holiday On Ice invites families to come out to the NASCAR Hall of Fame Plaza for some, you guessed it, holiday fun on the ice. While the whole family is in town, it's a suitable outdoors outing.