Napa at Kingsley Opening in Fort Mill in July
Chef Michael Griswold of Napa on Providence brings his Napa Valley-inspired cuisine to Kingsley Town Center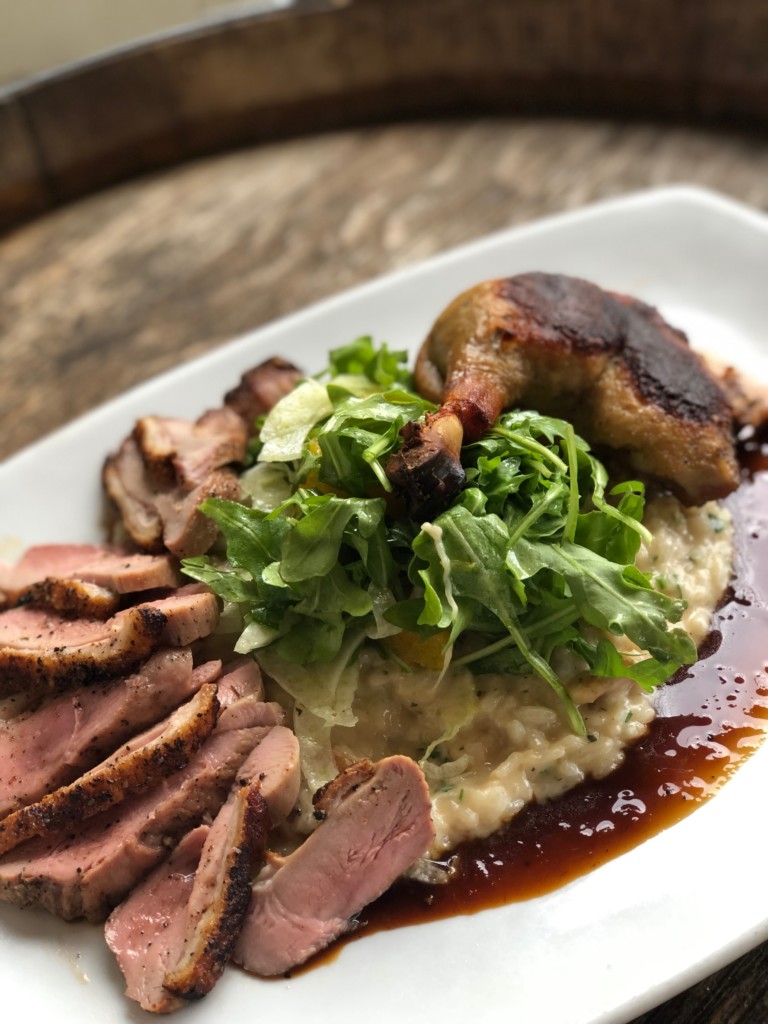 Update: The official opening date has been set as July 15. Shot of their exterior below:
MICHAEL GRISWOLD HAS BEEN working in restaurant kitchens since age 15, and he got his first big break when he was named sous chef at Café Monte in 2007. He went on to serve as executive chef at Vivace, Napa on Providence, and The Pump House. Now, nearly 20 years into his career, he's the regional executive chef for the entire Napa brand of restaurants, which will soon include Napa at Kingsley. We caught up with Griswold ahead of the opening to chat about his new summer menu, and get to know the man who brought California cuisine to Charlotte.
Chef Michael Griswold
Age: 34
Relationship status: married with three children
Hometown: Charlotte
Currently lives: Matthews
Currently reading: The Flavor Bible
How will this menu compare to Napa on Providence? We're opening with a new summer menu, but both Napa restaurants will have the same menus to keep it consistent. We wanted to streamline it so you can get same dish. We'll keep staples like the duck duo and the wild boar agnolotti.
Any seasonal items we can look forward to? We're doing a vegetarian option, perigord truffle angelotti. We'll shave fresh truffle on top of the dish before it's sent out to the guest. I've never been this excited about a vegetarian dish because I'm such a meat kind of guy. But we have to stay up on what guests want, not what I want.
What dish would you say you're best known for? The duck duo has been on the menu since I took over Providence, and I've tried to alter it a couple of times, but guests always demand we bring back the original. We also do a summer version of the shrimp gnocchi with housemade gnocchi, arugula, white wine, and lemon butter, which is another big hit.
What ingredients do you always have on hand? Saffron, fennel pollen, or anything pork.
What's your favorite Charlotte restaurant, other than your own? Soul Gastrolounge.
Any local chefs do you look up to? Gene Briggs, Joe Kindred, and Tom Condron.
Most comfortable shoes for the kitchen? Birkenstocks​
What's the most surprising thing about you? I'm a Charlotte native.
Any guilty pleasures? Pizza from Buffalo, New York, where my mom is from.
Coffee or Tea? Coffee, all day.
Chocolate or cheese? Cheese.
Coke or Pepsi? Coke.
Ketchup or mustard? I hate ketchup. Give me horseradish mustard from Buffalo.
Dog or cat? Dog.
Facebook or Instagram? Facebook—I still haven't figured out Instagram.
Cake or pie? Red velvet cake.
Why did you become a chef? It was one of my first gigs when I found out I was having a child at 15. I started washing dishes at an Indian restaurant in Pineville, then got a job at Wolfman Pizza. I guess it just stuck with me—I fell in love with the lifestyle, and the adrenaline rush of being busy. That, and there was a girl I saw through a window at Wolfman Pizza, and thought, I have to start working there.
Napa at Kingsley is located at 1310 Broadcloth Street, Suite 101, in Fort Mill. Look for the restaurant to open in early July