Naptime for Adults
Uptown health club encourages us to sleep it off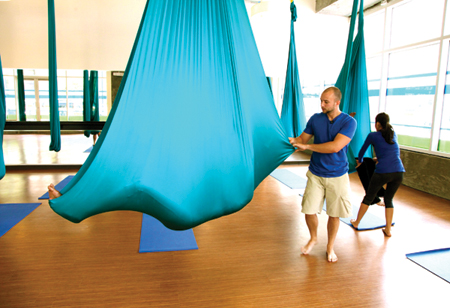 Move over, iPod. The latest trend in Charlotte: the shut-eye pod.
Nestled in silken teal hammocks suspended from the ceiling, members of Flex + Fit, a New Age Charlotte wellness facility, now have the option of taking daytime nap classes. "Your body really needs time to rest and restore," says Shama Patel, president of Flex + Fit, who hung up corporate life to pursue wellness promotion.
Experts recommend quick twenty- to thirty-minute naps; anything longer sends the body into the rest-and-repair portion of the sleep cycle, making revving back up challenging.
A recent Swiss study showed that people fell asleep faster and slept more soundly when snoozing in a slow-rocking hammock versus a bed. "It doesn't matter where you are, as long as you can relax in a comfortable position," says Presbyterian Sleep Health manager Tracy Strawn. The classes are $19 for walk-ins and offered just after 1 p.m.—perfect for that postlunch food coma.