Nation, World React to Patrick Cannon Arrest
Charlotte mayor makes headlines for all the wrong reasons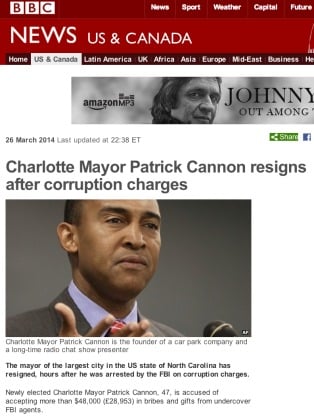 A sampling of the national (and global) coverage of Charlotte Mayor Patrick Cannon's arrest yesterday on federal corruption charges and subsequent resignation:
The big U.S. TV networks: ABC, CBS, NBC, FNC.
The BBC. (The $48,000 in bribes converts to £28,953, if you were wondering.)
The New York Times and Washington Post.
Reuters, with a story reported by frequent Charlotte magazine contributor Emily Harris.
The big blogs: HuffPo, Talking Points Memo, and Daily Kos on the lefty side; Breitbart ("DEMOCRAT Mayor of Charlotte Arrested For Theft, Bribery"), The Blaze, RedState on the right. And Slate.
And BuzzFeed, which—God love 'em—worked the feminine hygiene product angle.
If you come across additional coverage from global outlets—and not just running the AP or Reuters story—let me know at nestpoke@gmail.com. I'll update this as needed.