Natural Beauty
Adding cozy everyday wear pieces gives your bridal look an earthy edge that's perfect for fall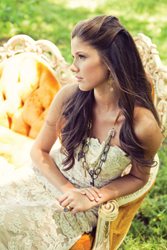 For a truly inspired look on your big day, let nature be your guide. Romantic lace, flowing silk, ethereal tulle, and accessories with an unexpectedly earthy edge help to create a fresh, rich, and unforgettable fashion statement.
For this rustically-inspired shoot, we went on location to Treehouse Vineyards in Monroe, NC to take advantage of their incredible landscape, lush green grape vines, and unique backdrops. To make the photos truly magical, we brought along Carrie Ann Drinnen of Serendipity Weddings and Events to add whimsical props that look as if they've been plucked from a fantasy wedding that's part farm-chic and part "Alice in Wonderland."
Inspired by the crisp temperatures of fall, we accessorized simple gowns with everyday wear accessories like flowing silk blend cardigans, breezy blouses, and practical leather belts and boots. All of the jewelry we chose has a bit of hard-rock edge—perfect for the bride who wants to show off her strong personality without sacrificing the elegance of her wedding attire.
photographs by angela cox
produced by lindsay emeigh
fashion styling by jenn grabenstetter
prop styling by serendipity weddings & events
hair and makeup by elizabeth tolley
shot on location at treehouse vineyards