Near East: Miyagi's Opens in NoDa
Miyagi's brings an Asian outlook to pub-heavy NoDa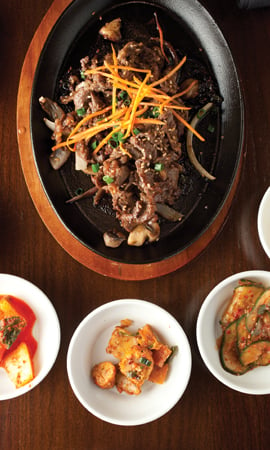 As NoDa has evolved from gallery-filled arts district to laid-back nightlife destination, restaurants and bars have mostly followed the trend. In short: pubs and the like reign here. Miyagi's, however, is different. Opened in December, it serves Asian fusion with a Korean focus.
With its exposed ceiling, modern furniture, and simple look, it's hard to imagine how the restaurant's space—a prime location overlooking North Davidson Street—remained barren for so long. The building, sandwiched between the neighborhood's firehouse and Revolution Ale House, is long and narrow with a stark look that reveals its industrial beginnings. (It originally housed printing company Consolidated Press, which now operates out of a larger space just around the corner.)
Chef/owner Raymond Dover, who is Korean American, draws from his own roots—and time spent watching his aunts and grandmother cook—to create the menu, which features Korean barbecue along with sushi and other Asian-inspired dishes. Korean food purists will note that Miyagi's doesn't have the table grills—charcoal- or wood-burning built-in cook tops—that are the trademark of a traditional Korean restaurant: Dover hopes to add them once he gets city approval. (Tip: head to Miyagi's on a sunny day and sit on the patio, where you can ask for a portable tabletop grill to cook your Korean barbecue al fresco.)
On the starters menu, the crab Rangoon ($9) is a standout, served deconstructed as a dip with wonton chips drizzled with sweet chili sauce. Authentic Korean food seekers should order the bibimbop ($10), a large, hot stone bowl filled with rice and topped with vegetables, seasoned ground beef, and a slowly poached egg, or the bulgogi ($15), thinly sliced steak marinated in a soy-ginger sauce. The other Korean barbecue plates are also worth a try, particularly the spicy barbecue pork ($15), served on a hot skillet with vegetables and rice. If you order one of the barbecue dishes, don't skip the banchan, a collection of petite side dishes that typically include fish cakes and kimchi. And be prepared for lots of new options on the still-evolving menu—banh mi–inspired sandwiches are next, followed by a kimchi burger, Korean barbecue wraps, rice cakes, soups, and more.
But Miyagi's doesn't stray too far from the NoDa formula: in addition to steaming bowls of rice and sizzling skillets, you'll also find tournament-quality Ping-Pong tables and food served until late.