Neighborhood Spotlight: Nevin
The 'little secret area' 4 miles from uptown that looks curiously like the country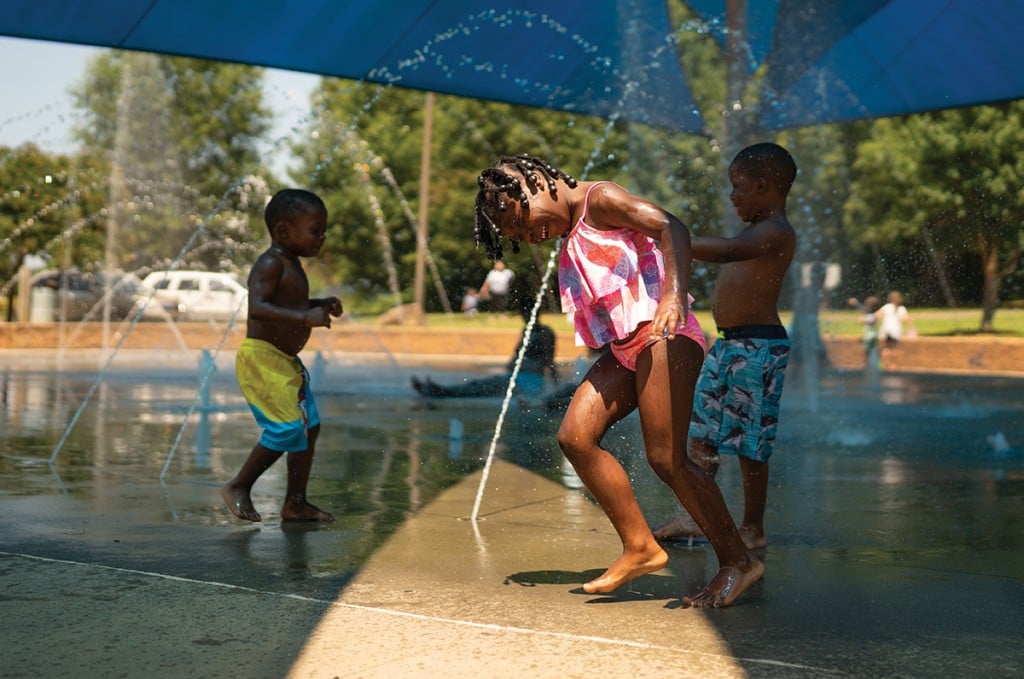 Nevin, a historic neighborhood 4 miles due north of uptown, can leave you mildly disoriented. Better-known Charlotte neighborhoods, especially these days, proclaim their identities loudly, often with prominent specimens of what advocates and urban planners refer to as "signage." In Nevin, depending on which part you're driving or walking through, you're not sure whether you're in the city, the country, a suburb, a forest, or what.
You may not even know you're in a distinct community called Nevin. "It's definitely a little secret area," says Theresa McDonald, a member of the area's community organization who also works there as a real estate agent.
"It's kind of a little pocket, right?" says Pamela Glass, who drives in from Lincoln County to work there.
"It's a sleepy community," adds Mary Huntley, who's lived there for 26 years. "It's got its own kind of slowness to it, and I like that."
Nevin is one of a few Charlotte neighborhoods—Derita, immediately to the southeast, and Newell, a few miles east, off Old Concord Road, are others—where the roiling river of Charlotte's growth seems to have eddied; where you can get lost in the mixed Piedmont hardwoods of RibbonWalk Nature Preserve or pass the old farmhouses along Gibbon Road and easily forget you're a few miles from the middle of the 15th-largest city in the United States.
The illusion doesn't last, of course. Soon enough, you come across Harrison Trace, a development of 85 rental homes under construction on Gibbon, near Nevin Road; or new affordable units going up on Cochrane Drive, just across Statesville Road from the neighborhood's southwestern edge. And inevitably, you catch a glimpse of the skyscrapers of uptown to the south, close enough to lend the illusion that you could hit them with a well-thrown rock.
The signs of new development are creeping rather than rushing in, although residents can see where this all is going. "I would say we're on the cusp of some gentrification because of the location, which I'm kind of on the fence about," says Huntley, 68, who stayed put in her 1,064-square-foot bungalow on Nevin Road after her husband, Robert, died of cancer in January. "But I know change is inevitable."
I ask her if she plans to sell anytime soon—say, within five years. "I'm unsure," she says. "I'm unsure."
In the meantime, she looks for ways to be of service. Just up the road is Nevins Inc., a nonprofit that serves developmentally disabled people and happens to occupy the neighborhood's most prominent historic building, the old Nevin School. (The organization's name, "Nevins" instead of "Nevin," was a typo that stuck.) A school opened on the property in 1889, when John and Sallie Hunter donated a half-acre of their land and 62 books to Mecklenburg County's public school committee. Nevins Inc. has run enrichment and other programs from the old school building and an attached 81-year-old auditorium since 1959.
Huntley was walking the neighborhood not long ago—COVID kept her from her usual track at Northlake Mall—when she stopped and began to pick plums from a tree on the Nevins property. She and Glass, the organization's development director, started talking. "She didn't really know what Nevins was," Glass says. "She was so sweet." Huntley asked if Nevins had any jobs available for a recently widowed lady, and Glass said she'd let Huntley know.
Nevin's like that—a community where close neighbors can live contentedly for decades and maintain enough room to discover more. The parks, for example: RibbonWalk and the adjoining Nevin Community Park, 197 acres with six lighted playing fields, a disc golf course, a "sprayground," and even bocce ball courts.
Together, the two massive green spaces slice across Nevin's midsection, from its western boundary to its eastern. "You cannot beat the access to the parks," McDonald says. "Both of them are absolute gems." Visitors were scarce until the last few years, she says, when she began to notice more cars in their parking lots and more people on the trails.
And that's why Huntley's on the fence, even if change is inevitable. "I like the woods across the street," she says. "If it gets too dense, I might have to get out of here."
---
NEVIN QUICK FACTS
Area: 1,514 acres
Population: 4,947
Median household income: $38,171 (Mecklenburg County average: $66,641)
Racial breakdown: 62% Black; 16% Hispanic/Latino; 12% white; 7% Asian; 3% other
Why "Nevin"? The Wardins, one of the community's founding families in the 1880s, chose the traditional Irish name in tribute to their ancestors, according to former community organization president Jean Davis Burris. The name was fully established in 1891 with a post office on Statesville Road.
Sources: Charlotte-Mecklenburg Quality of Life Explorer; Charlotte-Mecklenburg Historic Landmarks Commission; U.S. Census Bureau