Neighborhood Spotlight: Stu's Barrel House Quietly Serves Some of NoDa's Best Drinks
The bar in the former Salvador Deli spot surprises with delicious and innovative cocktails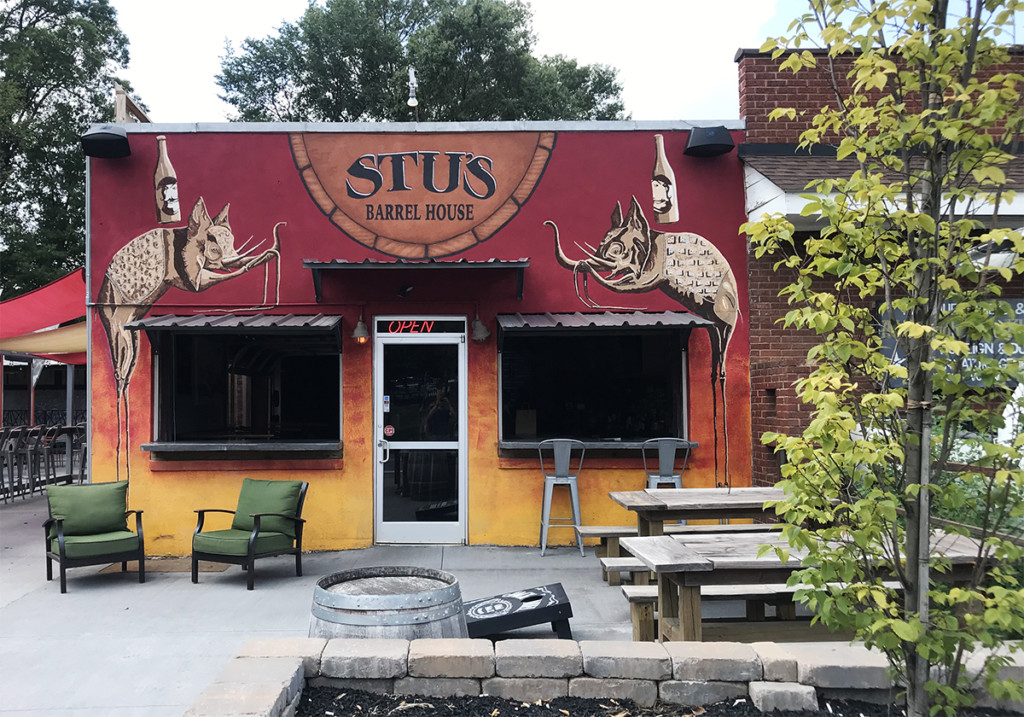 ON A RECENT Saturday afternoon, my husband and I were meeting friends for drinks in NoDa. We were at Stu's Barrel House, and I told them not to join us. It was a strange way of meeting friends for drinks, but let me explain:
Stu's took over the long-vacant spot between Solstice and Jack Beagle's in November, replacing the building once so charmingly named Salvador Deli. It's a stumble-upon sort of place, not looking for influencers to flaunt its offerings on social media. It is not a place you talk about with friends. It's slightly tucked back from North Davidson Street, subsumed by the ostentatiousness of Solstice and, before it closed, its need to be recognized, loved, photographed. Stu's does not care if you take a picture on its made-for Instagram-backdrop mural wall. It does not have such a wall. Its interior walls are black.
It is, in a simpler manner of speaking, unassuming and indifferent to the whimsy of today or tomorrow. What Stu's does have, though, and why I continue to return, is magnificent cocktails. (When you get past that, an oasis awaits you behind the bar, which with its elixirs and additives looks more like an apothecary.) On a drink menu 18 libations long, a partial list of ingredients includes orange blossom water, peanut brittle crumb topping, celery bitters, fresh carrot juice, espresso salt, caramelized banana and hibiscus tea syrup.
The drinks here are small gems, rescuing those in the know from the deluge of local brews and cheap gin from surrounding spots like The Blind Pig and The Dog Bar. (Full disclosure: The Blind Pig and the Dog Bar are two of my favorite bars, so this is no slight to them but merely commentary on the resplendence of intermixing such drinks with a splash of celery bitters.)
Nearby, Haberdish and Idlewild carefully craft cocktails that are also delicious and potent. Stu's does the same, but without the hubbub. This brings me back to why I told my friends not to meet me here. Part of the reason is the inevitable judging-a-book-by-its-cover quality. Stu's does not have a good cover. It does not care what you think of its cover. It is not selling you its cover.
And the second reason was because I hesitated to clue my friends in on this secret that's sitting in plain view. The slightly underground feeling I had while sipping gin swirled with lavender syrup, lemon juice and local honey in the Lavender Honey Bee was nice, and to share that with too many others might spoil that feeling.
Then, I thought about it. What would be even worse would be if no one knew about this spot, it closed and then I could no longer order A Midsummer's Night Dream, a mixture of cucumber vodka laced with ginger, cilantro, lime juice and celery bitters.
So please go and tell your friends. You'll probably see me there.