Nella & Dee
May 11, 2013: Foundation for the Carolinas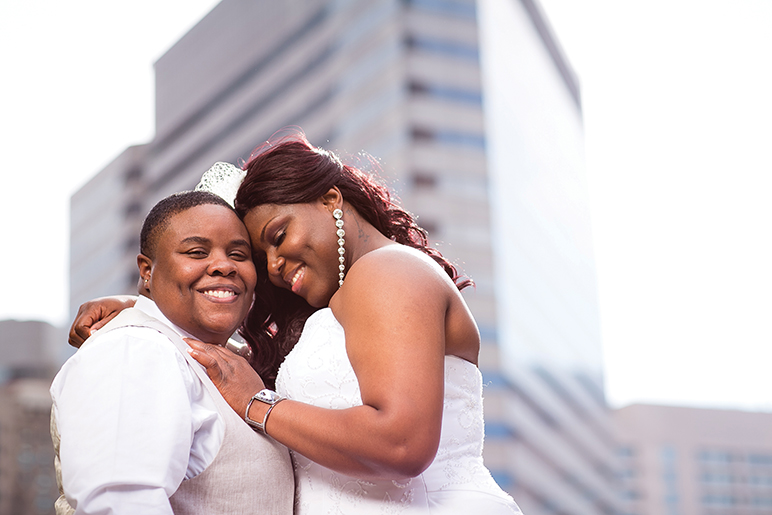 Photographs by Love Shutter
Dee Bridges's and Nella Reynolds's wedding began with their favors. A reminder of their commitment to be kind to one another, the couple gave "B Kind" bracelets: "B Happy, B Loved, B You. Just B. And always pay it forward." That's just the kind of people they are.
The couple officially married in Washington, D.C., in April 2013, so the Charlotte ceremony was all about the celebration. For Dee, the food had to be great. Guests arrived to pre-ceremony cocktails on the rooftop, served with baked Brie, stuffed mushrooms, crab cakes, and assorted cheeses.
For Nella, the focus was on glamour. She wore her mother's wedding gown, in corseted summer-white, with an embroidered bodice and a chiffon overlay. She added sparkly Betsey Johnson heels and a Vera Wang birdcage veil from David's Bridal. Dee, who loves the beach look, chose cool, linen pants and vests from Perry Ellis, a madras bow tie, and matching Vans Top-Siders. Her attendants wore turquoise ties to match Nella's bridesmaids in chiffon dresses from The Dessy Group.
Nekia Miller with Posh Affairs invented the "Miami chic" theme, a nod to both brides, adding a fun, novel dinner that incorporated a fish taco bar, with blackened mahimahi, fried catfish, and hot cheese pasta from Delectables by Holly. Foundation for the Carolinas's Legacy Hall turned into a Miami nightclub for the evening with DJ Krazy T, who got the newlyweds on the dance floor to Tamar Braxton's "Love and War." The couple left by rickshaw, amongst joyful flag-waving, for a honeymoon on the Florida coast.