Never Frozen: Why It's So Hard to Find North Carolina Seafood
On the road with a seafood salesman, searching for truth in fish stories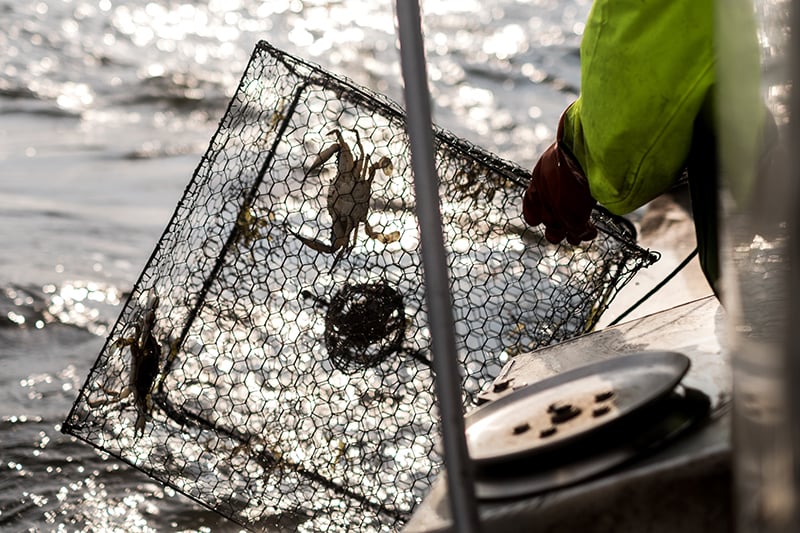 JUST BEFORE sunrise in one of the last fishing villages on the Outer Banks, a widow stands at her back window and watches the lights from crab boats head into the bay, one by one. By this hour, she figures, her daughter must be about 150 miles west of here, on her way to Raleigh and Charlotte and Asheville with a load of cobia and Spanish mackerel and soft-shell crabs. Less than a mile away from the widow's house— or, put another way, clear across the island—a woman wearing a mudstained Endurance Seafood T-shirt dives her hands into her family's decades-old live boxes to see if any crabs shed their shells overnight. Nearby, her 82-year-old father pulls on his fluorescent yellow slicker.
When you step into the morning darkness on Colington Island, you can't fake being from here or not from here. It's evident in your accent, your look, your last name. On this Friday morning in May, in the middle of soft-shell crab season in the soft-shell crab capital of North Carolina, an outsider opens the door to his Chevy Suburban and slips into the leather seats. It's 5:51 a.m., but the promise of a good day for his business hits him as he turns the key.
"Ah, yeah," he says, "there's that familiar smell."
Two and a half years ago, Sean Schussler quit a six-figure job as vice president of sales for a printing company to start a seafood market. Catch On Seafood is a small shop in Plaza Midwood, a trendy Charlotte neighborhood where people drive eco-friendly cars with bumper stickers that read "Eat Local."
Schussler started the business with one guarantee: Any piece of fish he sells has never been frozen. It's an honorable promise that's difficult to honor. As seafood moves from the coast to the city, it passes through several hands, and often the chain is littered with stories and lies. Even some of the most highly regarded families on the North Carolina coast have sold their businesses to big companies with big distribution operations that make tracing the product impossible.
For Schussler, that means constantly taking trips like this, popping in to say hello and fact-check the flow of fish from the water to his shop. Because no matter where a lie starts, Schussler knows he's the one handing fish to customers. And in his neighborhood, people take that kind of thing seriously. "If you say you're local and you're not, it only takes one person to find out," Schussler says. "And you're done."
Schussler, 44 and a remarried father of three, is part of the post-Great Recession version of the American Dream. No longer is the formula to get a job in a corporation, work hard, move up, retire. Thousands of people in Charlotte learned that lesson when they lost jobs during the economic crash of 2008. Even now, in relatively good times, Bank of America laid off more than 2,600 employees in the second quarter of 2016. The distrust of working for corporations is often underlined by a larger, more personal question: Is this really how I want to spend my life?
For most of Schussler's career, he'd been on a lucrative path that led to a lifestyle that supported trips around the world and a beach house in South Carolina. In 2014, with twin boys and a little girl on the way, he decided to quit on the belief that owning his own business would nourish him more than his next bonus. "Now, pssh," he says. "I'll be lucky to make thirty thousand this year. Doing what I love, though, right?"
Working for yourself can, it turns out, suck at a different piece of your soul. Schussler entered a fragmented economy of small business owners all climbing over each other for attention. Everybody had a Facebook page. Everybody had a newsletter. Everybody had a message. In Charlotte, a city whose growth over the last half-century can be attributed largely to its ability to promote itself, creating a buzz around a new business can sometimes seem more important than backing it up with substance. In the food world, that means that nothing is just "fresh and local"—it's all the freshest, most local stuff you've ever had. Exclamation point.
In some ways, Schussler fits right in. He's a salesman and a businessman, after all. He can be loud and over the top, sometimes even a little embarrassing to close company in a quiet restaurant, but he's a master at finding common ground for a conversation. And behind every sales pitch is a piece of evidence that certifies him as a truth-teller in a world of tall tales.
His truck smells like fish.
This is the last day of a three-day trip to the coast in May during peak softshell crab season. Schussler has arranged a ride-along with Murray Bridges, the 82-year-old founder of Endurance Seafood, a company that three or four decades ago caught and shipped about 75 percent of soft-shells in North Carolina. As soon as Schussler steps out of his world of polished truths and too-perfect slogans, his personality shrinks and softens. On Bridges' dock, the godfather of seafood in a record-store neighborhood is just an understudy to a man who doesn't need a depth finder to know how deep the water is.
The fish market owner asks the fisherman how he's doing this morning, and the old man delivers a plainspoken dose of perspective through a heavy Outer Banks brogue: "Oh, foine. As long as de eyes open; that's all that matters."
***
IN A PREVIOUS JOB, Schussler flew around the country as senior vice president of sales for a big marketing communications company. He handled all of Verizon's direct mailings, set up Subway's window grab ads, and organized the marketing campaign for BMW's 1 Series. The work satisfied something in him.
He'd grown up in Philadelphia and moved to Charlotte the day after his 21st birthday in 1993. "Chased a skirt down here," he says. He got a flat tire pulling into the new city. His first job was in marketing and sales for a graphics company. Over the next 20 or so years, he was privy to some of the most comprehensive marketing lists in the country, lists built from all those membership cards on your key chains, lists that show what you've been buying and how often you've been buying it.
He saw how people fell into categories—income, race, age—and how those categories influenced their spending and what companies sold to them. In 2007, though, he encountered a situation that didn't fit neatly into any part of his mind. He went to Texas for a work meeting— "and killed it, man. I mean I killed it there on that trip."—only to come home and learn that his wife wanted to end their marriage. They had twin boys. The divorce was messy, but Ryder and Hogan are now smiling 12-year-olds with floppy blonde hair, playing soccer on teams their dad coaches. Schussler married Carlin Bitton in 2013 in a ceremony at VanLandingham Estate, and in August 2014 they had a daughter, Delphia.
Around the same time, the company he worked for lost the Verizon contract. He left to join another company, which got bought by yet another company in December 2013. He became vice president of sales, but the job was less thrilling than his new wife and their growing family. One weekend, on his way back from his beach house, he sent a note to a few friends: "If I brought back a cooler full of seafood, would you buy it?" They said yes.
He kept making that trip. Requests came in, and soon he was selling fish in front of the Plaza Midwood Common Market on Saturday mornings. He started to see those categories again: The hip neighborhood where he lived was growing up, and people had money. The two big-box grocery stores nearby sold seafood from other continents, most of it frozen at some point. So in April 2014, he quit his job and went to work renovating a small space behind a restaurant called The Peculiar Rabbit. In the first few months after he opened the shop, he was there most days, from open to close. But as business has grown, he's tried to expand his list of suppliers. That means lots of trips such as the one to the coast this past May.
He stopped at the shop before taking off on a Wednesday morning, just to check on things. The previous weekend, he'd flown in a shipment of crawfish from Louisiana. (He meets the planes at the airport when he can, but that comes with a downside. One time he saw a coffin being taken off a plane ahead of his cooler.)
His staff forgot to throw out the leftover crawfish the previous night. "Yeah," he says, wiping his face as he stops at a coffee shop on the way out of town, "turns out crawfish don't smell good when they die."
***
THE TRIP from Charlotte to Colington Island, just west of Kill Devil Hills, takes about six hours. Schussler talks most of the ride, whether he's reading road signs or commenting on the weather or passing the outlet mall just east of Burlington on Interstate 40.
"You know, I got a buddy," he says. He starts a lot of stories like that. "And he says that at those outlets, everything's about the same price as the real store. It's just a lesser-quality product."
Somewhere east of Rocky Mount, his phone dings with a competitor's daily newsletter. Schussler not only subscribes, he's been known to call other stores and disguise his voice to try to get their prices.
"Look at that," he says, eyes darting back and forth from his phone to N.C. Highway 64. "They're offering fresh North Carolina white shrimp. Dude, nobody's even catching white shrimp in North Carolina yet."
His disbelief highlights the main conflict for a salesman who adores watermen. When it comes to seafood, customers desperately want to believe a good story, to believe that they're just one person removed from the fisherman. That makes them easy targets for shop owners and restaurants that fudge the story—or those that simply pass along a false story from a previous person in the chain.
I tell Schussler the one story I have, about how in July of 2015 I saw a chalkboard sign on Roots food truck in Charlotte: "Fresh NC Cod," the sign read. I knew it was an impossible concoction of words, but I sent an email to a family I know at Hatteras to be sure. Ernie and Lynne Foster own the Albatross Fleet of fishing boats and are longtime advocates for commercial fishing. "You … just spotted the danger of a successful, well-intentioned movement," Lynne responded in an email. "Cod? Definitely not caught in the waters off NC."
This spring, Roots got out of the food truck business and into catering fulltime. One reason was that it was hard to manage product and guarantee local or fresh food. Some weekends, chef and owner Craig Barbour tells me, he sold out of everything on Friday nights; other weekends it would rain and he'd sell nothing. He says Roots gets most of his seafood from Inland Seafood, a company that serves more than 3,500 restaurants and 900 retail outlets in the Southeast, including many of Charlotte's top restaurants.
"If they tell us it's from North Carolina, then I'm going to tell everybody else it's from North Carolina," says Barbour, a Johnson & Wales graduate. "You opened my eyes. I didn't even know cod wasn't caught off the coast of North Carolina."
Brent Schilb, a general manager of Inland Seafood who works at the company's NoDa office, doesn't believe Inland would have sold cod with that label. "North Carolina cod? No," he says. It's possible the letters "NC" were added because of a miscommunication. Schilb says a big part of his job in the past few years has been educating chefs about what's from where. Inland has a "Seapedia" page on its website, with facts about the products the company sells.
Schilb, who's been with the company for 16 years and watched it grow, questions the safety of products being sold by small markets. "There's some really nice guys that sell fish out of the back of their trucks around town," he says. "The boutique thing is nice. … (But) when you're at 100 degrees outside and you don't have a refrigerated truck, I'm not so sure that's safe."
Barbour deals directly with area farms, such as Barbee, for non-seafood products. But at some point, he says, you have to trust people. He wishes Charlotte had a large market for chefs that manages control of products. "When you're working, you don't get to connect yourself to your ingredients," he says. "We really need some database and a fleet of trucks driving around."
At his shop, Schussler controls as much of the process as he can. He can see how many people open his morning newsletter and how often they open it. He can see what fish sells and what fish doesn't—and to whom. He can check his daily sales in real-time on an app on his phone, which he opens constantly. Tuesdays have been great since he started Taco Tuesday kits, with fish and fixin's. Wednesdays are OK. Thursdays and Fridays are slow. Saturdays are his biggest day. And Sundays, well, "Christ, I haven't figured Sunday out yet. Sometimes great. Sometimes not."
Even with all the available technology and research, there are some things he simply can't know. The sea will give you only what it gives you. "It's called fishing, not catching," he likes to say.
In Columbia, about 45 minutes away from Colington, Schussler spots a seafood shop with a rusted-metal sculpture of a shrimp out front. He pulls over. Inside Full Circle Seafood market, he meets a young woman named Melissa who's working behind the counter. Within minutes, Schussler gets most of her life story—that she's from Columbia, that she's attending a community college, and that it's her dream to go to culinary school at Johnson & Wales in Charlotte and become a chef. Meanwhile, he scans the prices and the seafood case.
The soft crabs are $3.50. He starts punching away at the calculator in his mind.
For weeks, he'd been getting small loads of soft-shells from a supplier in South Carolina for $6.50 per crab. Factoring in the cost of gas and the need to make a profit, Schussler set the price at his market at $10. These, though? These would allow him to sell for $8. Or heck, even $7. And then maybe a Sunday special for $6. "Nobody in Charlotte can match that!" he says.
He orders six dozen crabs and tells Melissa he'll pick them up on his way back home on Friday. Melissa says to come by around lunch. She wants to make us a sandwich, just to show us she can really cook.
Before we leave, Schussler scans the seafood case again.
"Are those really white shrimp?" he says.
"Yeah, we just got them in," Melissa says.
"I'll be damned," he says, remembering the competitor's email. "Maybe he wasn't lying."
***
AMANDA HOOPER'S MOTHER was a Mann and father was a Hooper, which makes Amanda sort of Colington Island royalty. Not far from here, there's Manns Harbor and Mann Insurance and Mann Custom Boats. Her late father was a well-known waterman in the region, and her grandfather opened the first fish house in nearby Stumpy Point in the 1960s. Now, Amanda runs a nonprofit that sends fresh seafood from the Outer Banks to inland cities in North Carolina.
Most fish caught off the North Carolina coast never make it west of Interstate 95. Trucks turn north there to carry large shipments to places such as Washington and Philadelphia and New York. A little-discussed fact is that North Carolina harvests about the same number of blue crabs every year as Maryland. But Maryland's reputation as the home of the blue crab does more than create a different image—it drives an economy. Fishermen here can make more money sending crabs to Baltimore than, say, Greensboro. So that's where the 18-wheelers go.
Hooper hoped to help change that when she started Off the Docks Seafood this spring. She traveled all around the state, telling restaurant owners and small seafood market owners like Schussler that she'd bring fresh and unfrozen seafood directly to them. She promised to tell them who caught the fish and where, so they could pass the story on to the customer.
Hooper, who's known as Mandy when she's on the Outer Banks and Amanda when she's inland, lives in a three-bedroom home in Kill Devil Hills that her parents purchased in the 1960s for $250. Her folks later built a house on Blount Bay, on the north side of Colington Island. Instead of taking Schussler straight to the fish houses when he arrives, Mandy takes him here, to meet her mother, Vern.
Even though her husband is no longer living and the house is paid for, Vern still wakes up to look out the floor-to-ceiling windows on the back of her house. She likes to watch the boats head out. "I know when someone who usually goes out at 4:30 goes out at 6:30," she says. She taught school for 39 years and now, despite a self-professed love of privacy, she babysits Mandy's two daughters when Mandy's out on deliveries.
"I can't even believe Mandy's living down here," Vern says. "I thought she'd be in some big city somewhere."
To Mandy, who excelled in dance in high school, that wasn't even a question. "I want people in North Carolina to eat North Carolina seafood," Mandy says. "And then I want to tell the story about the demands these guys are facing."
***
YOU WON'T FIND those demands on an "Eat Local" bumper sticker, but it doesn't take long to find a fisherman out here who'll tell you all about them.
Fish populations are up, way up, commercial fishermen say, but state and federal regulators have trimmed seasons and cut back on limits. Watermen and women from up and down the coast have traveled to Raleigh for years to lobby legislators to loosen the rules. That, though, would rankle the multimillion-dollar recreational fishing industry, which has lobbyists who tell another story: Commercial fishing, especially when done with nets, not only hurts stocks but it is also an environmental hazard that kills other creatures. The most influential weapon on the side of conservationists is a picture of a sea turtle caught in a gillnet.
In bait shops throughout the Outer Banks, where distrust of government runs back decades, salty men and women stand around drip coffee pots before sunrise and lament the laws. They say that despite promoting local-seafood campaigns and bragging about the quality of North Carolina's catch, the legislature makes it nearly impossible for them to make a living. One popular theory is that the rules are made so that wealthy vacationers from places such as Raleigh and Charlotte, who can afford to pay thousands of dollars for a charter excursion, are guaranteed a big catch whenever they go out.
"The fish are here; they just won't let you catch 'em," says Bridges, the longtime crabber who got out of the business of catching other fish years ago. "The flounder limit here is 15 inches. But Food Lion can have 12 inches if it's caught in Germany."
Poor-mouthing and griping are as much a part of the fisherman's creed as a red sky at night is for a sailor. But as Schussler tours the fish houses here, the pressure is evident on every face he meets.
At O'Neal's Seafood Harvest in Wanchese, workers are busy packing live soft-shell crabs into boxes by the dozen. Upstairs, in an office overlooking the warehouse, a sign on the door reads, "The crab is in." The crab, in this case, is Ashley O'Neal, a soft-spoken man in his 30s whose father started the business a couple of decades ago. Ashley's sister, brother, and brotherin-law are all downstairs packing. Ashley's answering phones and running the business on a calculator that spits out tape when Schussler and Hooper walk in.
"The mental aspect of the job is the hardest part," O'Neal says. "They shut the water down when someone catches one turtle in a net now. We won't be able to catch flounder off the coast because of sturgeon (a species that returned to North Carolina waters last year after 70 years away). Just goes on and on and on."
His phone rings a half-dozen times in the 10 minutes we're in the room.
"Did you say you're from Charlotte?" O'Neal asks Schussler.
"Yeah."
Hooper jumps in: "His prices, Ashley. My God, you would keel over if you saw his prices."
"Well, if that's the market for it, go for it," Ashley says. "And if you're driving out here twice a week or whatever, you should get whatever you want."
Later in the trip and a few fish houses down from O'Neal's, Schussler visits the 80-year-old Wanchese Seafood Company. The 15 brothers and sisters in the Daniels family owned the business until 2015, when they sold to Cooke Aquaculture from Canada for a reported $70 million. Around the same time of afternoon that O'Neal's is busy with activity, the Wanchese Fish Company warehouse is already cleaned up for the day. One Daniels brother, Joey, stayed on as a Cooke employee to run the local operations. But several other siblings, including Mikey, once the face of the business, are no longer associated. The family's restaurant is closed, too.
Joey Daniels tells Schussler that most of the seafood that comes through this warehouse is shipped north to a plant in Norfolk. A few of those loads wind their way back to the Charlotte area, Joey says, but only for big grocery chains, not small businesses such as Schussler's.
"That guy doesn't give a shit about me," Schussler says as he walks out.
About 45 minutes south, though, at Cape Hatteras, one fish house owner is happy to see Schussler. Jeff Aiken has wet, shoulder-length hair and sandals, fresh out of the shower after a day's work. He and Mandy chat back and forth for a bit about their families: He's a descendant of the Hodges family of Swan Quarter and of the Williams family of Ocracoke, names Mandy knows.
For all the ways the fresh seafood industry is in trouble, it is still a reminder of the importance of connections, of knowing someone who knows someone.
Aiken takes Mandy to his walkin cooler to pick up the order she'd placed this afternoon. He tosses two large cobias in a box. Mandy says she ordered only one. Aiken insists she ordered two. Mandy insists one.
Then, "I'll take that extra cobia," Schussler says. "It's the pork chop of the sea!"
"What's that?" Aiken says, optimistic that he'll recognize the expression if he hears it again.
"It's the pork chop of the sea, right?" Schussler says.
Aiken rigs up a laugh.
The seafood economy plays out in short order here. Aiken sells the 21-pound fish to Mandy for a price they don't utter aloud. Mandy, in turn, sells the same fish to Schussler for about $150. The next day, Mandy delivers the fish to Catch On. After Schussler's staff cleans the fish and removes the head and scale and bones, about 47 to 49 percent of the cobia's original weight will remain— about 10 pounds. Schussler sells it for about $27.50 a pound. So, if it all sells, the fish he bought for $150 will bring in $275 in the shop—a $125 profit.
Later, Schussler meets Aiken's son Taylor, who caught the cobia. "It wasn't even a mile away from the inlet," Taylor says, pointing toward the ocean.
The sun goes down as Mandy and Taylor finish a beer. Finally, around 8 p.m., 15 hours after he started his day with the scent of dead crawfish at his Charlotte shop, Schussler decides it's time to get some rest. He turns his Suburban north along N.C. Highway 12, and for about 45 minutes we drive in silence along the fragile road, the Atlantic Ocean to the east and the Pamlico Sound to the west.
"I haven't turned my high beams on in forever," says Schussler, who lives in Plaza Midwood. "I will now, though. Man, it's dark."
***
JUST OFF the south shore of Colington Island, not far from where the creek meets the bay—which then meets the sound, which then meets the ocean—a post in the water holds a channel marker. It's red channel marker 2C. Murray Bridges has been motoring past channel marker 2C for nearly 40 years, ever since he retired from the Merchant Marines and started Endurance Seafood. Every spring, Bridges has watched a family of ospreys nest on top of the marker. It's likely the same family, returning from its annual trip to South America. Without a map, without GPS, the ospreys make the same voyage, year after year, every March and every October.
This spring, though, Bridges watched them break down their nest and move it, twig by twig, to another channel marker nearby.
"I've never seen 'em change spots," he says as we pass 2C that Friday morning in May. Schussler stands next to him, one hand on a rail and hanging on every word. Bridges' long-time employee, Rusty Miller, sucks down a few cigarettes before his hands get busy with crab pots. "They've always made a nest here," Bridges says. "It looks like he's taking his nest down there. I don't know. Maybe the rent's cheaper down there."
The sun rises over the dunes and summer houses along the thin strand of sand that separates the ocean from the Roanoke Sound. Bridges has hundreds of pots in the bay and sound, all attached to ropes attached to buoys that let him know where they are. He uses a long hook to grab each rope, then wraps the rope around an electronic pulley, which pulls the pot to the side of the boat, where Rusty takes it and identifies each crab. The most valuable crabs this time of year are peelers, or adults that are shedding their shells. Every peeler pulled from the sound goes into the live boxes at the dock. There, the crab will finish shedding and, for a short period of time, it will be soft. Under normal circumstances, the shell would harden over the next few days until the crab became a hard crab, like you see at feasts. But after it sheds in the live box, Bridges' daughter Kissie and her staff—which consists of Kissie's mother and daughter—take it and puts it in a box to ship.
When it comes to soft-shell crabs, there's no comparing one that's been frozen to one that hasn't. In fact, the best way to eat one is to keep it alive until minutes before you're ready to cook it.
As the pots come up, one after the other, Bridges tells Schussler a story. The old man knows of restaurants and seafood markets on the Outer Banks that keep live soft-shell crabs in an iced display box. After a customer purchases the crab, a clerk takes it to a back room to "clean it," only to pull a frozen soft-shell from the freezer and thaw it quickly. When the customer leaves, the live crab goes back into the display box to lure the next customer.
Schussler shakes his head. He has a story of his own: A customer recently sent a complaint to Catch On Seafood's Facebook page. Apparently, the customer's wife purchased two soft-shells and declined the free cleaning offered by the Catch On employee. She took the crabs home to her husband, who Googled how to clean them. The first step involves using scissors to cut off the crab's eyes. Her husband couldn't bring himself to do it, so his note to Schussler suggested that Catch On start cleaning all softshells before making a sale.
Bridges laughs hard. "So it's foine as long as someone else does it?" The difference between him and people in cities amuses him.
At one point Bridges even brings up HB2, the controversial law involving transgender rights and bathroom access. "They're having a toime in Charlotte about them shithouses ain't they?" Bridges says, laughing so hard his cheeks scrunch up around his big nose. He clearly isn't interested in taking sides, just identifying that he thinks a debate about bathrooms is ridiculous. He points to the plastic toilet on his boat. "I don't know if my porta potty is up to code."
The levity helps on an otherwise unsuccessful day. Most of the pots yield only a crab or two. That's not good, considering soft-shell season is when Endurance Seafood makes about a third of its yearly income. I remind Bridges that it's also Friday the 13th.
"I don't even know why we came out here," he says. "All I need's a black cat."
Bridges uses the downtime to tell stories. About how he first learned to harvest soft-shells from a man in Virginia. About how his birthday is December 17, the same date on the calendar when the Wright Brothers took the first flight from a sand dune at nearby Kill Devil Hills. There's a celebration every year on the anniversary. "The taxpayers pay for my birthday party," Bridges says, cheeks scrunching his nose again. "They fly a plane over on my birthday every year." He talks about the Memorial Day weekend in the late 1980s when he filled two tractor-trailers with soft crabs, selling them for $8 a dozen. If my math is correct, he made more than $60,000 that weekend.
He talks about tough times, too. About how his son died from a brain aneurism just a year before that blockbuster weekend. Otto was 27 then. He would have been 55 this week.
"Today's the 13th?" Bridges asks. "Otto's birthday was the 11th."
He stares out into the bay.
"It's hard, but you deal with it."
Around noon, he decides to cut the day short and head back in. On the way, he passes another row of his buoys attached to his ropes attached to his pots.
"Let's stop and check these," he says. "Just to see."
He takes the hook and grabs the rope and starts the pulley and watches Rusty pull the pot from the water. It's empty.
"Well, that's a good start," he says dryly. "How 'bout we see if we can do that again?"
The next pot's empty, too.
"Sorry we ain't had no luck today," the old fisherman says to the fish market owner. "Probably pretty boring for you, huh?"
Schussler looks down at the next pot. It's empty, too.
"Not boring to me at all."
Michael Graff is the editor of this magazine. He can be reached at michael.graff@charlottemagazine.com.
---
This article appears in the September 2016 issue of Charlotte Magazine
Did you like what you read here? Subscribe to Charlotte Magazine »
---