New Art Friday: Calouche Marks 10 Years for Dance Company, Festival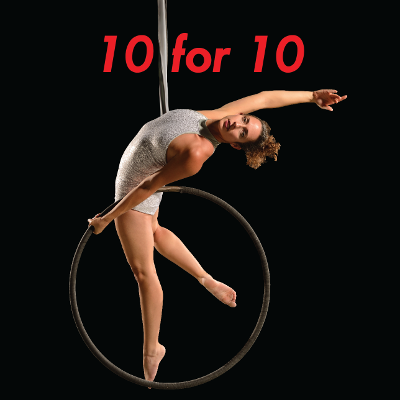 IN 2006, Caroline Calouche started two non-profits: Caroline Calouche & Co. and Charlotte Dance Festival. The first is the city's only aerial and contemporary dance company/school. The other is an event that imports talent and highlights local artists for an annual showcase. Calouche says it was important to keep the two separate at the beginning, allowing the festival to not become simply a showcase of her own group's work, but evolve into something else entirely.
Charlotte Dance Festival runs March 18-20 this year, with performances from Pittsburgh's Bodiography Contemporary Ballet, Charlotte's THE MARK dance company, and Dance Charlotte. Caroline Calouche & Co. also performs for the festival, as part of its residency at Booth Playhouse. The company's program, 10 for 10, consists of two premieres paired with 8 works handpick by fans. (Audiences previously voted on the eight they wanted to see, out of 60 works created by Calouche's group.)
Here, Calouche talks about this week's performances, starting at the beginning.
Charlotte magazine: What was the dance scene like when you started these non-profits?
Caroline Calouche: Well, Charlotte wasn't getting much dance performed here, other than the Charlotte Ballet, which is amazing, and a few others. We wanted to bring in people who were already established in [contemporary] dance and show new voices at the same time. We were bringing in people who wanted to create a community here.
CM: You're performing new works for this show, but you also let audiences decide which past works are performed. What's that been like for you?
CC: For this, a lot of people chose older works because they hadn't seen those yet. It's been really interesting, visiting those pieces again and analyzing what was going for us back then. I'm now seeing it with fresh eyes. We've also improved and updated them, trying to find the true meaning of what was there.
CM: Why is it important to give your audience that choice?
CC: It's just getting to know the audience. As much as art is about doing it for yourself, you have to listen to the people who come to see you. We wanted that dialogue.
CM: And how have they changed over the years?
CC: We're having a lot of transplants come out. Some are coming from larger cities, where dance is more prevalent. There's been an influx of support; people are finding out when it means to be patrons of the arts, whether they're from New York or out West or anywhere.
CM: What do you think you'll be saying about dance in Charlotte 10 years from now?
CC: There are a lot of individual artists breaking new ground in Charlotte right now. I can only imagine what it will be like then. It could be huge. Many artists are now considering where dance takes place, its setting. And there's a lot of cross-cultural blending happening, between dance and new forms of music. When you blend dance with another art, you're going to see something new. That has me excited.
Find more information about the Charlotte Dance Festival here.