New Art Friday: CarlosAlexis Cruz's Nouveau Sud, Nouveau Cirque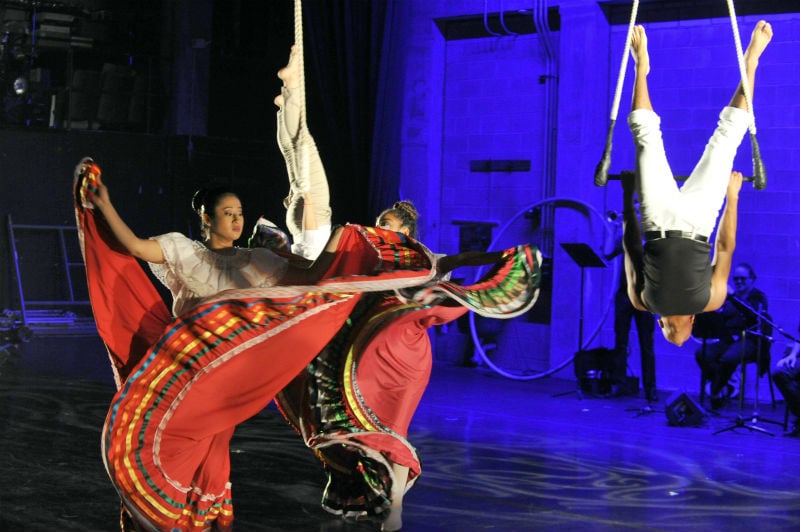 CarlosAlexis Cruz's Nouveau Sud, Nouveau Cirque, which translates to "New South, New Circus," is a high-flying celebration of diversity and community. The circus-style show, funded by the Arts & Science Council's $25,000 McColl Award, hits the Booth Playhouse this weekend. Last night, Cruz, a McColl Center artist-in-residence and assistant professor of voice and movement at UNC Charlotte, opened the world premiere of the show at the ASC Honors ceremony with an invitation to clap, to cheer, and to just listen.
With breakdancing, aerial dancing, acrobatics, and bilingual poetry, the show highlights how the cultures of Latino, African-American, and Asian-American communities help comprise the DNA of the region. Themes range from social injustice to longstanding traditions. During one monologue, a performer speaks to the audience about the ignorant things he often hears as an Asian-American. "Just let me be free," he responds. "Let me be me." Minutes later, his dancing partner dangles high above the audience, as a live, carnival-style band crescendos alongside her most dramatic moves.
Nouveau Sud, Nouveau Cirque runs April 29-30, 7:30 p.m., at Booth Playhouse. Tickets cost $10 and can be purchased here. Check out a teaser below: