New Art Friday: Nico Amortegui's Mural at Sabor in Elizabeth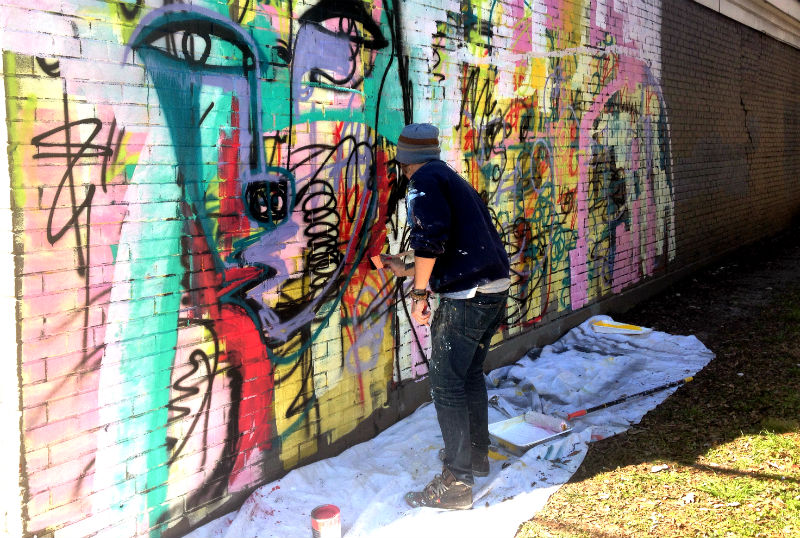 RIGHT NOW, a Charlotte artist is working on something that'll turn heads and add even more color to the city's cultural scene. Here, we take a look at a new mural in Elizabeth, occupying a wall at Sabor Latin Street Grill. It was there that I met artist Nico Amortegui while he was working on the piece.
"I drive by this wall every day, and it's been bothering me," he said. "So I figured I'd ask them if they want me to make a mural, since I'm Latino and I love this place. I have a strong connection to it."
Amortegui, originally from Colombia, has work in the exhibition People/Places/Exchanges: Art as a Visual Voice at the McColl Center (through April 9) and Nuevolution at Levine Museum of the New South (through October). He previously did murals for Salud Beer Shop and Solstice Tavern in NoDa. For this piece, he takes inspiration from what the business offers the Elizabeth community. "Food is one of those things that connects any type of social status, any type of people," Amortegui said. "We all eat, even with everything that's happening with politics. For Latinos, this is our culture. Especially street food, which is amazing."
Above is a progress shot of the work. See the complete mural via Amortegui's Instagram below.