New Art Friday: The Bechtler's The House That Modernism Built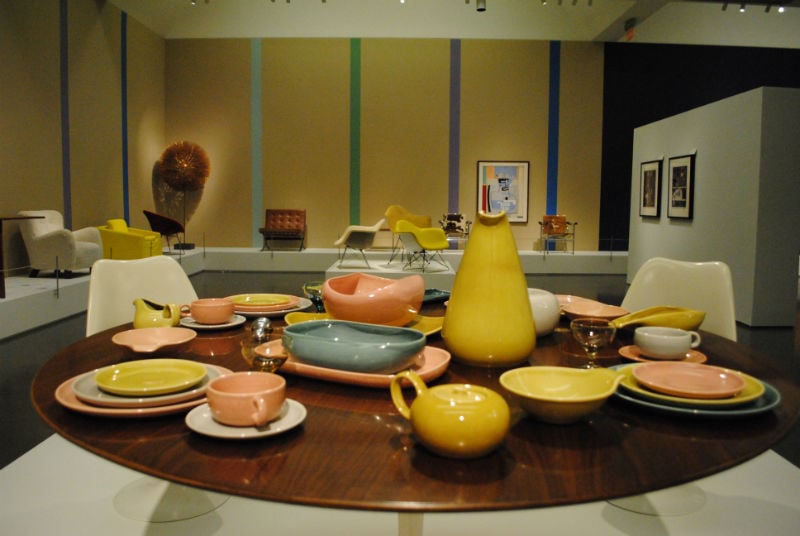 RATHER THAN a single piece to share this week, we have a new exhibition at the Bechtler Museum of Modern Art in uptown. The House That Modernism Built is a mix of furniture, textiles, ceramics, and mid-20th-century art inside the venue's fourth-floor gallery space. (John Boyer, president and CEO of the Bechtler, describes it as "over 200 pieces from private loans, corporate loans, institutional loans, making up a wonderful show that's very much an expression of who the Bechtler is.")
With this exhibition, curator Jennifer Edwards and the rest of the Bechtler crew compile and stage a show that focuses on the overlap between modern art and modern design. During a media preview of the exhibit on Wednesday morning, Edwards gave Charlotte magazine some insight on the complexities of creating the exhibit.
"There were a lot of different challenges," Edwards says. "Half of the exhibit of it is ours; half of it is loans. So it was complicated to borrow furniture that was frankly, well-lived in. We were getting works that were as close to original as possible. For the most part, I ended up actually using pieces that showed that they were well-loved. Part of the point is to show that design is in fact function first. A lot of us get distracted with this ideas of 'the cold machine' and 'modernism is mechanical and streamlined and simplified.' Modernism is about color and fun and bringing life into the party."
Check out a few shots of the show below. And in coming weeks, check back with the website to hear more from Edwards and Eames Demetrios, author, filmmaker, and grandson of Charles and Ray Eames, the husband-and-wife design duo responsible for chairs that shaped midcentury modern design.
ALSO AT THE BECHTLER: The Art of the Print (through June 19) explores the medium of printmaking, beginning at the point in which artists first implemented the form into creating new works. Works Eduardo Chillida, Marino Marini, Martin Disler, and others are included.
The Bechtler admission is free for members, $8 for nonmembers, $6 for seniors and college students, $4 for kids 11-18, and free for kids 10 and under. Mon, 10 a.m.-5 p.m.; Tue, closed; Wed-Sat, 10 a.m.-5 p.m.; Sun, noon-5 p.m. 420 S. Tryon St. 704-353-9200.