New Bar – Automatic Slims – Opens for 'The Beautiful People of Charlotte to Come Get Ugly'
With its original location in Miami Beach, rock-and-roll themed bar opens at NC Music Factory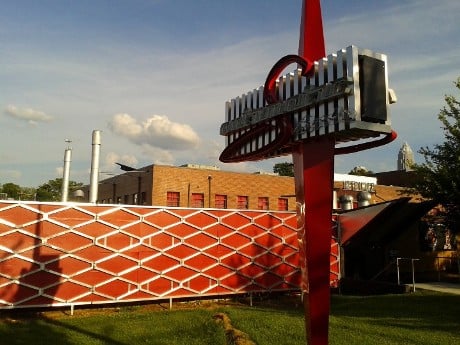 The highly anticipated opening of
Automatic Slims in Charlotte
has arrived, with the grand opening festivities taking place this weekend. If you're familiar with the name, you might know about the original Automatic Slims location in Miami Beach (open there since 2000). I got a sneak peek of this new location at
NC Music Factory
when I met up with co-owner Eric Levin yesterday.
Automatic Slims is occupying 11,000 square feet of space, which, obviously, is large but is also pretty much three venues in one, with the other two being Betty's Pool Hall and Don Tiki's Surf Lounge. But they're all under the Automatic Slims umbrella, so to speak. (It's the space formerly occupied by Halo nightclub, which closed in fall 2012, and located beside The Fillmore.)
When you enter Automatic Slims, you'll experience a bit of sensory overload combined with a blast from the past. All of the décor, which is either vintage pieces or customized to look vintage, are an ode to 1960s era Americana. There's artwork of pinup girls, actual signs from an old bowling alley and motel, diner stools around the bar, and the like. The theme is that this is a place "where the beautiful people come to get ugly" so it's intentionally unpretentious and even has dive-bar-like qualities. The DJ booth is made from an actual Airstream trailer (you know those silver bullet mobile homes).
But don't get it confused—there's high-quality attention to detail here and a lot of money has been spent to create the look, designed by co-owner and designer Andrew Kostas.
"Automatic Slims tells a story," Levin says. "It's a story of late-'50s/early-'60s pop culture. Like how Planet Hollywood has a story and Hard Rock Café has a story."
The main room is dominated by a large, wrap-around bar in the center, designed to have elements that resemble a vintage car wash or drive-in. And one of the walls near the DJ booth is filled with video screens, covered in frames to look vintage but also will show videos that correlate with the songs being played. And speaking of the music, Levin says it will be a lot of classic rock-and-roll mashed up with modern beats. Accompanied by dancing beauties, of course.
"I think the music is appealing to you whether you're 21 or 60. It's not about the age; it's about the attitude."
You'll find the most nostalgic part of the venue when you walk into Betty's Pool Hall. Most of the seating here is comprised of living room furniture sets reminiscent of what you may have seen in old family photos. There's even a floor-model TV (though there's actually a modern plasma screen inside the wooden box). Four pool tables fill up most of the rest of the space, while a bar anchors the back wall.
There's a lot more here to see, and you can experience it yourself during the grand opening parties this Friday and Saturday, June 6 and 7, beginning both nights at 9 p.m. (the tiki lounge portion is still under construction however). Automatic Slims also has a
free mobile app
you can download to get invitations to private events, waived cover charges, free drinks, and more.
Be sure to bookmark www.charlottemagazine.com/Blogs/Dusk-Till-Dawn to stay plugged into Charlotte's nightlife and social scene. Click here to sign up to receive the weekly Dusk Till Dawn e-newsletter. Follow me on Twitter @HollidayInk; email me at jarvish@grownpeopletalking.com.