New Bar Bites at Vivace
The summer menu has a few new dishes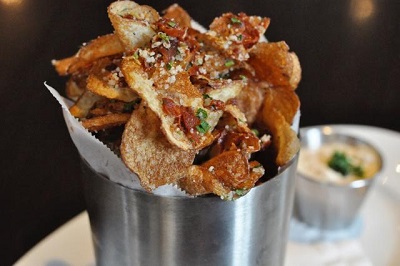 Beating the summer heat may mean turning down giant, stick-to-your-ribs meals like pastas, stews, and creamy soups. But it doesn't mean you can't celebrate decadent dishes. Vivace tackled the too-hot-for-heavy-food problem head on, with Executive Chef Mike Suppa adding several fresh takes on bar bites.
The new bites are available Monday through Friday from 4 to 6 pm and include a wide variety of small plates that pair well with a glass of wine, crafter cocktail, or brew. For example, Suppa's version of the typical bar chips is a fried house made chip topped with prosciutto, rosemary, and parmesan — served up alongside a caramelized shallot dip.
For something totally off the walls, kind of odd, yet kind of amazing, try the fried olives. Yes, fried olives. Suppa says the briny bites are "our tribute to Southern food." Stuffed with fontina sausage stuffing and balanced with a lemon crema, you can't miss the melding of Italian and Southern wrapped up in a cute package.
Prices range from $4 – $6 for the bites, which also include an asparagus friti with tomato sugo, goat cheese cream, parmesan, and lemon zest; marcona almonds and herb marinated olives; and figs stuffed with gorgonzola.