New bottle releases from Birdsong, Triple C and Wooden Robot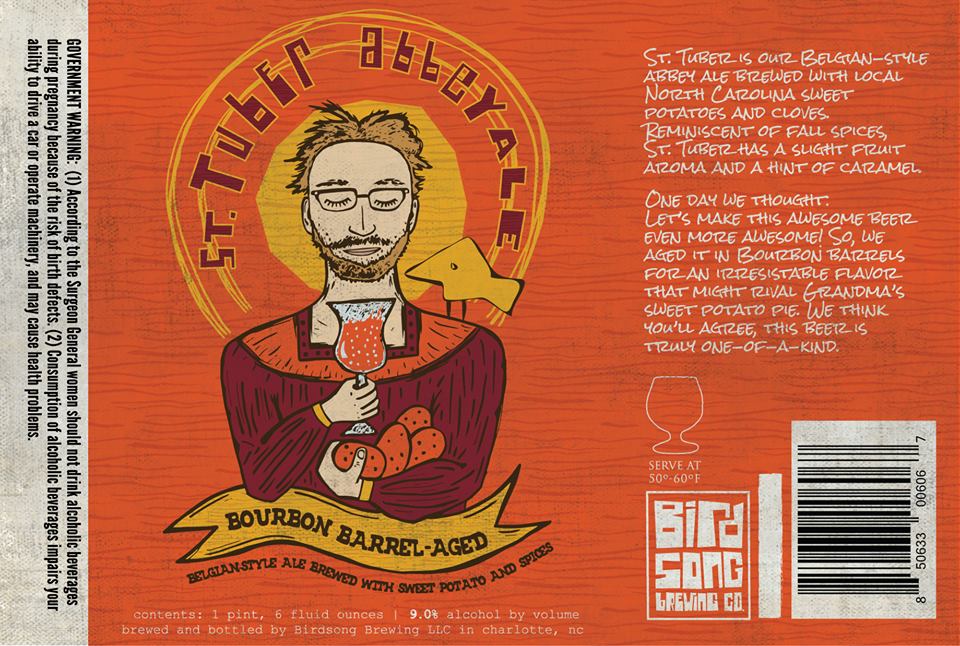 When prepping your Thanksgiving Day menu, it's of vital importance that you don't leave out one of the most important items: beer. Thankfully (no pun intended), three Charlotte breweries have perfectly timed bottle releases over the next week to help you get through any potential family table debates, or to relax post-turkey feast. Here's the rundown:
–Sweet potato casserole (or soufflé as it's referred to in my family) is a steady staple for Thanksgiving, and pairs perfectly with a sweet potato ale. What's even better than that? How about a sweet potato ale aged in bourbon barrels? Birdsong Brewing has you covered on all counts with its bourbon barrel-aged St. Tuber Abbey Ale, which will be released in the taproom this Thursday.
The original St. Tuber is a Belgian ale brewed with North Carolina sweet potatoes, along with cloves and other spices. For this version, the brewery aged batches in Woodford Reserve barrels for a month. The result should provide a nice, warm balance to all the spices. BBA St. Tuber bottles will go on sale at 3 p.m., with bottles running $10 each (there is no limit, and the beer will be on tap as well).
–One of Charlotte's top seasonals is returning, right on time with the cooler weather. Triple C Brewing's Up All Night is set to be released this coming Tuesday at the taproom beginning at 4 p.m. The brewery's famed porter is brewed with two main local ingredients – coffee (Magnolia Coffee Company) and honey (Cloister Honey). It all adds up to a flavorful, full-bodied beer.
And as a special treat, head brewer Scott Kimball aged a single barrel of Up All Night in a rum barrel from Muddy River Distillery with vanilla beans. That will be available on draft only on Tuesday, while the bourbon barrel-aged version of Up All Night has a bottle release date of December 16.
–Wooden Robot Brewery has quickly become a go-to spot for the Charlotte sour crowd, as they were the first local brewery to employ foeders onsite. From Hop Rocks to Positronic Mind to Daddy Needs His Juice, Wooden Robot is creating some tantalizing tart sensations. Continuing that trend is the brewery's first bottle release, Galactic Nexus, which wil go on sale this Sunday at noon.
Galactic Nexus is a golden sour ale brewed with malt from North Carolina that was first fermented in Wooden Robot's oak foeder, with raspberries then added before being bottle conditioned. The brewery had this beer on during its anniversary party in July, and I'm excited to see how the bottle conditioning turns out for this beer. Bottles of Galactic Nexus will be $16 each, with a 4-bottle limit (it will also be available on tap the day of the release.