New Caterers on the Block
Red Star Catering offers services to Charlotte area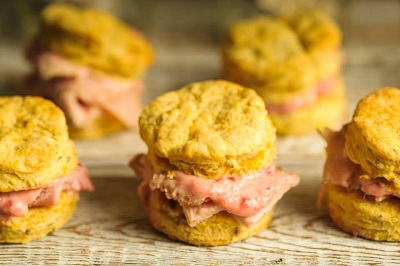 Mac's Speed Shop has a new sister venture in the form of a catering company. With weddings, parties, and the holidays approaching, having your event catered with Red Star Catering will a) take the potential for disaster in your kitchen off the table and b) let you mingle, laugh, and enjoy your own shindig.
The caterers offer tons of options with a clear leaning toward twists on our favorite southern classics. There are dishes like pimiento cheese and chive phyllo cups; mozzarella and tomato caprese on toasted baguettes; butterbean hummus cucumber cups with red pepper chowchow; Fripp island crab cakes; and pickled shrimp cucumber cups with Carolina prosciutto crisps.
"It's so much fun to create new things with old favorites," said Red Star's Catering Director's Danielle Barnes in a press release. "Whether we are doing heavy hors d'oeuvres or carving stations, displays, buffet dinners or boxed lunches, we like to use interesting new ingredients that still let the Southern shine through."
If you need the full treatment for your wedding, party, or event, Red Star also offers professional guidance with food design, bar service, and even decor for the event. The catering company can provide services for everything from a small get-together to a large gathering of 2,000.