New Chef for Bad Daddy's
Goodbye, fine dining. Hello burgers.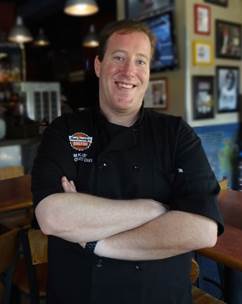 Bad Daddy's Burger Bar announced last week the hire of Tim Kast as its new Corporate Executive Chef.
Kast joins the Bad Daddy's team after serving as the California Executive Chef Partner with Seasons 52, a Darden Restaurants brand, where he helped expand the brand west of the Mississippi and developed, trained, and implemented a nationwide menu revamp. Prior to that, Kast held high-level chef positions at fine dining restaurants around the world.
With a strong background in fine dining, Kast said he was impressed with the chef-driven menu at Bad Daddy's Burger Bar that was created by co-founder Frank Scibelli and plans to "push the limits" to see how creative he can get with Scibelli's scratch kitchen philosophy – taking simple ingredients and elevating them to something culinary. Scibelli, a Charlotte-based restaurateur who is behind Mama Ricotta's, Midwood Smokehouse and Paco's Tacos & Tequila, also operates Bad Daddy's locations in North Carolina along with Dennis Thompson, a brand developer in who founded Lone Star Steakhouse and Firebird's Wood Fired Grills.
"The Bad Daddy's Burger Bar concept really spoke to me, from both a culture and culinary aspect. I've always had a passion for cooking since childhood days with my mom in the kitchen," said Kast, noting he attended the California Culinary Institute immediately after high school. "I like cooking just about everything, but I'm a guy's guy and I love to cook guy food. Every day I'll get to cook the types of things I really enjoy to eat, and I have the freedom to get creative. It's every chef's dream."
Kast will leverage his experience in the corporate restaurant industry to develop menus items that incorporate the latest food trends, made-from-scratch components, and seasonal ingredients that are replicable and transferable to each franchise location's market.
The hiring of Kast comes soon after the company's announcement that they are targeting available markets in Texas, Ohio, Florida, Kentucky, Tennessee and other areas to find experienced, multi-unit operators with a passion for food and the necessary finesse to properly execute the menu.