New Chef, New Dishes at RockSalt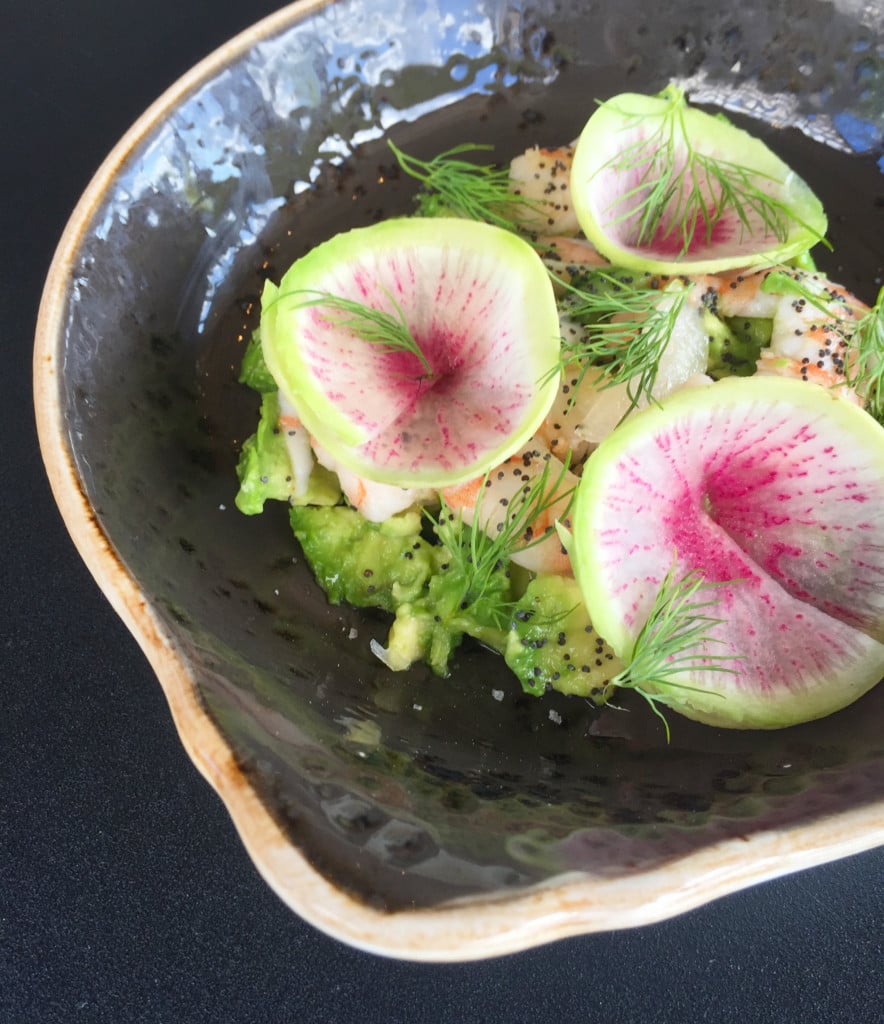 For a restaurant that just celebrated its first anniversary this past February, RockSalt has seen a lot of change, both inside and outside its walls.
Outside, an apparent boom is helping to breathe new life into the Backlot section of Park Road Shopping Center. RockSalt was the first of a new wave of dining and drinking establishments to take a chance on the location—easily accessible but somewhat obscured. When it opened, it almost felt like an outpost, separated from the trendy Montford area and the more established dining scenes of SouthPark and Myers Park. Since then, four more restaurants and a juice bar have opened at the same intersection of Park and Woodlawn Roads, and four more are due to open their doors any day now. Midwood Smokehouse and Amelie's have announced plans to join the Backlot, and there are rumors of more to come.
Inside, the restaurant has experienced change as well—most notably, the new head chef. Jim Diecchio came to Charlotte in June by way of Washington, D.C., where he worked most recently at Brine, one of RockSalt's two sister restaurants. Before that, he worked at Iron Gate, Vermillion, and at Zaytinya, one of renowned chef José Andrés's most popular restaurants.
All three of these experiences are expressed in the restaurant's new menu in some way. Diecchio has introduced more small plates for sharing, including a smashed avocado with pickled shrimp and poppy seed that has been the right kind of decadence on these hot and muggy nights. He tries to stay focused on keeping things simple, adding pops of texture and flavor here and there.
He fusses very little with the watermelon salad, except to add a soft heat from aleppo peppers and a hint of anise from the ouzo vinaigrette. His tuna tartare comes slightly more adorned with an egg yolk, hazelnuts, and a coffee vinaigrette; the rich combination somehow remains light and fresh on the palate. A toast special will come out with little more than a schmear of fresh ricotta, fresh figs, and honey, while the whole wheat cavatelli is a seasonal preparation using summer squash, mint yogurt, and pickled chilies. Dessert may just be a panna cotta topped by gingered blueberries and granola, but the granola will be flavored with Sichuan peppercorns.
Diecchio also worked at a restaurant in Pittsburgh called Monterey Bay Fish Grotto. As the name suggests, the restaurant keeps over 20 types of seafood on the menu at a time. Diecchio says this job, which came very early on his career, prepared him for working with Travis Croxton, owner of Brine and RockSalt. Another change you'll see as a result is a greater emphasis on the fresh fish options. In the dining room and on the patio, chalkboard signs now highlight these options.
I've tried much of the new menu with friends on a number of occasions now. The runaway favorite: Diecchio's take on toad in the hole, made with house-smoked trout, black garlic sauce, and trout roe.
One thing that hasn't changed is the restaurant's commitment to using locally and regionally sourced ingredients, so I wouldn't wait too long to try some of these dishes. Another thing that remains the same is its raw bar, complete with oysters, clams, and shrimp. And, if you were a fan of the burger like I was, know that it is no longer on the menu, but it is also always on the menu, according to Diecchio.