New Coco Hill Line Merges Art, Jewelry
Best friends Erin McDermott and artist Kiki Murchison are collaborating on a line of bracelets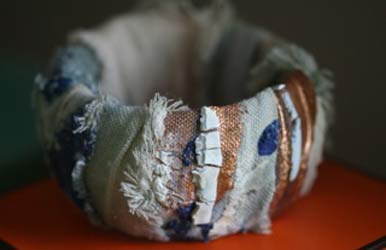 Best friends Erin McDermott and Kiki Slaughter met at camp 20 years ago, staying close over the years and becoming college roommates. They're still friends today, and they're taking that friendship and making it a business partnership. McDermott, creator and designer of Erin McDermott Jewelry, and Slaughter, an abstract artist, are collaborating on a collection of bracelets, uniting one's jewelry-making and the other's artistic talent together to not only create art, but allow people to wear it.
Coco Hill, a jewelry line that is launching in a few weeks, will feature about 30 bangles on the website. Each bangle will be one-of-a-kind, wrapped in strips of fabric that were once a part of Murchison's paintings, with a gold tag on the outside of the bangle bearing their logo. The bangles will come in a variety of widths, ranging from thinner bangles for layering and thicker, statement pieces. There will also be a wrap bracelet, made of canvas backed in leather. McDermott and Slaughter say they're thrilled to begin their collection and continue designing more pieces together as they build a business and continue to grow their friendship.
Keep an eye on Coco Hill's website or Instagram for the latest on when you can buy their products.