New England to New South: N.C. Red Opening in Plaza Midwood This March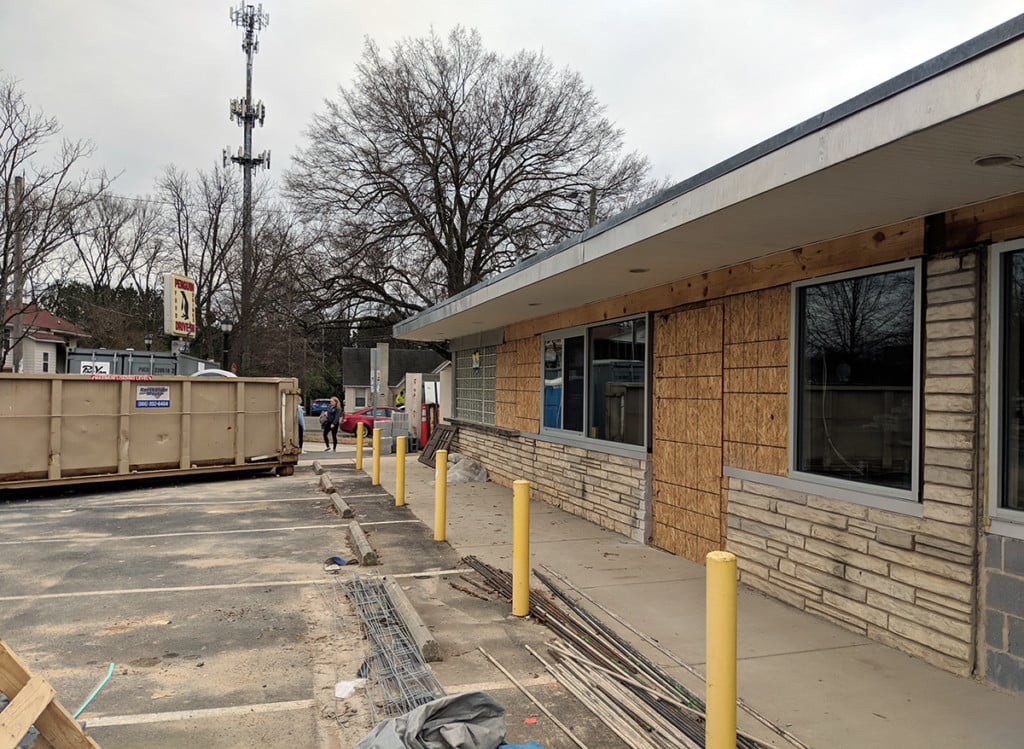 I PICTURE IT LIKE THIS: It's of those gorgeous spring days in Plaza Midwood. Flower pots line front porches. A young family walks its dog, led by a sleeping child with one bare arm out of the stroller. And you're just as likely to see a man in a suit walking down Thomas Street as you are to see one in his birthday suit. My wife and I are dressed somewhere in between as we enter Bruce Moffett's new restaurant, N.C. Red, which just opened in the former Penguin space.
On the patio, a group of three sits at a table over an empty basket of fried chicken next to two large bowls—one wiped clean, the other piled high with empty clam shells. Almost as many cans of Narragansett lagers have been pushed to the side of the table. I step toward a couple whose food has just arrived, mistaking them for someone else. An elegant scattering of grilled bay scallops sits alongside her dressed greens. He is unfazed by my approach—locked into his buttery lobster roll and black-eyed pea salad. A bottle of white Burgundy has just started to sweat through its white linen collar.
I open the heavy barnwood door for my wife. Inside the intimate, but lively 60-seat space, all the whispered aromas from the patio are instead contained, rushing my senses like a plunge into New England seawater. Familiar Southern smells of fried cornmeal and smoking hardwood hang in the air, occasionally swirled with the briny sweetness of the sea.
This is what's conjured when speaking with Bruce Moffett, chef owner of The Moffett Group of restaurants that include Good Food on Montford, Barrington's, Stagioni, and the upcoming spot in Optimist Food Hall, Bao and Broth. He calls N.C. Red, opening in March, his "ultimate playground" kitchen.
Previously described by Moffett as a mix between New England and Southern cuisines, after sitting down with him, it's clear this restaurant means more to him than simple menu fusion. "It's a representation of my culinary journey," Moffett admits.
Bruce Moffett could brag, but he doesn't. His restaurants are consistently regarded as some of the top in the city. When I was a young cook right out of culinary school and running my own kitchen for the first time next door, Moffett had a kitchen staff at Barrington's that had been together for years. The cohesion developed on the line allowed Moffett to execute each turn of the restaurant with efficiency and precision, pushing the burgeoning farm-to-table movement, along with local chefs like Jim Noble, to Charlotte's culinary fore.
In the wake of the recession in 2009, a restaurant serving eclectic small plates made sense. Moffett received a James Beard nomination for Good Food on Montford a year later in 2010. And in 2014, Moffett brought Charlotte perhaps its first, lasting regional Italian restaurant when he opened Stagioni in a historic mansion in the Myers Park neighborhood.
This time, chef Moffett's team has everything in its place for success. Andrew Dodd, formerly executive chef of Stagioni, will run the show at N.C. Red. Last week, Chef Dodd moved over to Good Food on Montford, where he'll be using it as a test kitchen, developing new recipes and menu items, while construction finishes at the new space. Favorites will even be featured as daily specials.
But it took some convincing to get Dodd on board—and the confidence of a mentor. "I was born and raised in Nashville Tennessee," laughs Dodd. "So, when Bruce approached me, I was hesitant. But he saw something in me. He pushed me out of my comfort zone."
Dodd recalls a similar moment when Bruce was opening Stagioni.
"I may not have brought as much authenticity as another chef," he says. "I'm not Italian. I'm as Southern as they come as far as my cooking style. But Stagioni made me fall in love with Italian food. And I saw a correlation between Southern and Italian food. Both were born out of necessity."
And Dodd is using those experiences as a lens with which to view Rhode Island seafood.
Moffett grew up in Rhode Island, eating New England shore food like fried clamcakes with tartar sauce and simply prepared, day-fresh seafood. "The fish comes in off the dock, they broil it quickly, and serve it with a little bit of lemon," recalls the New Englander, whose adopted home is now firmly in the South. "I've always played around with the idea that I'm from the North and have made my living in the South. I've had to adapt to Southern sensibilities, and this is my ultimate playground where I'll be able to do that and offer things that are traditionally Southern. And I can offer things from my childhood that I grew up with."
But after hearing Moffett describe all the possibilities that could arise out of this new kitchen under chef Dodd, I asked him directly if the concept at N.C. Red will be more of distilled representation of him as a person than just a restaurant that mixes Rhode Island and North Carolina.
"That is why I'm kinda excited about it." Moffett corrects himself: "That's why I'm very excited about it."
And the interpretations that could arise are intriguing, and unique to the paths of these two Charlotte chefs.
Imagine a dish like Rhode Island seafood chowder. Traditionally prepared in immigrant communities in New England, this lesser-known cousin to Manhattan clam chowder more closely resembles a simplified cioppino, with fresh fish or clams, potatoes, carrots, and celery in a clear fish broth. On N.C. Red's menu, the chowder could go down wildly different paths. Will chef Dodd attempt to utilize prized New England fish when in season like Tautog and cod? Or will he focus more on featuring seafood from closer to home? And how will chef Dodd's experiences cooking regional Italian food at Stagioni—a much different cuisine than the versions that developed in Italian immigrant communities in America—influence his interpretations of traditional Rhode Island immigrant dishes from the Italian and Portuguese communities? Will a salt cod version appear in the winter with cured Choriço, alongside a creamy New England clam chowder?
And how will Southern influences provide either contrast or cohesiveness to this already complex concept?
Part of me thinks Bruce misses the North and that's why he's opening N.C. Red. He's not leaving anytime soon, and he knows it. The South is now his home. Artists paint scenes remembered, musicians write of lost love, and so it makes sense that chefs cook food that tastes like home.
But he's not doing it in self-serving way. It seems he genuinely wants us to love Rhode Island food as much as he does. He talks about Rhode Islanders' appreciation for simple seafood.
"They just get out of the way of stuff," he says. And that will be his approach at N.C. Red. "It's going to be super simple and just let the ingredients show through."
Moffett describes a trip to a well-known Charleston restaurant where he lamented the delicate razor clams that were overpowered by aggressive flavors in the dish. "We're going to try to be really cognizant of the flavors of the seafood and not overwhelm them. I think that's very Rhode Island. But I want to go one step further."
Keep taking us further, Chef. Let's see where it goes.